Gazelle Easyflow
Confident on your way
Fully relaxed cycling starts with mounting the bicycle with ease. The wide, low step-through makes this possible. When you sit on the saddle you are still able to put your feet on the ground. And then set off cycling with a comfortable - upright - sitting position. The powerful motor springs into action as soon as you cycle away. Just touch the brakes slightly to come to a quick and safe stop: with both feet on the ground.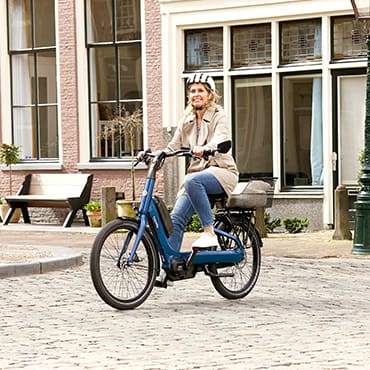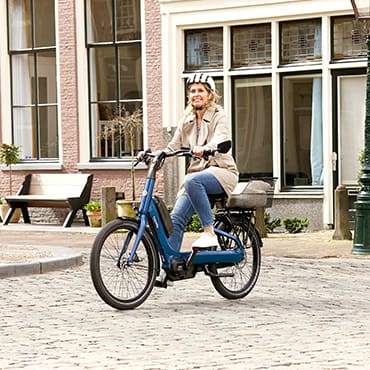 Discover Gazelle Easyflow
Control
Control

The Gazelle Easyflow has been designed to the last detail for stability and control. The low centre of gravity and the position of the saddle, pedals and handlebar allow you to put both feet on the ground while still sitting on the saddle. Thanks to the low and wide step-through, getting on and off is child's play. With the side display, you always have your speed and range under control.
Safety
Safety

With the Gazelle Easyflow you always safely reach your destination. Anti-slip pedals provide grip while cycling. Powerful brakes ensure the shortest stopping distance. The bright lights ensure that you see everything whilst also remaining clearly visible. With the rearview mirror you can always see what is happening behind you.
Comfort
Comfort

Sitting upright means cycling comfort and automatically seeing far in front of you. You have a good view of the traffic and so can respond in a timely manner. The wide tyres, ergonomic handlebar grips and soft saddle bring the comfort to an unparalleled level. The smooth and powerful assistance gives you that extra boost. No hill is too steep any more! With the MIK carrier system you can easily securely click bicycle bags or baskets. Take your things with you safely and stably.
Electric bike with extra low entry
Product Manager Herman is happy to tell you more about our Easyflow. What is the advantage of the extra low and spacious entry? He shows what the most important parts are.