Our Factory
The Gazelle Innovation and Production Center is located in Dieren. The location contains the factory but also the offices of various Gazelle departments. The Gazelle Innovation and Production Center radiates history from the outside, but the inside of the building is ultra-modern. This appearance is in line with Gazelle's identity and qualities.
Curious about how our bicycles are made? Take a look at our factory below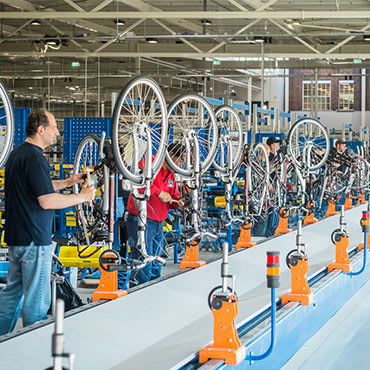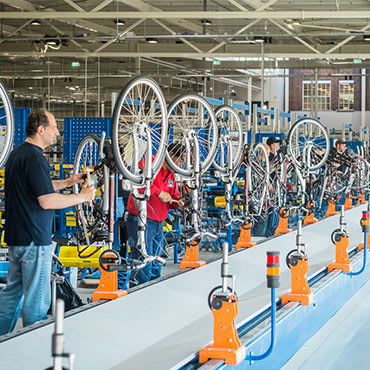 Paint shop
Check out the longest paint line in the world. Each bike is given 4 coats of paint, these coats are checked thoroughly for uneven coverage. We give the highest quality painting in the world applied in 6 hours. Beyond that has every Gazelle bike its own design applied by hand, which needs precision work.
Pre-assembly
At Royal Dutch Gazelle we have made our factory very efficient. So we are able to produce 300,000 bikes a year. Every 30 seconds another Gazelle bike leaves the factory, therefore you need good preparation. Watch how me make every bike a true Gazelle.
Wheel assembly
At Royal Dutch Gazelle we make 300,000 new bikes each year, that means we need twice as many wheels. We put these wheels together ourselves. See how me make over half a million wheels a year.
Assembly
Our Assembly line is on the most up-to-date assembly line in the world. This is the part where all components come together. Step by step with precision and attention for detail around 30 assembly line staff fit and check every component. Watch how we create the perfect Gazelle.
Test lab
At Royal Dutch Gazelle quality comes first, that is why we continue to test our bikes. We check if our bikes can handle anything because we are only satisfied when everything is right. Only a perfect bike deserves the name Gazelle.