More about Gazelle
Royal Dutch Gazelle has been making bicycles in Dieren, Gelderland, in the Netherlands for more than 130 years. Our bikes are light, high quality and comfortable. We are always thinking about how our design can be smarter and the technology of our e-bikes even more innovative. Gazelle makes about 300,000 bicycles a year. We do this with passion and dedication!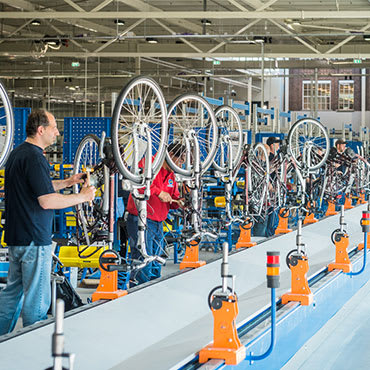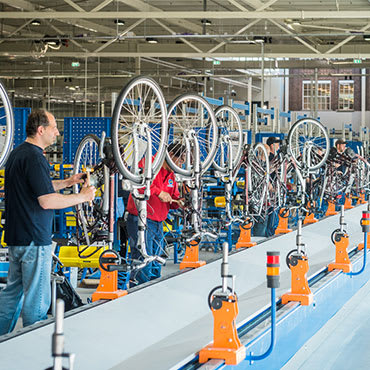 History of Royal Dutch Gazelle
Koninklijke Gazelle was founded in 1892. For more than 130 years, our bicycles have been made in Dieren, Gelderland, the Netherlands. Worldwide, about 450 employees work every year to make 300,000 bikes. Gazelle is the market leader in the Netherlands.
Quality is always our top priority. In 1996 the Gazelle quality system was certified according to the ISO-9001 standards.
New factory
Since 2005, Gazelle has a completely renovated factory: The Gazelle Innovation and Production Center. Did you know that Koninklijke Gazelle has the longest painting line in Europe? About a mile! Do you want to know more?
Why choose Gazelle?
Ride like the Dutch is a new way to ride your bicycle: in an upright, comfortable position with no back strain. This also represents an open attitude towards the world around you and the people in it. So it's not only about comfort, it's about attitude too. And who else can show you how to ride like the Dutch than the premium Dutch bicycle brand?
When it comes to the evolution of the Dutch bike, we at Gazelle have not only been along for the ride, we led the way. So, if you want to truly ride like the Dutch, ringing your bell, wearing your street clothes, transporting anything from groceries to kids and using e-power to make steep hills feel as flat as Holland, a Royal Dutch Gazelle is the bicycle for you.
Royal predicate
We are proud of our "Royal" title, which was awarded to us by Princess Margriet in honour of our 100th anniversary in 1992, a distinction which further serves to cement our moral duty to continue to innovate, as well as remaining at the forefront with smart inventions to make cycling more enjoyable and easier.
Dutch-Design
At Gazelle, we produce bicycles of unique quality and appearance with a minimum of weight and maximum comfort. Our mission is to make cycling easy and fun for everyone. This is why we strive to continue to promote smart Dutch design and technical innovation. Dutchies are probably the most critical customer of all when it comes to bikes. Therefore, we are confident that our bikes deliver exactly what cyclists around the world dream of.
History of Gazelle
The 100th anniversary in 1992 coincided with the production of the 8 millionth bicycle. Until then, one million bicycles were delivered every 3 to 4 years. This culminated in Gazelle's existence on April 7, 1999. On this day, Prince Willem-Alexander put the finishing touches on the 10 millionth Gazelle.
Gazelle continued, and on October 31, 2005, the 12 million Gazelle left the factory. On that day, Minister of Transport, Public Works and Water Management Karla Peijs made a personal contribution to the Gazelle Easy Glider: the first Gazelle with electronic pedal assistance. The 13 millionth Gazelle was produced in 2008 and the 14th million bicycle in December 2012. This 14 millionth Gazelle was developed by Princess Margriet. As down-to-earth bike repairs as we are, we continue to make safe, comfortable, durable and beautiful bikes.
Which led to the 15 millionth bike in 2018!
Corporate Social Responsibility
Sustainability is high on the agenda at Royal Dutch Gazelle. In everything we do, we ask ourselves what the impact will be on people, the environment, the product and society. In addition to this, we are constantly seeking new opportunities in the areas of sustainability and innovation, not only within our organisation, but also outside. Gazelle is always looking for appropriate solutions both within the organisation and in collaboration with others, which regularly leads to sustainable innovations.