Advice about electric bikes
Bike computer electric bike
Your personal cycle computer
Our electric bikes are fitted with a display as standard. This enables you to see at a glance how far you have cycled, how much further you can go and how fast you are riding. And that is by no means all. Some displays allow you to navigate easily. So we have a display to suit everyone.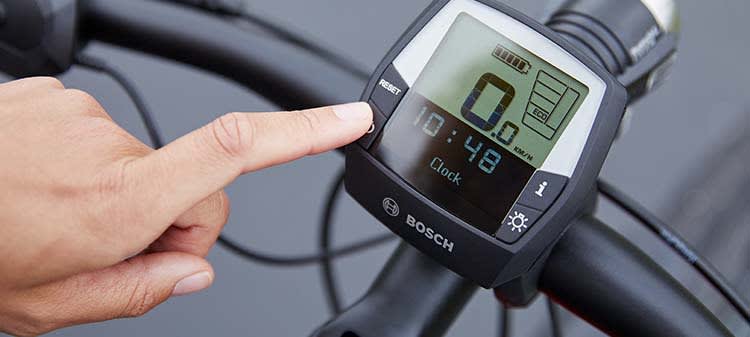 E-Bike Displays: the difference
Bosch ebike display
Bosch Intuvia-display
With its clear layout, this central display for the Bosch mid-mounted motor can be operated easily using your handlebar grip. So you don't have to change your hand position to operate it. The LCD screen ensures you always have a clear readout of your speed, distance travelled, travel time and current range. Bikes featuring the Bosch Intuvia display have 4 riding modes: Turbo, Sport, Tour and Eco.
Bosch ebike display
Bosch Nyon display
The Bosch Nyon display is the first all-in-one electronic cycle computer with built-in navigation. You can adjust the navigation display to your own preferences. You have the option of a 2D or 3D view just as you do with in-car navigation systems. The route calculation has been optimised for cycling to help you avoid busy roads and detours. The display provides information on your speed, pedal frequency and range; it navigates using GPS and analyses your fitness. The Nyon display has four different riding modes. So you can choose the motor assistance you need at any given time.
Bosch ebike display
Bosch Purion-display
The Purion side display by Bosch is easy and safe to operate with your thumb on the left-hand side of the handlebars. The display and control unit are combined in a single device. The assistance phases can be set using the easy-operation buttons (Off, Eco, Tour, Sport, Turbo). The display provides an optimum readout from any angle and provides you with information on the speed, total number of kilometres, range and distance.
Shimano ebike display
Shimano Steps display
The standard display with your Shimano Steps mid-mounted motor is positioned in the middle of the handlebar. The compact Shimano Steps cycle computer boasts an easy-to-read display with high contrast. It enables you to monitor your speed, distance, assistance level and range constantly. It is easy and safe to operate with your handlebar grips.