CO2 difference between e-bikes and other means of transport
So what is actually the best and most environmentally friendly way to get around? An ordinary bike or an e-bike? How much CO2 does an e-bike emit? Would you rather take the train instead of the car? To give you a better overview, we have summarized the differences between the various means of transport and their CO2 emissions in everyday life* (with a focus on the commute) in a table for you:
0 kg
13 kg (due to the production of the battery)
472 kg
211 kg
*Based on a commute of 9.6 km in the city, 252 working days per year. Sources: German Federal Environment Agency (Umweltbundesamt), VCD, Pendos CO2 meter
As you can see, an e-bike performs very well and consumes significantly less CO2 than if you go by car or train. This is mainly due to the fact that e-bikes do not emit any direct CO2 while in use, but CO2 emissions occur during the production of the e-bike and battery (as with all production of means of transport). Of course, the most environmentally friendly way to get around without a motorized vehicle is to either walk or use an ordinary bicycle.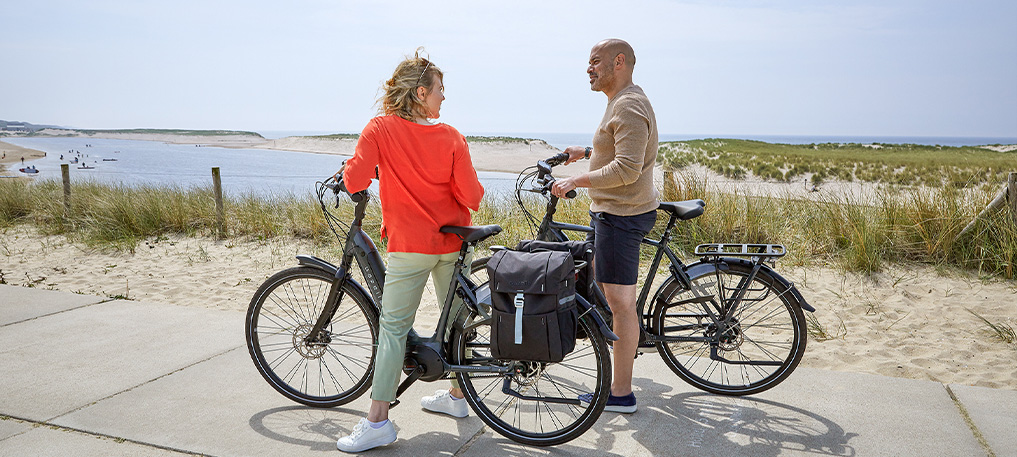 Are e-bikes harmful to the climate?
We now know that using an e-bike is much more environmentally friendly than using other forms of motorized transport. But does that also mean that e-bikes are not harmful to the climate at all?
Unfortunately, as with most manufacturing processes in the transport sector, not all production steps are environmentally friendly, even with the e-bike. A large part of the greenhouse gases in the life of an e-bike is produced during production, because e-bikes need a battery to be able to ride. In the manufacture of a battery, heavy metals are often used, the degradation and use of which is not particularly environmentally friendly. Luckily at Gazelle, most of the batteries are lithium-ion batteries. With these we keep the heavy metal pollution as low as possible. 
According to the German Federal Environment Agency (Umweltbundesamt, UBA), the CO2 emissions that occur during the production of an e-bike are offset after about 165 km that you cover with the e-bike instead of the car. That's fast. Logically, the current used plays an important role in everyday use and regular charging of the battery. The rule of thumb here is very simple: the greener the electricity, the better and more sustainable the use of your e-bike for the environment.
Would you like to know more about the exact production of our e-bikes? Then go on a virtual journey to our factory and get to know our manufacturing processes!
Conclusion
This article makes it clear that using e-bikes is an environmentally friendly choice if you want to get from A to B quickly. E-bikes increase sustainability in road traffic and anyone who rides an e-bike every day and neglects other means of transport efficiently reduces direct CO2 emissions, fine dust pollution and indirect emissions. The only way to get around in a more sustainable way is to walk or ride an ordinary bike. In this case, the radius is of course quite limited compared to an e-bike.
The use of an e-bike also brings health and financial advantages, since you move more in the fresh air in everyday life and longer distances that you would otherwise have travelled by car can easily be covered with the e-bike. And the fact that you save a lot of money, especially with the current high petrol prices, if you leave the car at home is another big advantage. Ideally, you should use renewable energy to charge your e-bike to be as eco-friendly as possible.
Have we convinced you to consider an e-bike? But you'd rather try it out before you decide? No problem! Visit us in one of our many bike shops. Our experts look forward to advising you personally.