Modern e-bike
for the city
Gazelle Esprit
The Esprit will serve you well for many years to come. The Esprit has a lightweight aluminum frame with a sturdy luggage carrier and an integrated front light. It is equipped with a powerful mid-engine, which is built low in the bike for optimal balance. This way you arrive at school or work even faster and more relaxed. And of course the modern look of the bike, something you want to be seen with.
Super-sturdy frame and front fork
If you choose the Esprit HMS, you are choosing years of cycling fun. Everything about the Esprit is sturdy and strong: from the aluminum frame and the extra-rigid front fork to the deep section rims. Whatever surface you're riding on, from sand to gravel paths, your ride will always be stable and safe.
Indestructible integrated headlight
At dusk or when it is dark, you obviously want to see and be seen well. The integrated headlight is characteristic of the Gazelle Esprit. It is both beautifully designed and practical. By being integrated, this headlight is virtually indestructible. It keeps you safe on your bike.
Lots of options for carrying your stuff
The Esprit HMS rear carrier is equipped with the MIK HD system. Simply attach a bicycle bag, basket or another accessory. You can easily switch between different accessories whenever you need to. But we know that sometimes you might want to take extra stuff with you or that you might want to keep an eye on your valuables. In that case, our optional front carrier is what you need. It's easy to mount, looks cool and is perfect for carrying a backpack, briefcase or handbag.
Why choose the Esprit HMS?
A robust character in a trendy design. Solid frame, strong mid-engine, integrated headlight. This e-bike is practically indestructible.
Pick your Esprit bike
Esprit C7 HMS
Rugged city e-bike with integrated headlight and powerful mid-drive motor
Find out more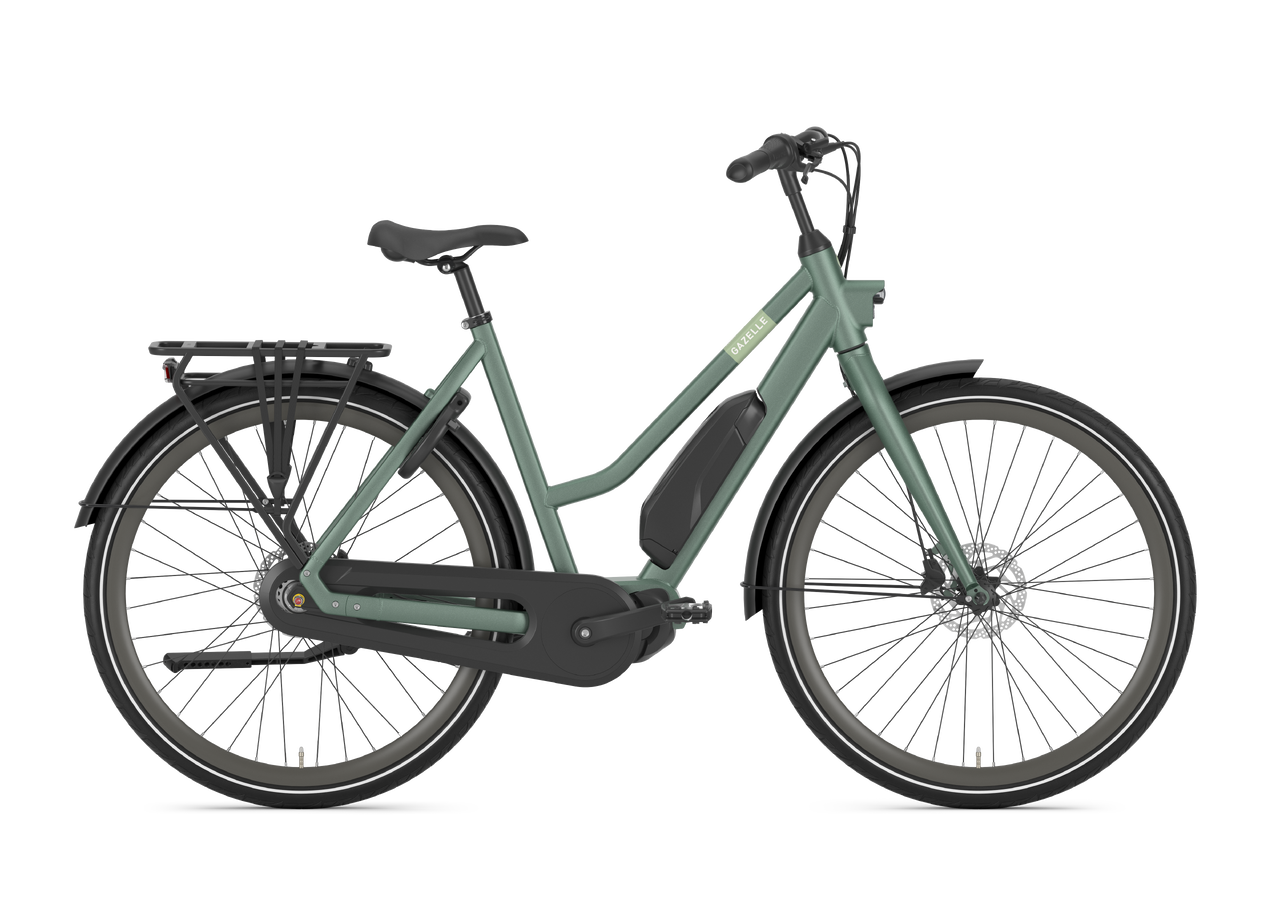 Watch the video for more specifications of the Gazelle Esprit
About Gazelle
Our passion for cycling started over 130 years ago and we never stopped creating comfortable bicycles that are build to last. We are always thinking about how our design can be smarter and the technology of our e-bikes even more innovative.
Take our word for it. Or take a ride.
We've done our best to capture the Gazelle experience in words, but there is nothing like the real thing. So why not book a test ride at one of our Gazelle bike stores?
Book a test ride