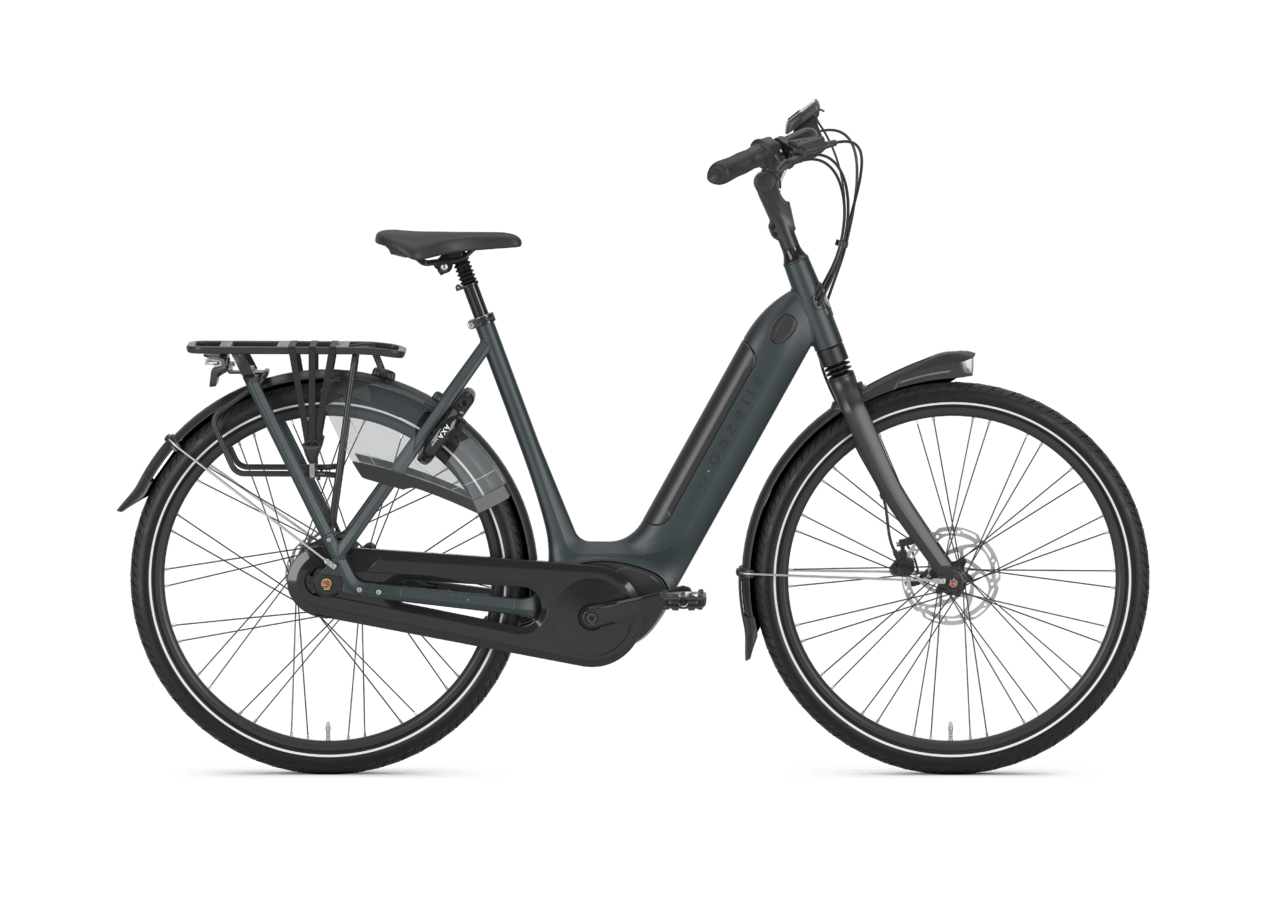 No difficulty at all coping with hilly terrain or strong headwinds
The powerful integrated LED lighting provide you with better visibility and lets you be seen.
Cycling with the palpable luxury of leather handlebar grips
With the hydraulic disc brakes everything is under control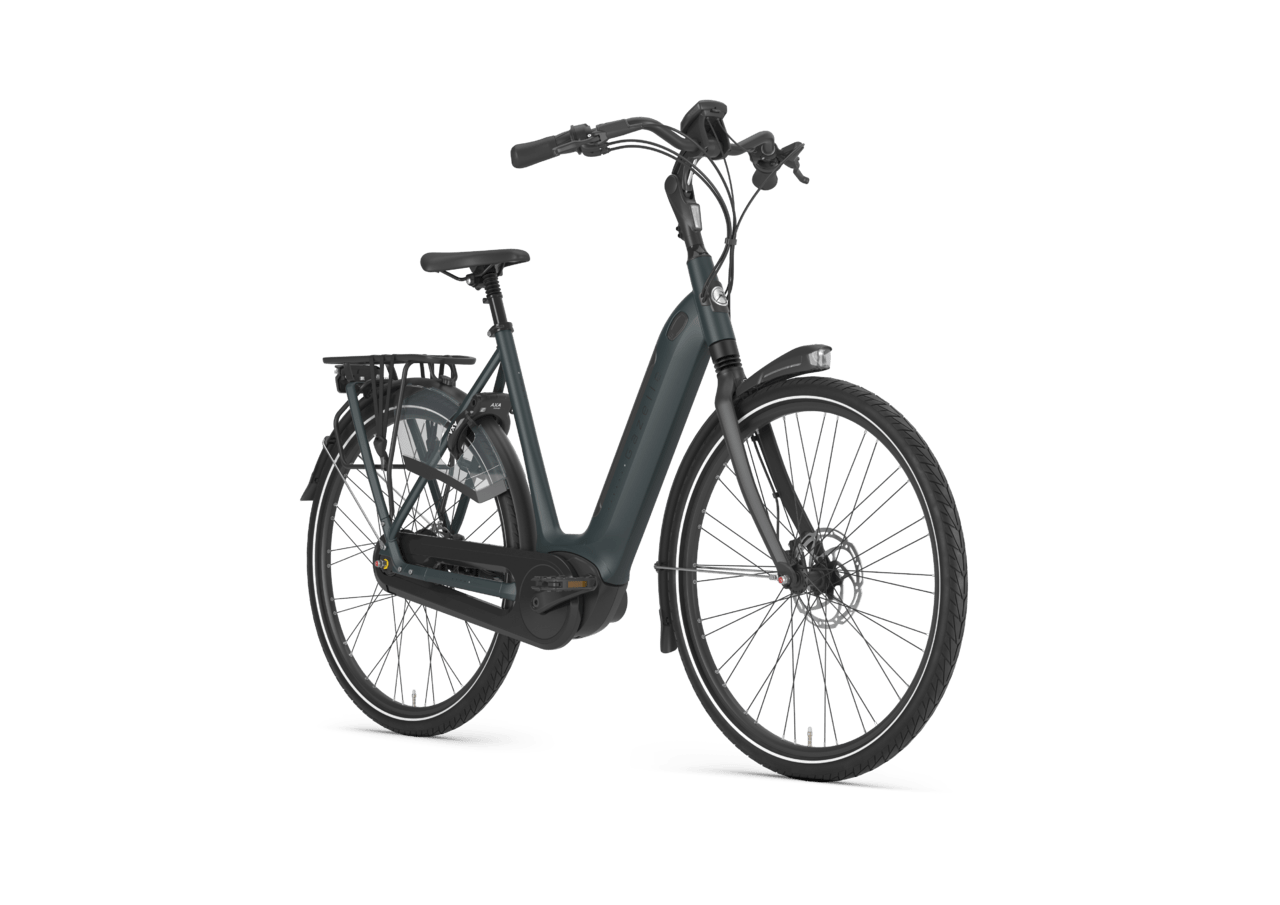 Discover the Grenoble C380 HMB
The particularly powerful assistance and ease of shifting are barely visible. This is because the impressive 65 Nm motor, the battery and the innovative power transmission are fitted subtly into the frame. You shift smoothly to the desired gear using the right-hand grip while pedalling. It is completely stepless: from getting away rapidly from the traffic lights to getting a move on in top gear. Wide tyres, a suspension front fork and a comfortable saddle with a suspension seat post absorb any bumps for you – even at high speeds.
Available in 1 color
Powerful assistance
Powerful assistance
Headwind or a steep hill? No problem with the extra powerful yet smooth Bosch Performance Line mid-mounted motor. The powerful engine with 65 Nm of torque can be operated intuitively without taking your hands off the handlebar. The easy-to-read central display shows, among other things, how much distance you can still cycle depending on the assistance setting.
Always in the right gear
Always in the right gear
Always in the right gear and changing gears without having to stop cycling thanks to the Enviolo hub. No hill is too steep because you have continuously variable gears and don't have to stop pedalling to change gears. Ease of use down to the last detail!
See and be seen
See and be seen
With the beautifully integrated Gazelle Fendervision front light, you will be clearly visible. Cycling after sunset is no longer a problem thanks to the strong 50 lux front light. Both the front light and rear light are also visible from the side, so you are always safe on the road!
Our powerful battery provides excellent range
| | |
| --- | --- |
| Gold | Platinum |
| 100 km | 130 km |
| 400 Wh | 500 Wh |
| 11,1 | 13,8 |
| 100 km | 130 km |
| 60 km | 75 km |
| 45 km | 60 km |
| 40 km | 50 km |
| Price: This is included in the MSRP | £170.00 |
Bosch Performance Line (65 Nm)
The Bosch Performance Line gives you everything your cyclist's heart desires. Smooth and powerful assistance that will never let you down. With 65 Nm torque you can handle any terrain. Highly recommended for the demanding cyclist.
Accessories for
Grenoble C380 HMB
Royal Dutch Gazelle - Ride like the Dutch
More than 125 year of Innovation
Royal Dutch Gazelle has been making quality bikes for more than 125 years. We do this with a focus on innovation and full of passion.
Read about the history of Gazelle
Royal Dutch Gazelle - Ride like the Dutch
Frequently asked questions about the Grenoble C380 HMB
How does an electric bike work?
An electric system consists of a number of main components:
The battery: integrated into the luggage carrier or located behind the seat tube (depending on the model);
The motor: built into the frame at the bottom bracket;
The display: fitted on the handlebar;
Sensors: every electric system has a speed sensor, which as its name suggests, measures how fast the bike is being ridden. In addition, riding behaviour is determined by a rotation sensor or a pedal force sensor depending on the model. The Impulse system in addition has a fourth sensor, namely the shift sensor. This sensor cuts out assistance for a quarter of a second while you are shifting which enables you to keep on pedalling while shifting.
Together the sensors determine the amount assistance provided by the motor based on your assistance level setting and the pedal force you are applying. You set the assistance level yourself using the handlebar grip control.
How does an electric bike work?
Which factors affect range?
Range is dependent on various factors. Thus, the speed at which you ride the bike will have a major impact. See below for the average range at various speeds. In addition to speed, there are order external factors that affect the range. The range advertised in our brochures and manuals is based on averages. Thus, it is assumed that the average rider weighs 70 kg, cycles on relatively flat terrain and shifts gears actively. Below you will find that leading factors that affect range:
Weight. The total weight of the bike, the rider and load will affect the range. 
Gear-shifting behaviour. Actively shifting gears increases the range. Just like a car, when setting off from a standstill, you should start in the lowest gear. Never start in the highest gear; this will adversely affect your range. 
Type of sensor. E-bikes are fitted with a pedal force sensor or a rotation sensor. A pedal force sensor amplifies your own effort whereas a rotation sensor only provides assistance while pedalling. Put another way, the rider will always get maximum assistance with a rotation sensor, which results in less range. 
Type of read surface. The surface over which you are cycling has a substantial effect on your range. Thus, cycling along an unpaved road surface will reduce your range. 
The weather. Cycling with a tailwind or into a headwind will increase or reduce your range. Temperature will also affect it. Thus, at extremely low temperatures (< o degrees) the battery is able to store less energy, which reduces the distance you can cycle. 
Hilly terrain You can cycle further on flat terrain than in the hills. The magnitude of the impact will also depend on the type of electric system. Thus, a mid-mounted motor is better suited to hills due to the motor's thermal stability.
Tyre pressure 
In view of the fact that you will probably experience a number of the abovementioned factors, here are a number of examples of the magnitude of their impact;
If you are cycling on good tarmac in a hilly area and you weigh 95 kg, then you may well find your range reduced by up to 20% compared to what is shown for the average range. 
If you are cycling into a strong headwind, it can make a difference in range of up to 40%. 
If you are cycling along an unpaved road, it will make cut your range by around 30% compared to cycling on tarmac.
Specifications of
Grenoble C380 HMB
Frame

Frame description

Stable, lightweight hydro-formed aluminium frame with 68.5° headset angle and 69.5° saddle tube angle for relaxed and comfortable riding. This is a low-step and spacious frame, single tube and lovely integrated cables.

Frame material

Aluminium
Fork

Fork material

Aluminium

Fork suspension type

internal to headset

Travel Fork

30 mm
Handlebar

Handlebar description

Aluminium, comfort curved model

Adjustable stem

Yes

Grip type

Gazelle Aero leather

Grips

Luxury leather handlebar grips for a sophisticated feel and extra comfort
Saddle

Saddle

Selle Royal Essenza Plus, Royalgel

Seatpost suspension

Yes
Front light

Front light type

Gazelle Fendervision
Rear light

Rear light type

Spanninga Brasa
Engine

Engine model

Bosch Performance Line (65 Nm)

Ebike sensors

pedal force sensor, rotation sensor, speed sensor
Battery

Battery type

Li-ion

Battery replaceable

Yes

Battery system

Bosch
Garantie

Warranty frame

10 years' warranty

Warranty fork

5 years' warranty

Warranty paint

5 years' warranty

Warranty other parts

2 years' warranty

Warranty battery

2 years' warranty

Warranty motor

2 years' warranty

Warranty diplay

2 years' warranty
Lock

Lock description

Ring lock with an option for a plug-in cable to attach your bike to a fixed object for extra protection against theft

Lock safety level

ART ** certified

Lock Type

AXA Defender
Other

Chaincase description

Plastic

Coat protector

Yes

Kickstand type

drop-down rear stand

Chaincase type

Chain case
Carrier

Rear carrier description

Aluminum MIK HD system carrier

Carrier MIK system

Yes
"Thanks to the comfortable sitting posture in combination with design, the Grenoble is suitable for everyone who wants to have a good city bike."
The Grenoble stands for design, good handling and safety. The frame has been designed according to all Gazelle's requirements and has a fully integrated battery. We are very proud of the work of our team. The Grenoble is suitable for everyone who wants a good city bike.
Read more about the Grenoble
Enjoy the ride
Follow us on Instagram
@gazellebikes
and post your Gazelle bike pictures with #gazellebikes