Gazelle Bloom
Sturdy family bike
What you really want is a bike that lasts a lifetime. A sturdy family bike, on which you can cycle easily and comfortably under all conditions, but also with all your shopping and one or two children. It's a bike you can ride all day long. In a word, Gazelle: safe, comfortable and in a striking design
Comfortable
Safe
Extra long rear luggage rack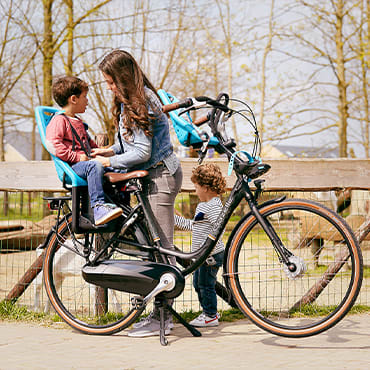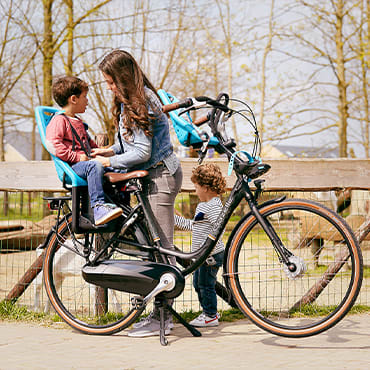 Electric mother bike: Bloom
Ellis, Designer at Gazelle, tells you all about the new electric mother's bike Bloom HMS.
You want a bike for life, don't you? A sturdy family bike that you can ride effortlessly and super comfortably on any condition: alone, with all the shopping and one or two children. A bike that you can take anywhere. Totally Gazelle: safe, electrically supported and with a striking design.
Comfortable
Comfortable

Hop on and off easily thanks to the extra space between the saddle and the handlebars. This means you can take the little one with you in the child seat and steer you way easily through the traffic.
Safe
Safe

Extra stable thanks to the twin-leg kick stand and handlebar lock. It feels really safe with your kids in the front and rear child seats and heavy bags on the carrier. It has never been easier to carry your shopping. It's handy when you go and pick up the kids after work, too.
E-bike
E-bike

For even more comfort, the Bloom is also available in an electric mid-mounted motor variant. Nice and convenient.
Gazelle Bloom
Share your pictures on Instagram with #gazellebikes or @gazellebikes and we will show them!