Bosch attends the epic consumer electronics show every year, and this year, Brian rode 312 miles from his home in Aliso Viejo in Southern California to Vegas, across deserts, over mountain passes, and through some seriously chilly weather for a beach boy.
Day 1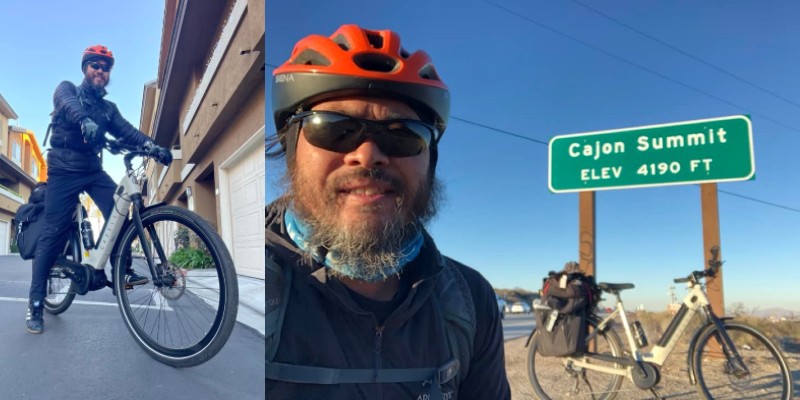 Brian departs his home in Aliso Viejo bright and early for the 101-mile ride to Victorville, CA. Riding his Gazelle Ultimate T10, loaded with cargo in his new Gazelle double panniers, Brian pedals through brisk temperatures, hovering around 40 degrees, and climbs Cajon Pass, topping out at 4190 feet. Cajon Pass divides the San Gabriel and San Bernardino Mountains, and from there, it's a mostly downhill ride to the Victor Valley town of Victorville, at the southwestern edge of the Mojave Desert.
Day 2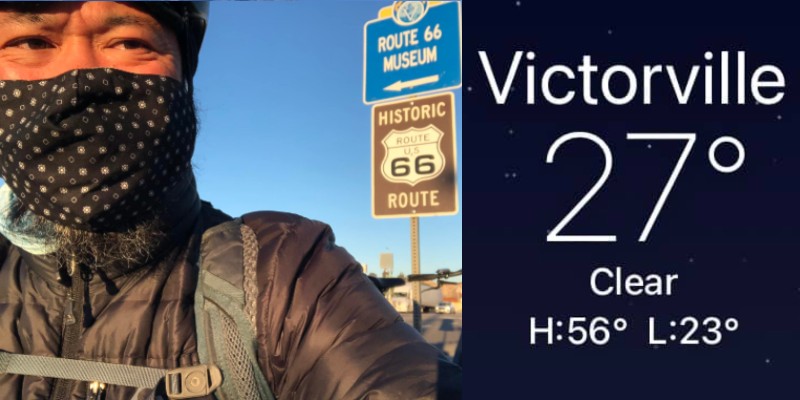 Facing an extremely brisk start in Victorville at 27 degrees, Brian forges on for another 111 miles through mostly desert terrain, following the edge of the Mojave to the small town of Baker. It's the biggest riding day, and Brian holds up well in the saddle despite the low temps and dry winter conditions. However, an hour into his ride, Brian stops to drink some water, and discovers that the hose on his hydration pack is frozen solid! Chilly hydration aside, he rolls into Baker for the last night of his road trip without further incident.
Day 3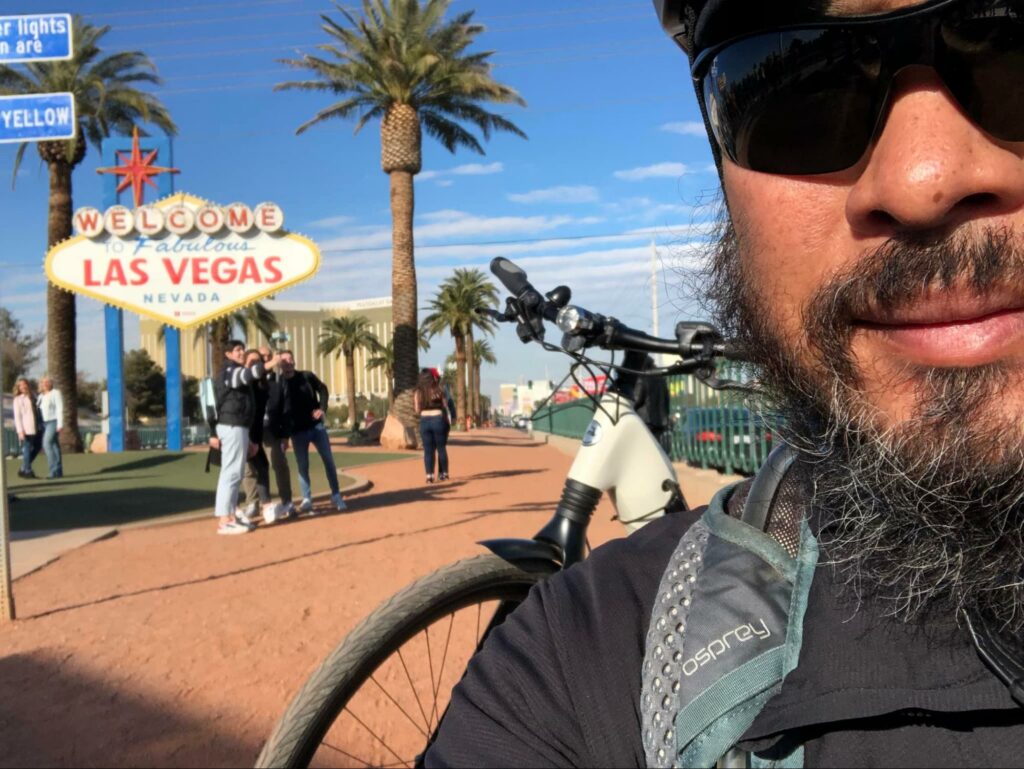 On the road again! For the final leg of this desert-heavy journey, Brian rolls out with another early departure with 100 final miles to go from Baker to Las Vegas. Crossing from California into Nevada, he can't resist a stop in Jean, NV at the Seven Magic Mountains installation, a set of technicolor painted rock towers, placed whimsically in the middle of the Ivanpah Valley. Spirits buoyed by this burst of color, Brian rides the last 30 miles to a triumphant arrival on the Vegas strip with some sunlight to spare.
Our Interview with Brian
Brian, why ride to CES?
I am always trying to reduce the use of automobiles and planes for travel and will always try to ride to events within a 4 day (tour) range. In this case, Las Vegas/CES was 3 days.
How much gear did you carry and what was your cargo set up?
I carried a spare 500wh Battery, 2 chargers, laptop, clothes, and toiletries. I try to pack light, but seem to always overpack. Regardless, the Gazelle pannier bags had some room to spare.
Did you bring an extra battery or stop to charge mid-ride each day?
I had an extra 500wh Battery and 2 chargers. I rode in "tour" mode the whole time. For a 100 mile range on a loaded (~285 lbs) bike, you would need at least 1000wh of battery (in my case, I had two 500 wh batteries) with a 30-minute charge, which I did during lunch. Touring 100 miles on an ebike with all stops is ~9hours/day.
What was the highlight of the trip? Lowlight?
Highlight – meditation and quietness. Lowlight – cold weather, below freezing.
What was the most useful thing you brought with you? What do you wish you had brought along?
Most Useful – On this trip, down jacket and insulated pants. Most of the trip was 40 degrees with a few times being below freezing. I wish I had brought insulated shoe covers.
What was the coolest thing you saw at CES? Or, top three if you can't decide.
The first thing that stood out was meeting Kristen Visbal, who is the artist behind the "Fearless Girl" statue. She had a booth there and though not "Electronics" specific, the volume and power of what the Fearless Girl represents (to me) dominated everything at CES. Other standouts were the "Tesla Tubes", which are underground tunnels where Tesla drivers drove, transporting attendees from one venue to another. Another standout was all things "Metaverse" and virtual reality. Cool, but scary. A good example can be the movie Matrix or Ready Player One.
Did you ride your Gazelle back home at the end of the show or hitch a ride with your Bosch colleagues?
I wish I could ride the Gazelle back home, but the family was calling.