About Gazelle
For more than 130 years Gazelle has produced the highest-quality, most comfortable, lightweight bikes possible. Our focus on thoughtful design and technical innovation are inspired by our love of cycling, and a belief that bicycles should be a part of daily life. Our bikes feature low step-through frames to allow easy use by everyone, powerful and reliable mid-drive motors to get you where you need to go, and come complete with everything you need such as fenders, racks, lights, bells, locks, and kickstands.
Here at Gazelle, we believe that everyone should be able to enjoy the ride, and we make that our mission, every day.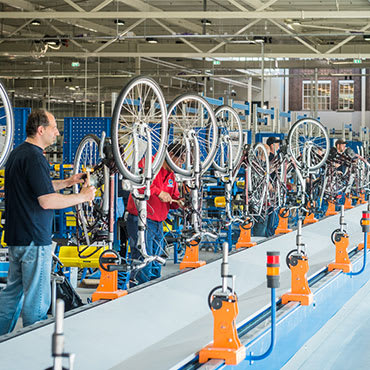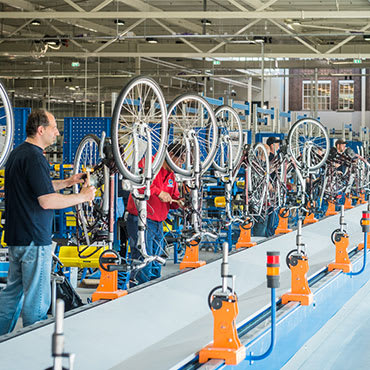 Royal Dutch Gazelle
Royal Dutch Gazelle employs around 450 people worldwide. At our factory in Dieren, the Netherlands, we produce over 300,000 bikes a year. Quality has been at the forefront since our founding in 1892, which is why Gazelle is a marketleader in the Netherlands. More recently, in 1996, Gazelle's production process was certified to the ISO-9001 standard.
We are proud of our "Royal" title, which was awarded to us by Princess Margriet in honor of our 100th anniversary in 1992. This distinction further serves to cement our commitment to innovation and our pursuit to make cycling more enjoyable and accessible for everyone.
Dutch Design
At Gazelle, we produce bikes of unique quality and appearance with a minimum of weight and maximum comfort. Our mission is to make cycling easy and fun for everyone. This is why we strive to continue to promote smart Dutch design and technical innovation. Dutchies are probably the most critical customer of all when it comes to bikes. Therefore, we are confident that our bikes deliver exactly what cyclists around the world dream of.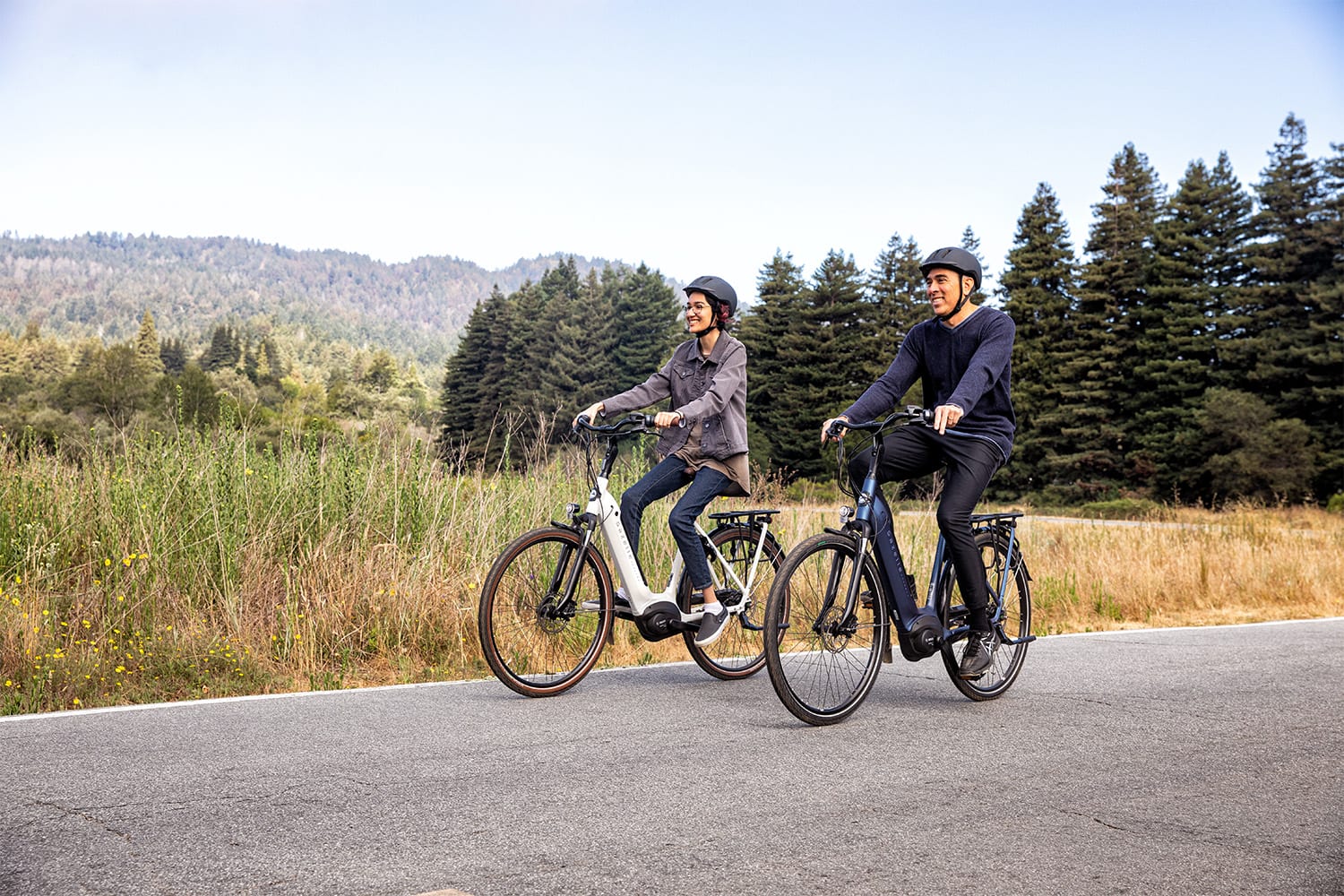 History of Gazelle Bikes
Gazelle has a long and unique history that informs our values and inspires our bikes. Since our founding in 1892, we have grown from a small bike exporter to an internationally-renowned bicycle manufacturer. Here at Gazelle, we are proud of how far we've come and excited for where we're headed. We'll continue to make stylish, safe, comfortable bicycles that are built for your daily life and the long haul.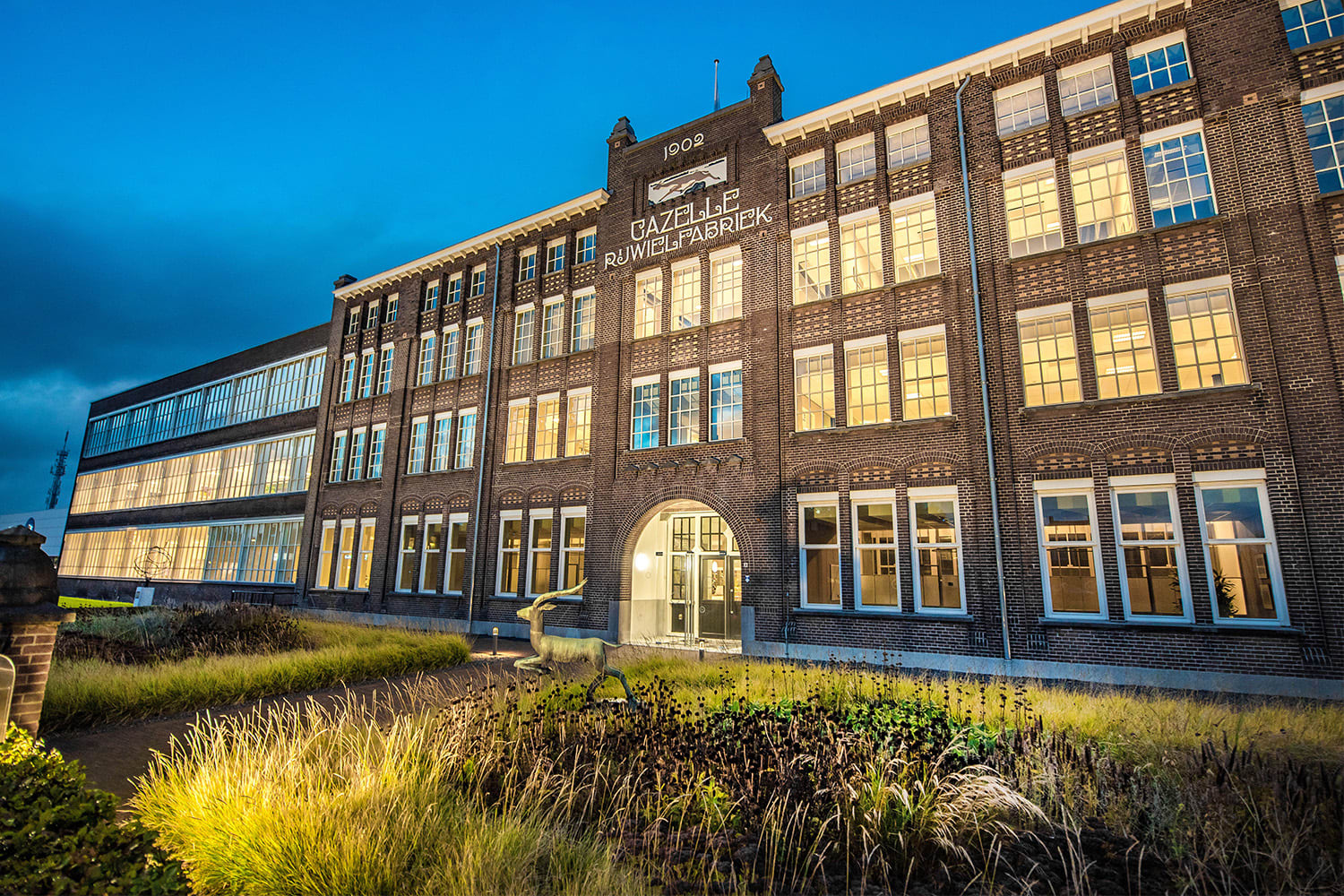 Corporate Social Responsibility
Sustainability is important to us at Royal Dutch Gazelle. Along every step of the process, we ask ourselves, "What impact will this create?"
How will our products affect people, the environment, and society? Gazelle is committed to finding and implementing the best, most sustainable solutions in manufacturing. Our current company practices and outside collaborations with other industry leaders mean that we are always looking for better practices and new innovations in sustainability. We want to make the world a better place for all of us and a better place to ride bikes.
Stay Connected
Sign up for our newsletter to get the latest on new bikes, tips and tricks for maintaining your Gazelle, special events, and more!
By submitting this form, you consent to sending the above information to Gazelle USA LLC, which will be stored in the United States. This information may be used for marketing purposes by Gazelle USA LLC, its subsidiaries, and your local dealers. Gazelle does not sell, trade, or rent your personal data to third parties. You may opt-out at any time by clicking on the "unsubscribe" link that appears at the bottom of each of our emails. For a detailed explanation of Gazelle's collection and use of personal data please see the Privacy Policy & Terms of Use.