What is an eBike?
Get ready to fall in love, because electric bikes will change your life. From injecting some fun into your commute to transforming how you run errands, ebikes combine the joy and freedom of a bike with the perks and power of a motor. Scroll down to learn more and get inspired for a new lifestyle on two wheels.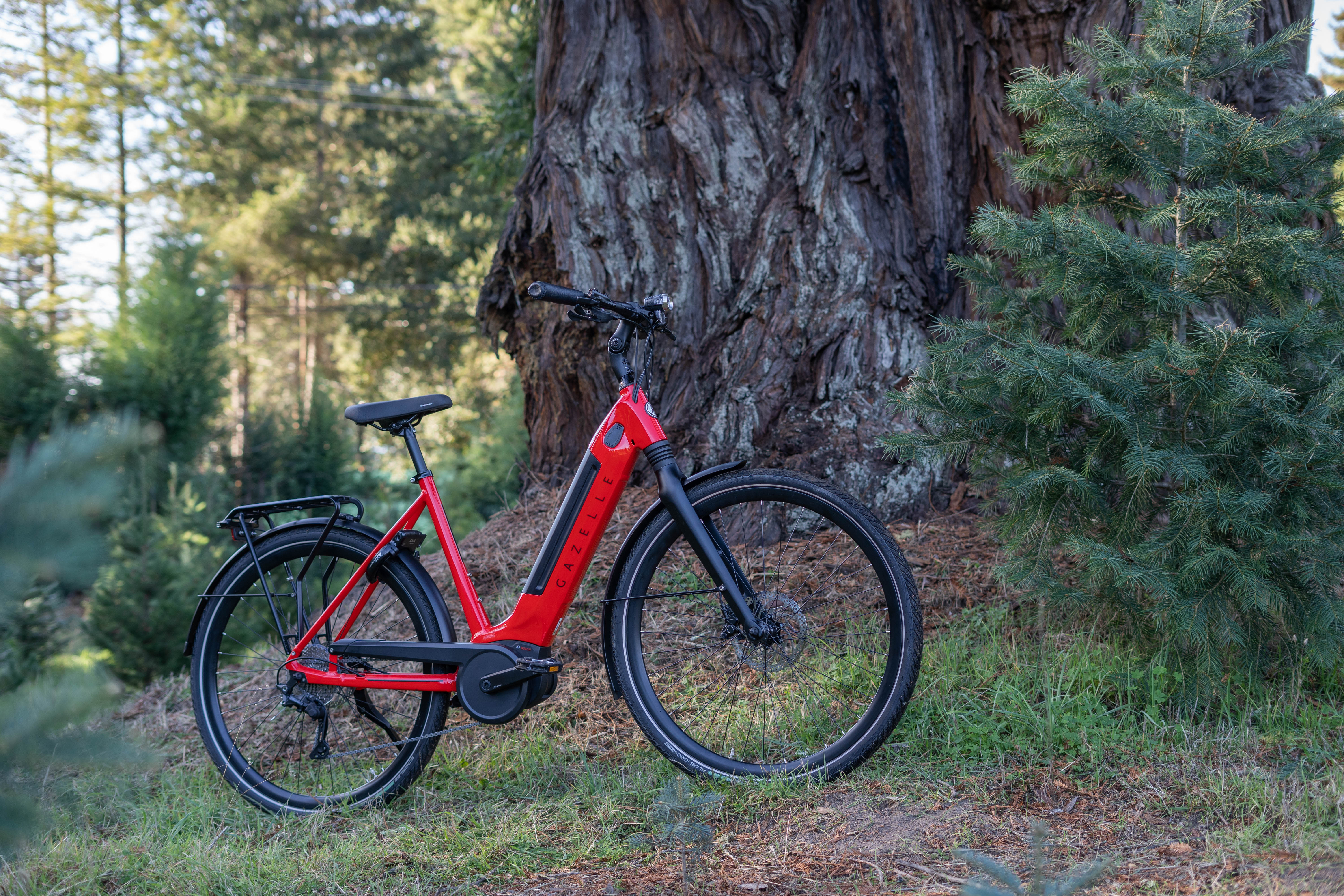 Get Back in the Saddle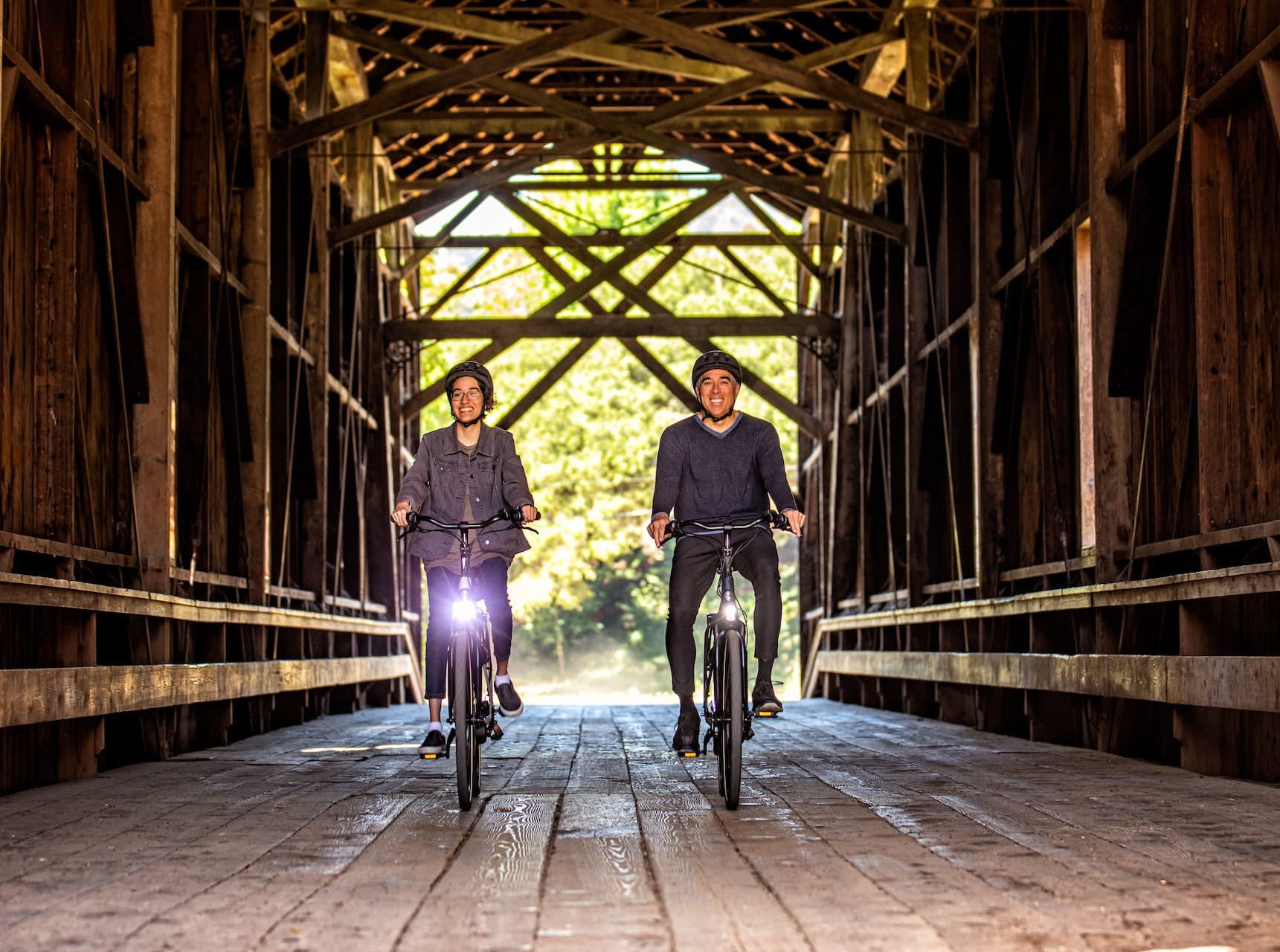 Haven't ridden in a while? The smooth, powerful boost helps you exercise, enjoy the outdoors, and feel the freedom you only with an electrically assisted bike.
Hills Feel Flat as Holland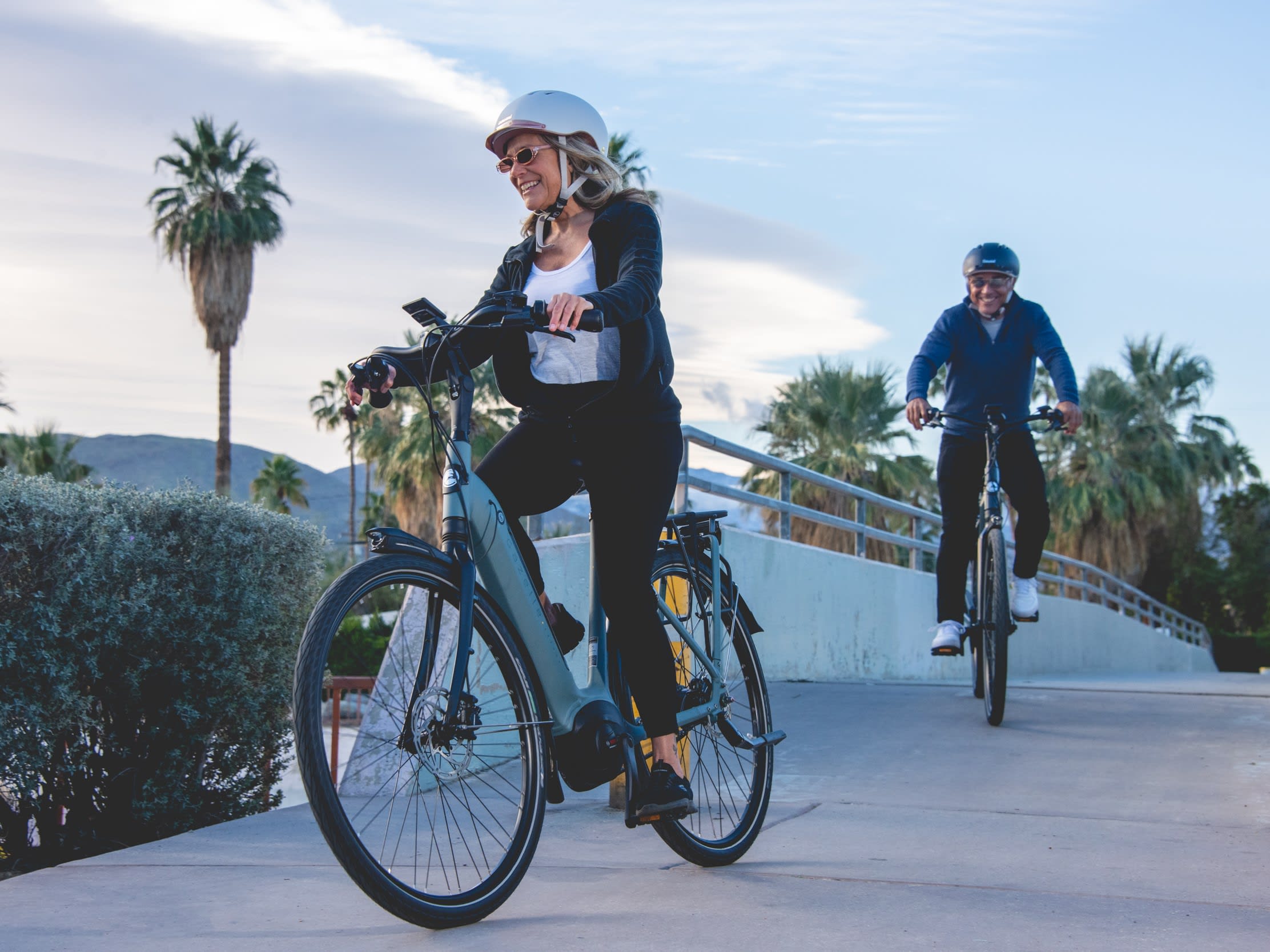 Whether you're on pavement or dirt, the extra power of an ebike helps you make short work of any climb, leaving you with more energy to enjoy the ride.
Say Goodbye to Your Car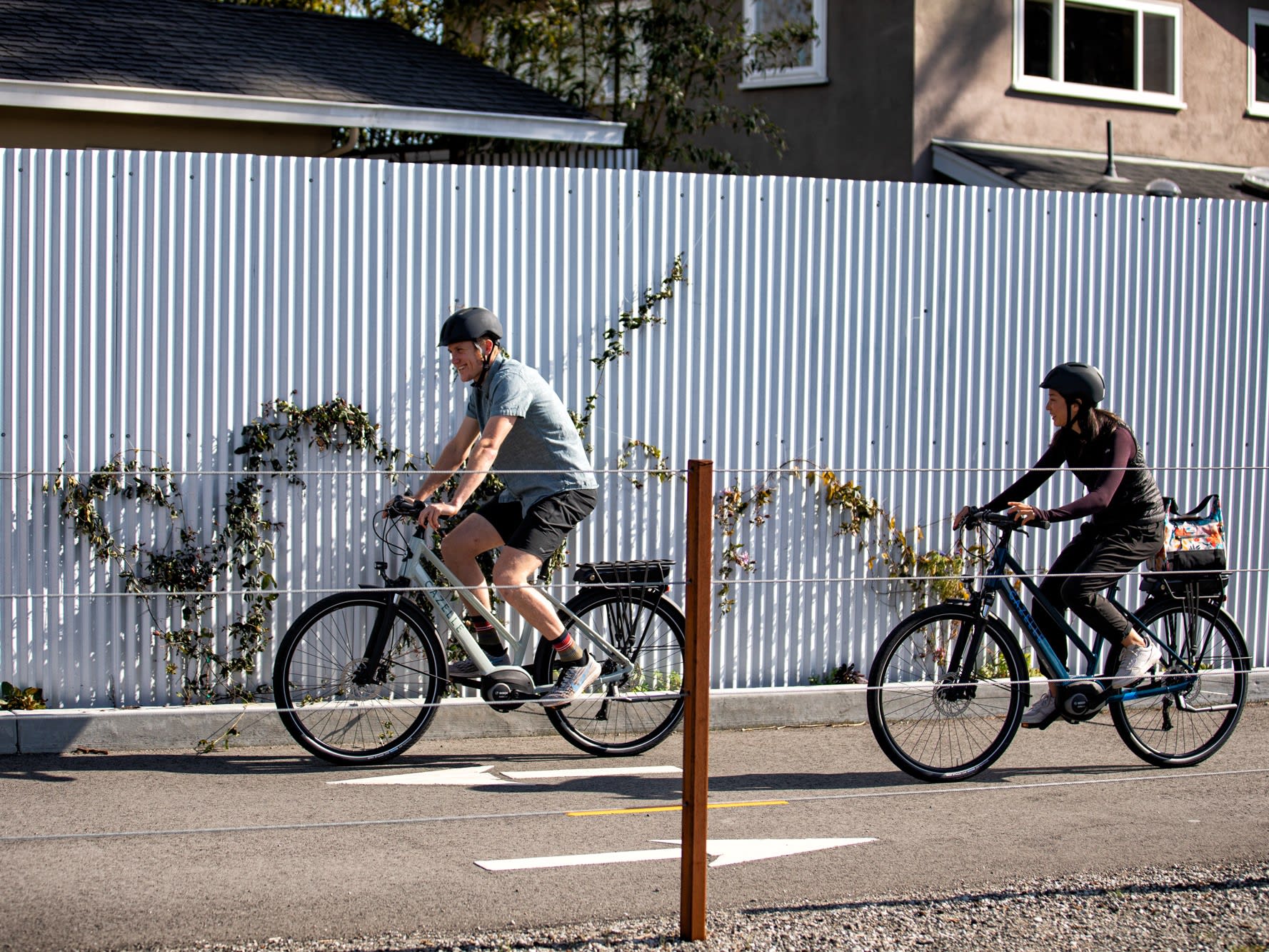 Take on longer commutes, carry more groceries, and pedal across town quickly. All the while, you can get exercise, enjoy the fresh air, and avoid traffic jams!
Discover More Possibilities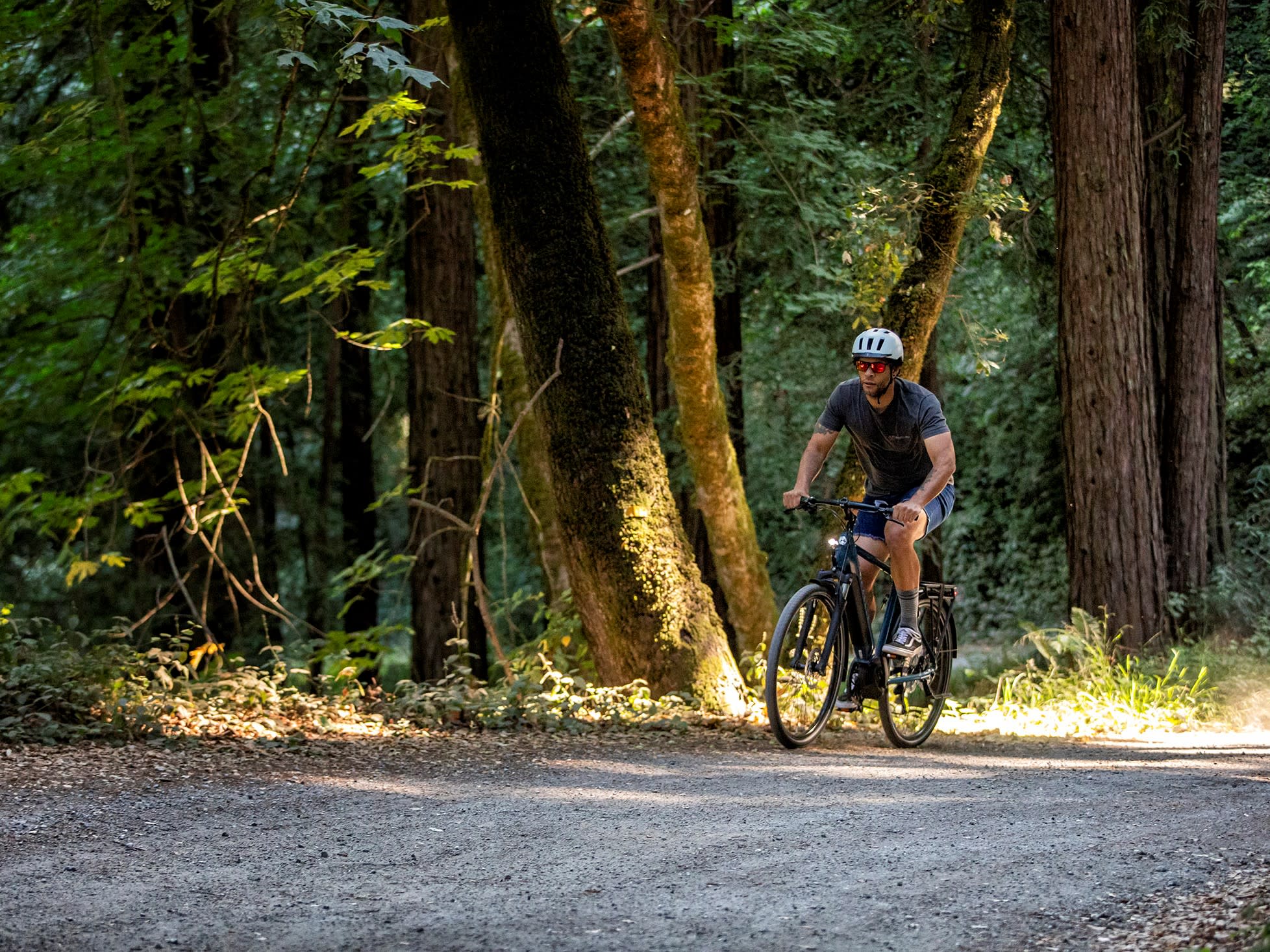 Go ahead. Take the hard route home because ebikes amplify your abilities. Compared to a regular bicycle, ebikes allow you to ride farther and faster.
Discover eBike Technology
Electric Bike Motors
Electric Bike Motors
Electric bikes work by using an electric motor and battery to help you power your bike. On pedal assist ebikes, you control the amount of power the drive system provides and the assist only kicks in when you pedal. The motor's electric power amplifies each of your pedal strokes, providing a natural riding feeling that makes it seem like your legs are supercharged!
All of our electric bicycles are designed with mid-drive motors that are located in the same area as your pedals. Depending on the model, your ebike's electric motor has power between 40 to 85 Nm and assists up to 20 mph for a Class 1 or 28 mph for a Class 3. And you can go faster than that without feeling much resistance from the motor.
Learn More About Motors
Electric Bike Displays
Electric Bike Displays
Ebike displays (also known as controllers) are what you use to see and control your electric bike's settings. You can change your level of assist, see your speed and distance, and check how much battery power you have left. Our electric bicycle displays are super intuitive to use and are conveniently mounted right at your fingertips.
Learn More about Displays
Electric Bike Batteries
Electric Bike Batteries
You can charge your battery on or off the bike using a charging cable that functions just like your laptop's. Plus, our Removable Integrated Battery (RIB) system makes it easy to take your battery with you for on-the-go charging.
Learn More About Batteries
How far can ebikes go?
The general range estimate for an electric bike varies from 20-100 miles on a single charge. Yes, it's really wide! That's because there are so many factors that determine your range—some you can control, some you can't. Those you can include the size of your battery, the efficiency of your motor, the level of motor assist you select, how much weight you're carrying, and if you have a dual battery to double your range.
How batteries affect range
The bigger your battery, the more capacity you have to go farther or go faster. Battery power is measured in watt hours (Wh), the higher the Wh the bigger the battery capacity.
How level of pedal assist affects range
Your range is directly affected by the assist mode you pick. For example, eco mode provides the least amount of assist, draws the least amount of power from the battery, and gives you the longest range. Turbo mode provides the most assist, draws the most power from your battery, and will drain your battery the quickest.

To help you figure out the most accurate range estimate your for ebike, we recommend using Bosch's range finder tool.
About Gazelle
130 Years of Excellence
Since 1892, Gazelle has produced bikes of exceptional quality, comfort, and value, inspired by our love of cycling and belief that bicycles should be accessible to all for daily life, and the long haul. Our thoughtful approach to design and relentless commitment to innovation drive us to create bikes to meet the needs of all types of riders, now and in the years to come. Discover more about this rich history and the joy of riding a Gazelle.
Find Your Shop
Where can you find a Gazelle dealer?
Find Your Bike
Which ebike is right for you?
Find Answers
Have a question about your ebike?
Stay Connected
Sign up for our newsletter to get the latest on new bikes, tips and tricks for maintaining your Gazelle, special events, and more!
By submitting this form, you consent to sending the above information to Gazelle USA LLC, which will be stored in the United States. This information may be used for marketing purposes by Gazelle USA LLC, its subsidiaries, and your local dealers. Gazelle does not sell, trade, or rent your personal data to third parties. You may opt-out at any time by clicking on the "unsubscribe" link that appears at the bottom of each of our emails. For a detailed explanation of Gazelle's collection and use of personal data please see the Privacy Policy & Terms of Use.