Should I get an e-bike?
I've been an avid city cyclist for my entire adult life but didn't consider getting an e-bike until I moved to Washington Heights, the tallest point of Manhattan, last year. I love the lively neighborhood vibe, beautiful parks, proximity to the Hudson and Harlem Rivers, and the South County Trail that I can use to bike out of town at a moment's notice.
The downside is that living someplace so hilly has completely disrupted my bike habits. No matter where I want to go, I know a steep climb will be waiting for me on the way home. My bike commute went from 2 miles to over 14 miles, with a big hill on both ends. I found myself using my bike less and less, and walking and taking the subway more and more. I missed biking as frequently as I used to, and thought an e-bike might help me ride more.
My first weekend of e-bike rides
I'll go into how I selected my Gazelle Medeo T9 e-bike in a moment, but first, let me tell you how amazing it is. On the first Saturday with it in my possession, I needed to do some shopping for household items like laundry detergent. Stores were still closed so I placed an order on Target.com and then biked to the Bronx to do curbside pick-up, about 3 downhill miles away. Upon arriving, I saw a line of about 50 people waiting to pick-up their orders, so… I just turned around to head back home.
And here's the thing: I didn't care about the 200 feet I was going to have to climb to get back home. With my normal bike, I probably would've waited in line just to make the trip feel worthwhile, and then complained about wasting my whole afternoon in line at Target.
On the way home, I decided to take a detour and ride along the Harlem River bike path and then make my way up the very steep hill to Fort George. I have only attempted to bike up this hill once before and was only able to go a third of the way before I got off my bike to walk up the rest.
I put my e-bike into "Turbo" mode to tackle the incline, and still huffed and puffed some, but it was totally doable. My new e-bike essentially unlocked my neighborhood. I could bike anywhere.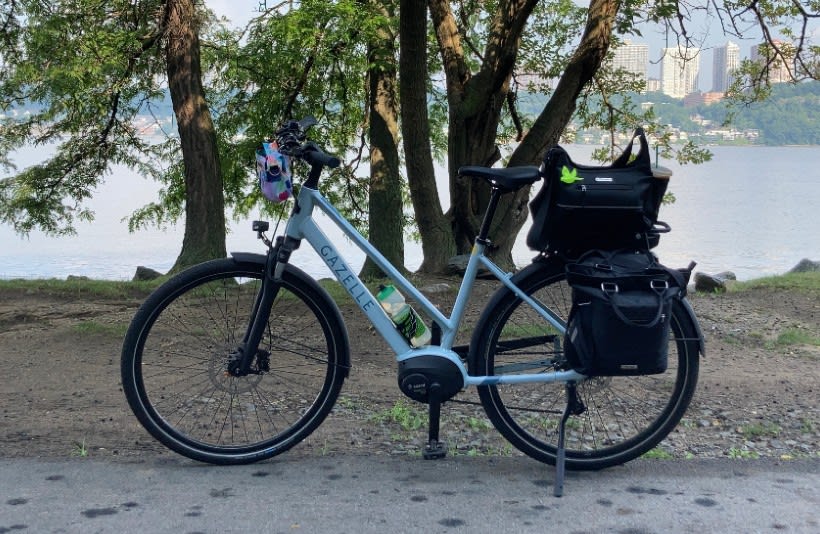 My first commute day
Monday rolled around and I got ready for my first commute. It was forecasted to be a very hot and humid day so I left on the early side when it was cooler, stopping off at my local coffee shop for an iced coffee before hitting the road.
I cut through Central Park – that hill on the northwest corner no problem now – and made my way to the Williamsburg Bridge to go to Brooklyn. Normally at this point, I would need a break and would stop at Kossar's for a bagel and juice. On my e-bike, I felt fine, and just downshifted and rode over the bridge with hardly breaking a sweat, then cruised the last couple miles to my office. Glancing at my phone, I realized I had shaved about 20 minutes off the ride time.
I checked myself in the mirror when I got inside. I used to be so sweaty when I arrived that it would look like I had just gotten out of the shower. Instead, I was normal summer morning sweaty, as if I had just walked a half-mile to work. Amazing. My e-bike not only unlocked my neighborhood, but it has also unlocked all of NYC.
Choosing an e-bike
If this sounds like the bike life you want, let me describe how I ended up with the Gazelle Medeo T9. I started by doing research on e-bikes, but frankly got overwhelmed pretty quickly with the amount of choices and specs to learn and choose from.
There are so many different brands, from big well-known brands like Trek and Specialized to online-only brands like Radpower and Blix. Prices that range from $1,000 to over $10,000. Watt hours calculations, different motor types, pedal-assist vs throttle, different classes, different types of batteries, and different component brands.
After spending what felt like hours watching reviews on ElectricBikeReview.com and still feeling like I wasn't sure of what I wanted/needed, I knew it was time to go to a local bike shop and get expert help.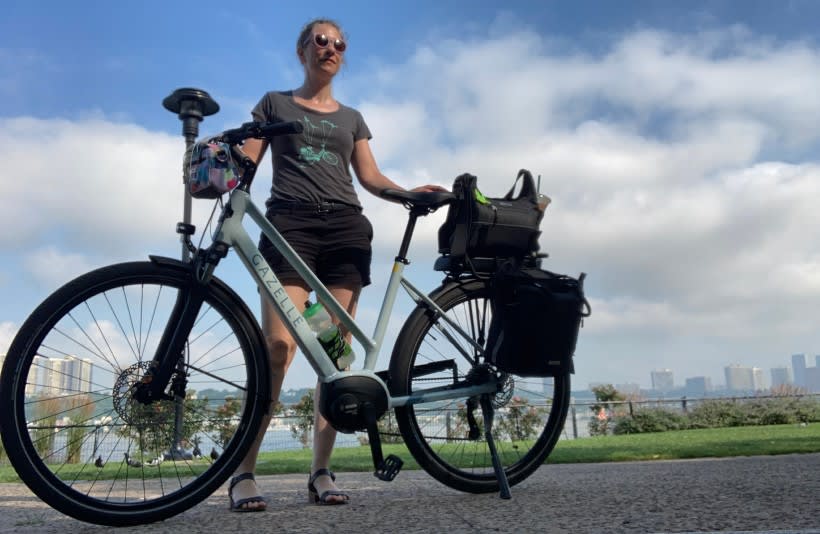 Help from a e-bike matchmaker
I reached out to Propel Bikes because of their stellar reputation in the e-bike community and because they offer an e-bike matchmaker service. After explaining what I was looking for, they recommended the Gazelle Medeo T9. Here's why it feels like the right bike for me:
The Bosch Mid-drive motor feels just like you're riding a normal bike, which is what I wanted. I want to feel like a superhuman riding a normal bike.
The battery lasts 40-50 miles, plenty for my daily commute and long enough for an excursion out of town
Step-thru frame and built-in lights and rack for my Po Campo panniers and trunk bag
Class 1 pedal assist up to 20 mph, which is legal in most places and on most bike paths. (Pedal assist means that you only get your boost when you're pedaling).
Gazelle is a 128-year-old Dutch bike brand so I trust that it is high quality. This also makes me feel like I can leave the bike out in the rain because the Dutch do that all the time.
Additional considerations
My two main concerns with the bike were the weight (about 50 lbs) since the bike storage area at my apartment building is down seven steps, and theft, since I planned to leave my bike locked up outside a lot. I figured I could use a little strength building every day and would just deal with the weight, and for theft, I replaced all the bolts and quick-release skewers with Hexlox and took out an e-bike insurance policy from Velosurance for added peace of mind.
If you're just starting your research, here are some articles that I read that I found helpful when getting a rough idea of what I was looking for:
Keep in mind that not all e-bikes are allowed everywhere. If e-bikes aren't legal in your city yet and you want to change that, talk with your local bike advocacy group to see how you can get involved.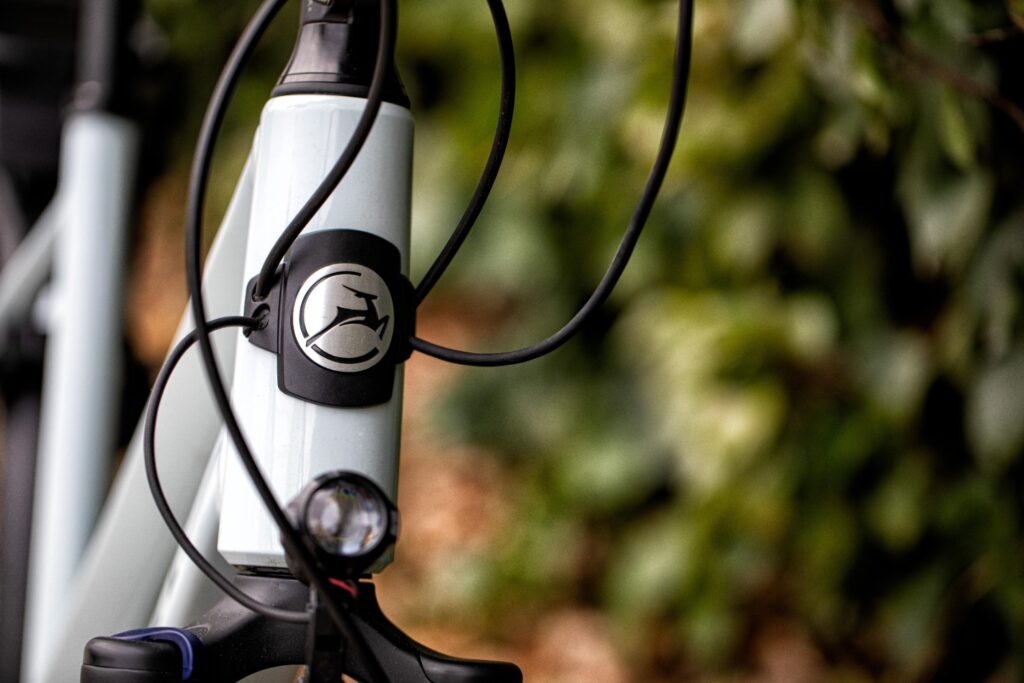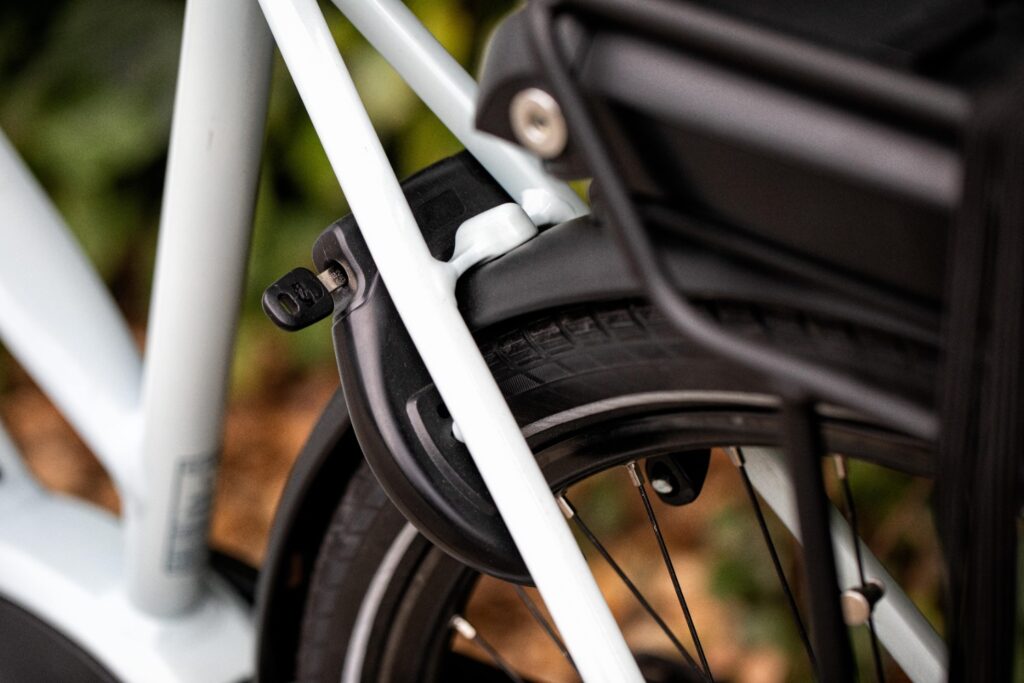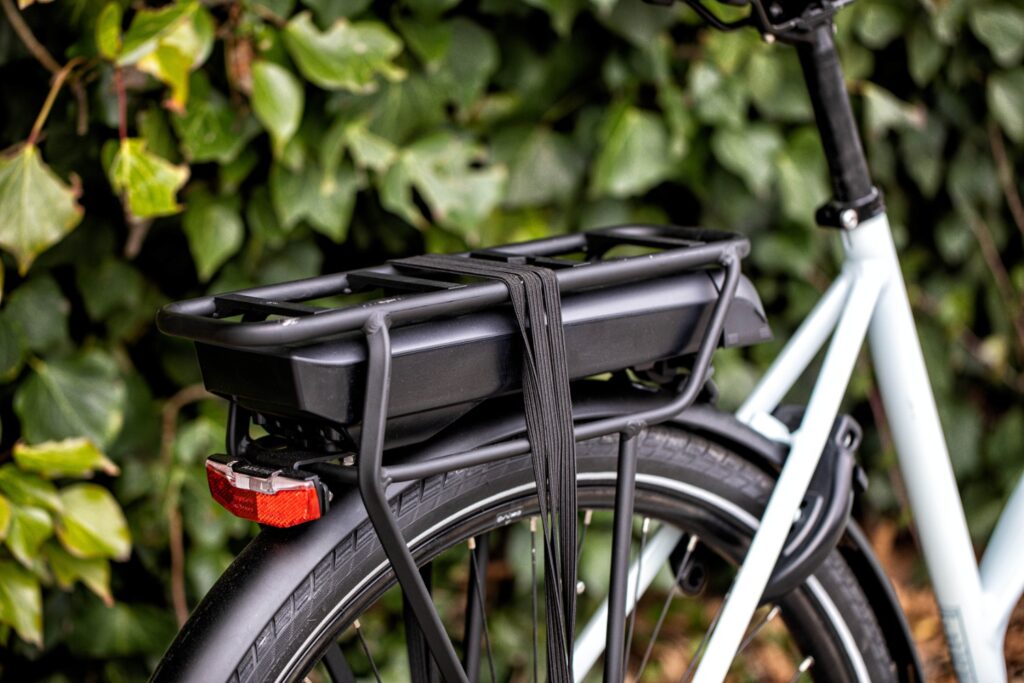 Tips for integrating an e-bike into your life
I'm not the only one who wants to replace subway and/or car trips with an e-bike; sales of e-bikes are surging. I think e-bikes make the best replacement for local car and public transportation trips because they:
Come in all shapes and sizes, from folding bikes to cargo bikes
Flatten hills and help you go longer distances with less effort
Easily carry what you need, be it just a bottle of water, a full bag of groceries, or a couple of children
How to carry things on and off your bike is something of a specialty of mine and figuring this out is key to integrating an e-bike into your life. Think about the kinds of trips you'll take, and then pack accordingly.
Joyrides on an e-bike are truly joyful. It's like you're always riding on flat terrain with a tailwind. For these rides, I'll use my Kinga Handlebar Bag 2, which is large enough for my essentials (sunglasses, wallet, keys, sunblock, hand sanitizer, etc). For trips to the beach, office, or grocery store to pick up some things for dinner, you'll need a pannier. Fortunately, I have easy access to a wide range of panniers!
Is an e-bike "cheating"?
This is what my brother asked me when I told him I had an electric bike now. I laughed it off saying, "I'm not a bike racer!". My goal and desire is to use a bike for the majority of trips around NYC because it's fun, sustainable, and healthy, and to not be deterred by topography or weather.
An e-bike doesn't feel like cheating, it feels like a smart solution, and I can't wait for my next ride!