We're excited to share this very special rider story from Megan H. of Golden, CO.
Megan is a Gazelle owner, avid cyclist, and attorney who has dedicated her life to fighting for the rights and safety of cyclists across the United States. We were honored to interview her for this feature, and you can see more of her inspiring story in the new feature length documentary, The Engine Inside.
Which Gazelle Model do you have?
Gazelle Easyflow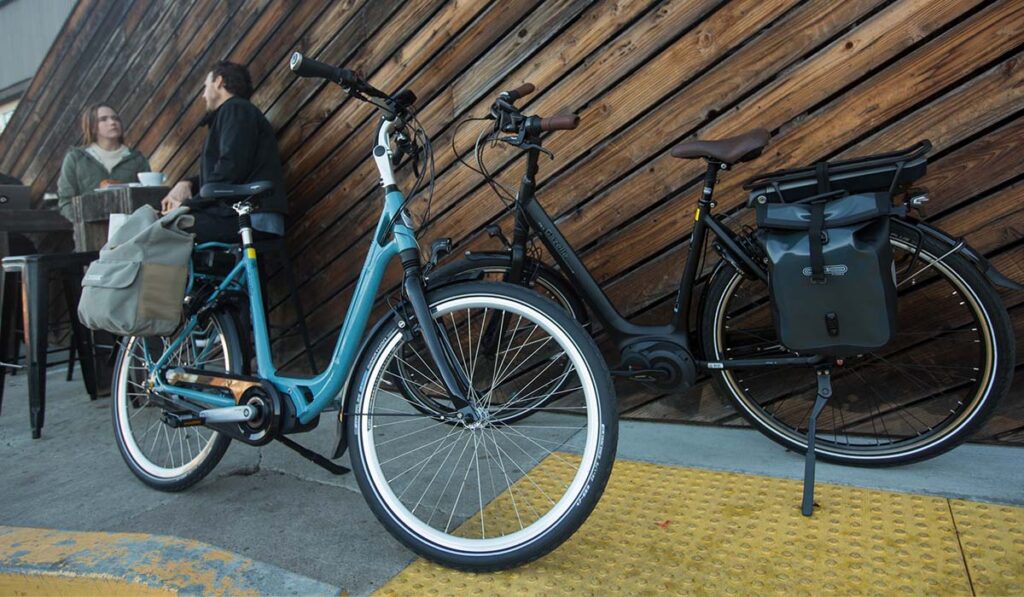 How long have you had your Gazelle?
October 2021
How has owning a Gazelle changed the way you live?
eBikes have changed everything for me. I love to ride and having an ebike has meant the end of commuting-fatigue (and unnecessary sweating in my clothes!). I can wear regular clothes when I ride, and I can do all kinds of tasks and errands by bike. I've carried a massive box to FedEx and a propane tank…with a bungee cord you can do anything. I'm inspired by the Carry Sh*t Olympics. (check out the hashtag on IG: #carryshitolympics). I love that I can properly bring stuff home–the rear rack is huge. I've created a very intentional life here in Golden oriented around the bike. Everything I do and need to accomplish is within a 10-mile radius: my doctor, my dog's vet, my work, bank, running store, coffee shops, friends, gym, etc., so I can do it all by bike. My Gazelle is my primary vehicle that also happened to become a powerful tool for rehab. I was hit by a motorist last summer (June 2022) ironically on my way home from a gravel ride where I had been out (intentionally) away from vehicles. It was a long recovery to get active again and once I was cleared to start exercising more regularly, my doctor gave me the option of riding a stationary bike in a gym or taking it easy on an ebike out on the bike trails. It was a no brainer, to be able to ride outside in the open air was key to my healing journey. The Gazelle step through frame was also a HUGE help, as not having to lift and throw my injured leg over a standard top tube was one more help to me on my road to recovery.
How long have you been riding and is this your first ebike?
I have been riding and racing for over 20 years. This is my 4th ebike but my first and only Class 1 and step-through style ebike. My other ebikes have all been Class 3 traditional high-steps and I was an early-adopter of ebikes, starting with my first in 2018.
How do you use your Gazelle–for commuting, errands, fitness, fun–or all of the above? Tell us how you enjoy the ride.
Primarily commuting and transportation. My ebikes replace almost all of my car trips.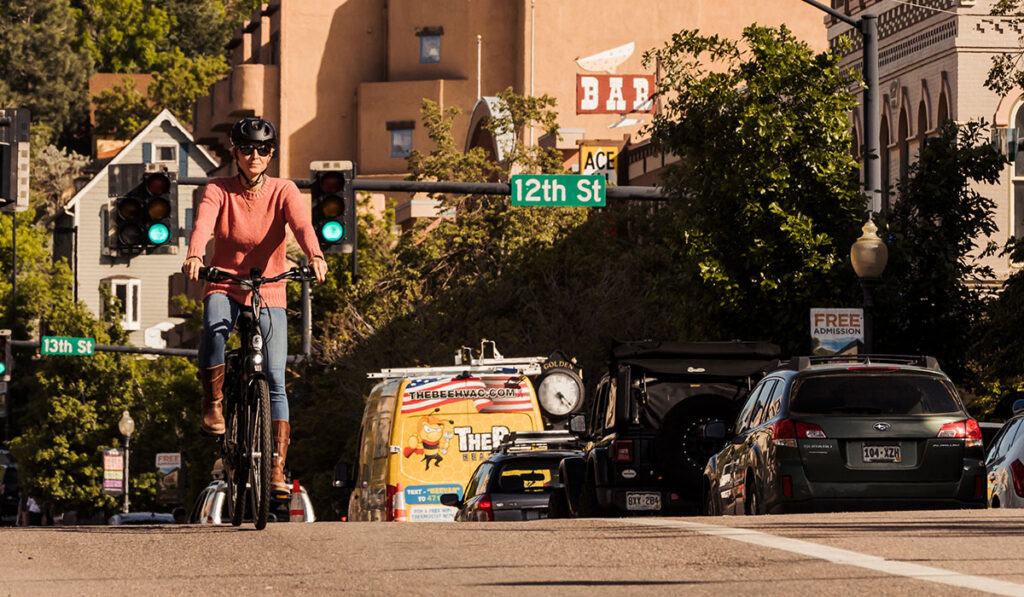 Have you ever met up to ride with other Gazelle owners?
No but I'd love to!
What are your thoughts about the role of cycling and ebikes in a more sustainable future?
COVID was a really big thing. It drove a big shift in mentalities. People RAN to bikes as something to do to stay mentally and physically sane and healthy, away from other people and in the fresh air. Bikes also became the obvious replacement for public transit when social distancing was a big deal. The climate crisis will be (IS!) the next thing that drives behavioral change. We also have an obesity crisis and a mental health crisis in this country. There is no choice but to adopt the bike. It takes big things to drive change–we are facing all of them.
What are your hopes for the future of cycling in the US? Are you optimistic?
Yes, I'm optimistic. I got to work at a bike shop in 2020 during peak demand. It was amazing. Everything was canceled but bikes weren't canceled. This is the answer to so many questions. Watching ridership increase over 100% in the Denver area, roads cleared up. I've always said if my law firm goes out of business because cycling has become so safe and so mainstream no one needs us anymore, we're doing it right. Hopefully people hang onto riding bikes, maintain the legitimacy of it.
Any helpful resources for cyclists and/or motorists to educate themselves and/or take meaningful positive action?
Join People For Bikes. If you sign up and enter your info, you will receive notifications and calls to action to support bike-friendly legislation. They create templates that make it super easy to email your local elected officials. This is a simple but impactful way to drive policy and legislation to move forward a better bike future.
As cyclists, be ambassadors of the bike, show positive examples. Be cognizant that we are representing a whole group. Demonstrate positivity, smile, waive, communicate, signal your intentions while on the bike.
Volunteer. Give time or money. The automotive industry has massive lobbyist support. We need to go to work for bikes and this is happening in largely grassroots ways. Become a part of the solution.
Many of us who ride bikes also drive cars. Spread the gospel to our cycling circle, convey the power of the bike and share what you know about how to be safe while biking and while driving. Bicycle Colorado is our state advocacy organization. They offer a bike friendly diving course that you can take online for free.
Any summer plans for you and your Gazelle?
Just continuing to commute and I love doing post-evening dinner sunset ebike cruises just to spin out the day and stay off my screens!