We were honored to host a ThinkBike Workshop at the Gazelle Experience Center in Santa Cruz earlier this month. In partnership with Ecology Action, a local organization dedicated to providing innovative energy, water, and transportation solutions across California to reduce greenhouse gas emissions, we invited members of the community to look at the county in a whole new way.
Facilitated by the Dutch Cycling Embassy and three Dutch cycling infrastructure experts, a range of influential stakeholders and decision makers from across Santa Cruz County gathered over two days to gain insights, brainstorm and ideate, and ultimately define an actionable plan for a more bike friendly future.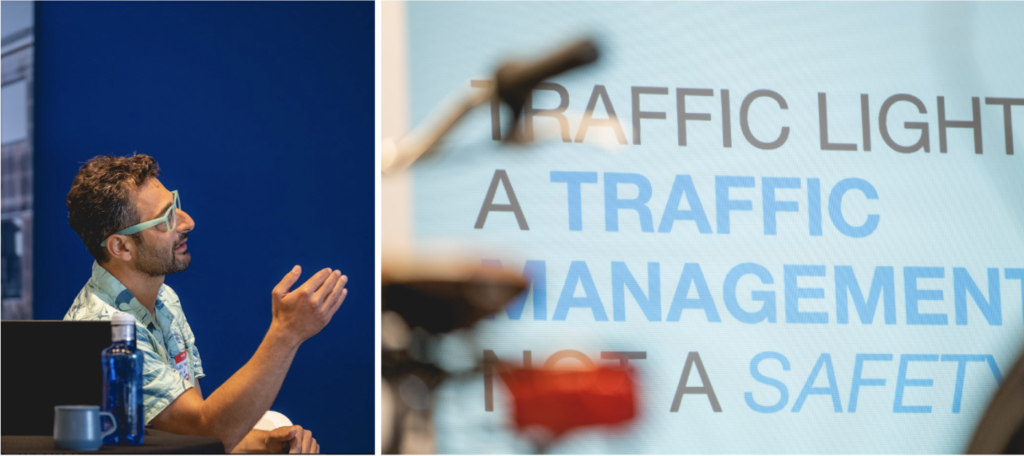 The group that assembled was broad and diverse, with representatives from the City and County, stakeholders from UCSC, CalTrans, and multiple NGOs, and members of the private sector. From county supervisors and analysts to engineers and transportation planners, there was a rich range experience, perspectives, and expertise represented. Combined with the unique backgrounds of the Dutch experts, we had just the right mix of humans in the same space to help imagine a radically different approach for the region in terms of cycling, transportation, and community building.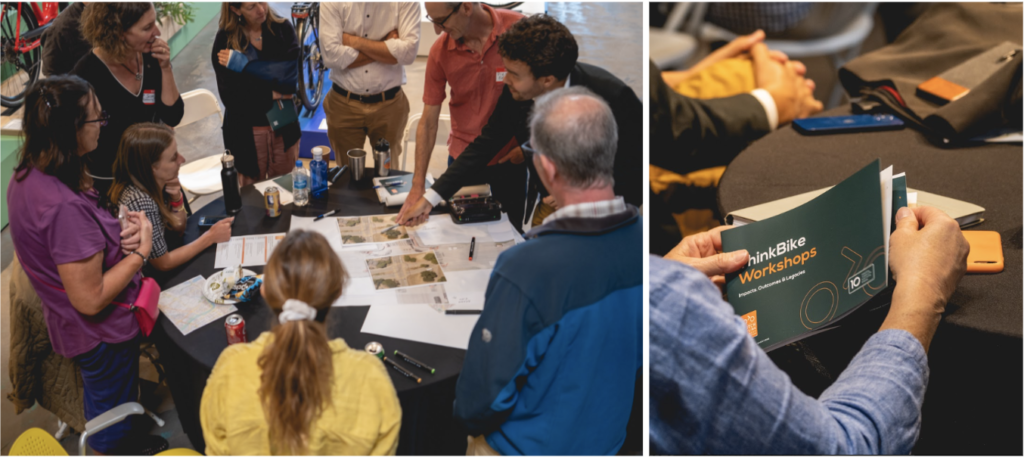 The day began with breakfast and a brief introduction, setting the context and goals for the workshop. The group then headed out on a bike ride on a mix of personal and Gazelle ebikes through the western part of the city of Santa Cruz, touring and assessing key streets, intersections, and multi-use paths, and gaining firsthand experience about what riding is like in the city, how traffic flows, and where opportunity lies.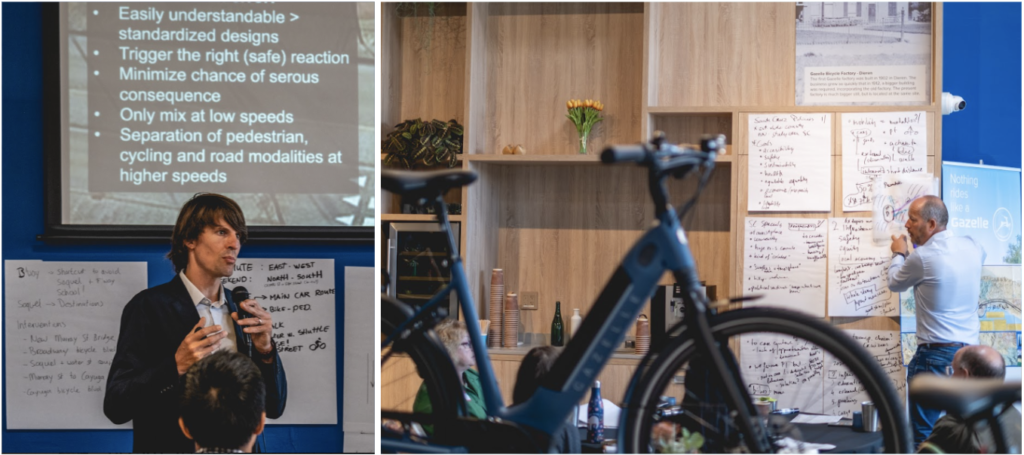 Following the ride, the group returned to the Experience Center and went deep with the experts on their areas of focus and began to make connections with what they had just experienced moving through the city on two wheels. Lennart Nout of the mobility consultancy firm Mobycon brought transport planning and urban design expertise, transport planner Martijn te Lintelo provided an introduction to car management and cycling networks, and Maurits Lopes Cardozo, founder of Bike-minded and design advisor for the City of Rotterdam, shared an inspiring overview of cycling infrastructure innovation projects.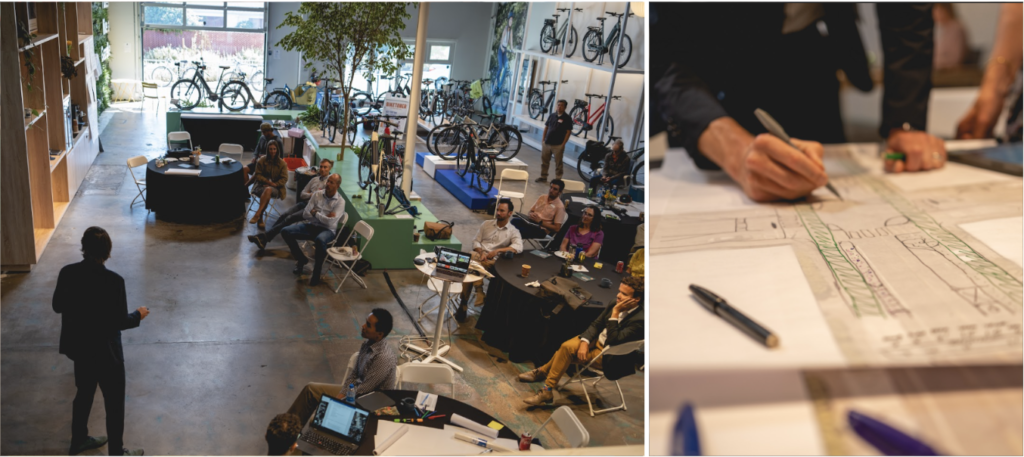 After an illuminating session with the experts, the group moved into breakout sessions to explore opportunities for improving key intersections as well as boldly re-envisioning arterial roads that define the city and the flow of traffic. Using a range of tools, print outs, and plans, each sub-group got to work combining their new context and knowledge from Lennart, Martijn, and Maurits, and the morning ride fresh in their minds. Whether it was reimagining Broadway as a dedicated cycling street or designing a new bridge over the San Lorenzo River to deposit Boardwalk traffic directly into a parking lot, no idea was off the table. Day 1 came to an energetic close with attendees ready to tackle another inspiring day.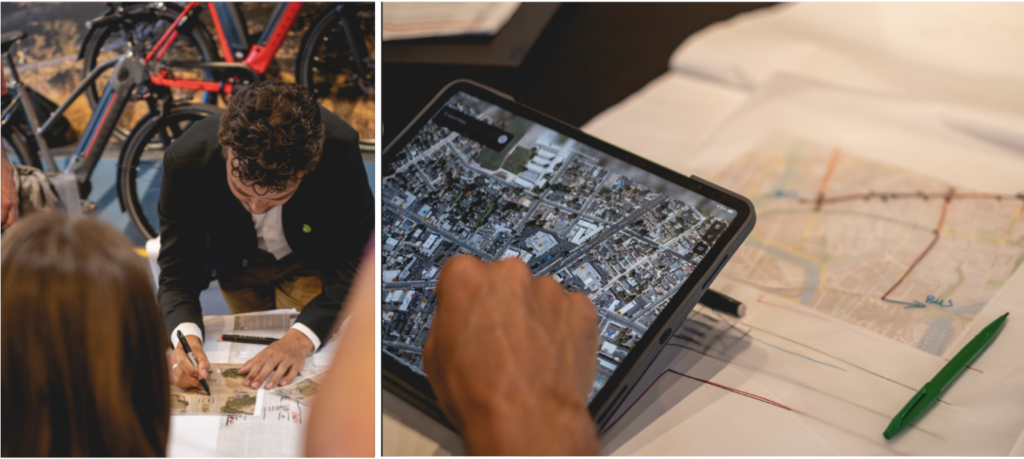 Day 2 kicked off with a recap of the previous day and then the group launched into additional breakout sessions to explore complementary concepts such as Safe Multimodal Streets and Intersections and Bicycle Facility Designs. The experts acknowledged and help better define the site and region-specific needs and challenges of Santa Cruz County, adapting their content and approach accordingly. Energy levels remained high as the group coalesced to report back on the ideas and concepts generated during the breakout sessions. Spontaneous claps and cheers erupted in the space in response to what was shared, fueling a spirited finish to an inspiring few days. The workshop closed out with public commitments to champion and follow through on the plans and ideas generated as a group, with attendees continuing to share new challenges and concepts right up until the end.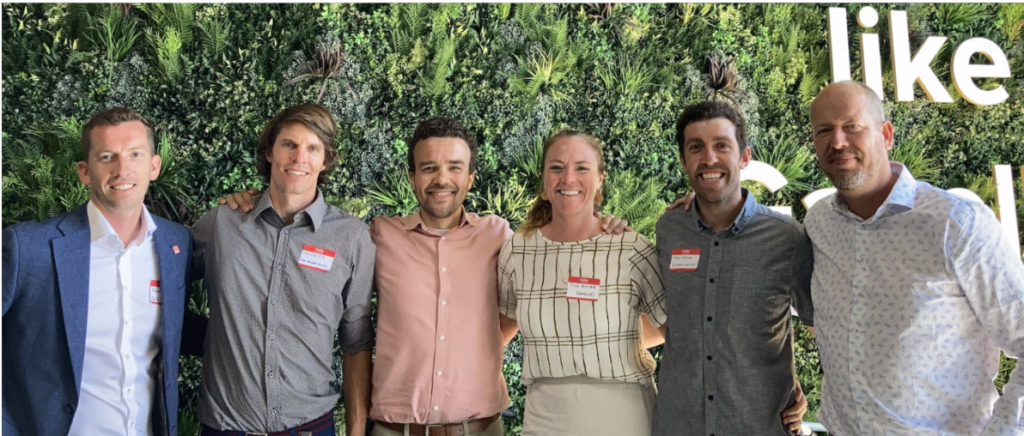 Here are Gazelle, one of our main ambitions is to get more people on bikes. Being a bicycle manufacturer certainly contributes toward this cause, however we know a key factor in what gets people riding is having a robust, connected network that people feel safe and confident to ride in the first place. With this in mind, we are committed to supporting the expansion of bike access, infrastructure, and education in the communities in which we do business. 100% of the fees from demo reservations bookings at the Gazelle Experience Center go into a special account, and then are granted to organizations on a quarterly basis. This was the first community investment funded by Gazelle and the Experience Center operations in Santa Cruz and we are excited to enable future events and opportunities around the same goal.