Gazelle Ultimate
Sleek, sportive, and dynamic.
The Gazelle Ultimate family offers award-winning design, expertly marrying dynamic performance and premium comfort. Loaded with top-of-the-range components, ergnomic features, and powerful Bosch eBike Systems, Gazelle Ultimates offer a ride like no other. Sleek battery integration within the frame creates an eye-catching appearance, while its high capacity delivers a generous range suited to all sorts of adventures.
Dynamic design
Integrated battery
Wide (47 mm) puncture-resistant tires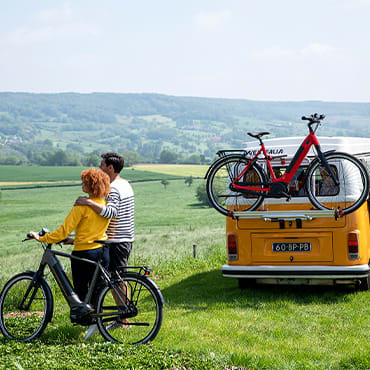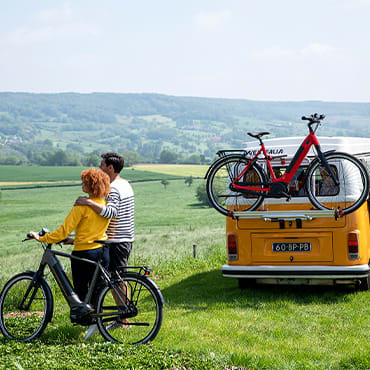 Discover Gazelle Ultimate T10 & T10+
Comfort in all conditions
Comfort in all conditions

Specced with premium Schwalbe Energizer Plus tires and generous front suspension, Gazelle Ultimates handle a wide range of road surfaces with ease. Ergonomic grips atop gently curved handlebars, a luxe Selle Royal saddle, and adjustable stem further enhance comfort.
Elegant integration
Elegant integration

The Gazelle Ultimates are the end result of award-winning design centered seamless integration of the Bosch battery and motor and overall frame styling. This is an electric bike with serious curb appeal. The Ultimate is delightfully stable on the road thanks to a low centre of gravity and the stiffness of the frame.
Power and performance
Power and performance

Propelled by Bosch's latest generation motor systems, pedal-assistance is powerful and responsive, acutely adjusting to riders' effort and changes in incline. Even the steepest hills can be neutralized by the high-torque Performance Line and Performance Line Speed motors.
Ultimate speed e-bike range
Ultimate speed e-bike range
Want to cover long distances quickly and easily? With the Ultimate speed e-bikes, reaching a speed of 28 mph feels almost effortless thanks to the dynamic design, innovative technology, and seamless battery and motor integration. Combined with a host of features and accessories tailored to support high speed riding including powerful brakes and generous suspension, you will arrive at your destination rested and relaxed. Additionally, the high-step models can be fitted with a second battery, so that you can cycle even further and longer.
"This bike is a flying machine."
I bought my Ultimate T10+ instead of a second car for my commute to work. The assist makes it possible to do the 20-mile round-trip to my office while getting me there faster than public transport. It's opened up a whole new world for me and I'm enjoying burning calories instead of gas!
More about the Ultimate
Stay Connected
Sign up for our newsletter to get the latest on new bikes, tips and tricks for maintaining your Gazelle, special events, and more!
By submitting this form, you consent to sending the above information to Gazelle USA LLC, which will be stored in the United States. This information may be used for marketing purposes by Gazelle USA LLC, its subsidiaries, and your local dealers. Gazelle does not sell, trade, or rent your personal data to third parties. You may opt-out at any time by clicking on the "unsubscribe" link that appears at the bottom of each of our emails. For a detailed explanation of Gazelle's collection and use of personal data please see the Privacy Policy & Terms of Use.