Which frame shape suits me?
Bicycles and e-bikes come in a wide variety of designs, versions and frame shapes. So there is something for every size, stature and preference. The bicycle frame bears the weight of the cyclist and absorbs shocks and braking forces. A solid, reliable frame is therefore essential when choosing your e-bike. In this article we tell you which frame shapes are available (at Gazelle) and which one suits you best.
CONTENT:
Why are there different frame shapes?
A bicycle frame is the supporting piece of every bicycle and e-bike. It is responsible for the stability of the entire bicycle construction, as it holds the steering fork, the saddle and the rear wheel together. The motor and the integrated battery are also located in the frame. There are corresponding frames for every wish, which vary in weight, sportiness, comfort and stability and are thus adapted to the individual areas of use.
A basic distinction is made between these four bicycle frames:
Diamond frame
The diamond frame is the classic frame variant and is characterised by high stability and low weight. It is therefore particularly suitable for sporty riding styles, as the riding position is inclined forwards. Because the top tube is horizontal in the traditional form, an e-bike with a diamond frame is increasingly seen as a men's bike. However, this is quite unjustified as it is suitable for all sporty male and female riders.
Wave frame
The Wave frame, curved like a wave, has a very low step-in, which makes it easy to get on and off. Thanks to its raised head tube, the frame ensures an upright riding posture that is particularly gentle on the neck. This frame shape is mainly used for city e-bikes.
Trapezoidal frame
With the trapezoidal frame, the top tube is inclined towards the saddle and it runs more obliquely, enabling comfortable mounting and dismounting. It is the ideal mix of comfort, stability and sportiness. In fact, the slightly forward leaning seating position is also suitable for sporty use. This makes e-bikes with a trapezoidal frame shape the ideal format for those who want to combine sport and comfort.
MTB frame
"MTB" is the abbreviation for mountain bike. These frames are characterised above all by their high stability and very agile and manoeuvrable rideability, which is a must for off-road and mountain use. Over time, the riding position on MTB frames has become more upright, resulting in better visibility and control for mountain bikers on trekking e-bikes.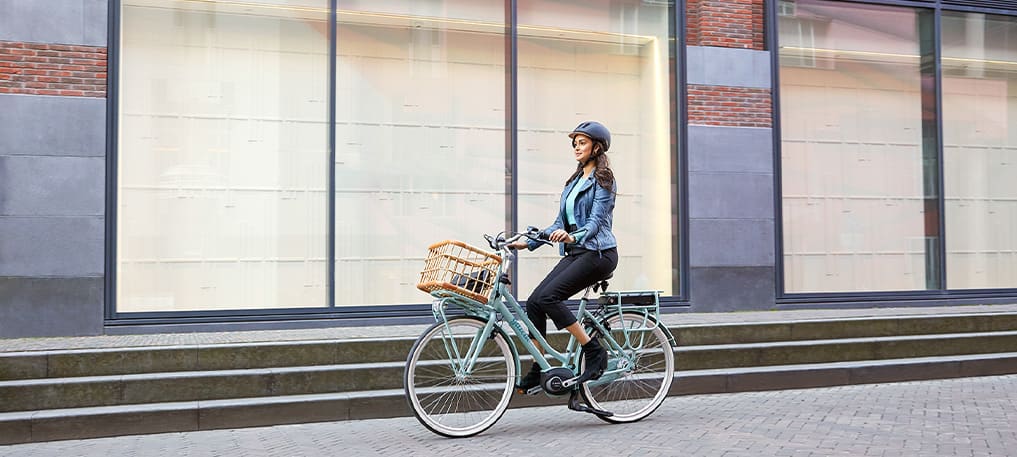 What frame shapes does Gazelle offer?
At Gazelle we distinguish between low-step, mid-step and high-step frame shapes:
Low-Step
The low-step frame at Gazelle is particularly similar to the wave frame, as it offers a low step for easy mounting and dismounting. It is therefore particularly suitable for people with limited mobility or senior citizens. Or for parents who take their children on the bike or e-bike and therefore find it more comfortable to always be able to quickly get both feet on the ground. If this sounds like exactly what you need, then we can recommend the Avignon and Ultimate e-bikes.
Mid-Step
Our Mid-Step frames have the same features as Trapeze frames and are especially suitable for those who want to combine sportiness and comfort. Mid-Step models, such as the Medeo T10 HMB e-bike, also allow for easier mounting and dismounting without losing the sporty geometry of the e-bike.
High-Step
Gazelle's High-Step frames are most similar to the Diamant frames in that they have a high top tube that is particularly suitable for sporty rides. This not only ensures stability, but also a sporty posture. This allows you to pedal very powerfully, so that you quickly gain speed. Our High-Step Gazelles, such as the Ultimate or the Grenoble, are characterised above all by their striking and stylish centre bars.
Which framesize is right for me?
The frame size is the length of the vertical tube in your frame (also called the seat tube). This is the tube on which your saddle is mounted. The right frame size for you depends mainly on your height. For example, the saddle should always be at hip-bone level (when you are standing next to your e-bike), so that when you sit on the saddle you can still touch the ground with both feet. Calculate the right frame size free of charge on our website.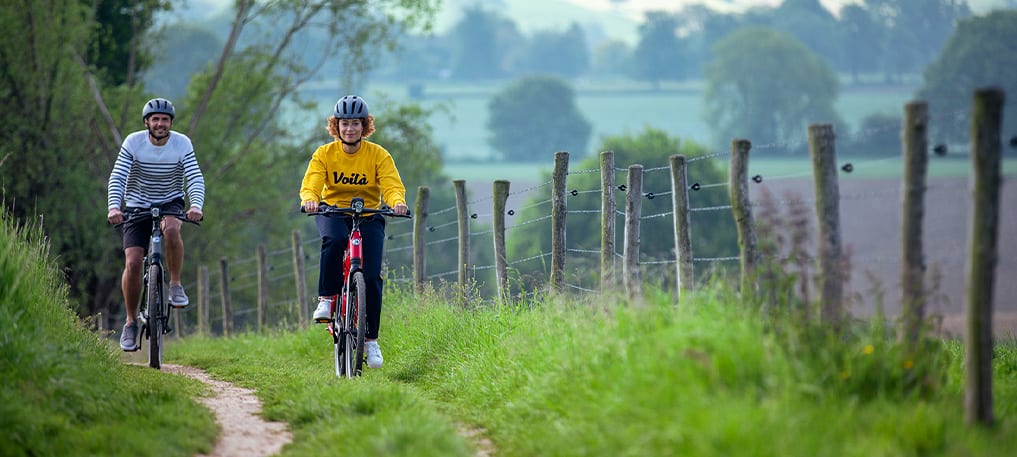 As already explained, the right frame shape depends on your preferences and desired posture. A free test ride on our test tracks and a personal consultation will help you find the right frame shape and size. Simply make an appointment at one of Gazelle specialist dealer near you. Our experts are looking forward to meeting you and will take the time to give you comprehensive advice and find the perfect model for you.