Read my story below to learn why I choose a Gazelle ebike and how the Experience Center helped me choose the right one!
Why ebikes?
I'm looking for an ebike because I want my daily rides around town to be quicker. My husband rides pretty fast, so I'm also looking for an ebike that will help me keep up when we go on rides together. Additionally, my city just added new protected bike pathways and I want to be able to take full advantage of them. If I need to grab a missing ingredient from the grocery store or pop by a friend's house, I'd much rather do so on two wheels than four!
Choosing Gazelle
Gazelle ebikes stood out to me because of their quality components and elegant designs. I was looking for a bike with a mid drive motor because my rides can be hilly and I wanted the extra capability they provide compared to a hub motor. Additionally, knowing that I can go to my dealer if I have an issue or question is comforting because I like being able to speak face-to-face with someone if I have a problem. Not to mention, Gazelle's robust warranty, which really stood out to me during my research. The opportunity to test ride the entire fleet at the Experience Center made Gazelle my first choice.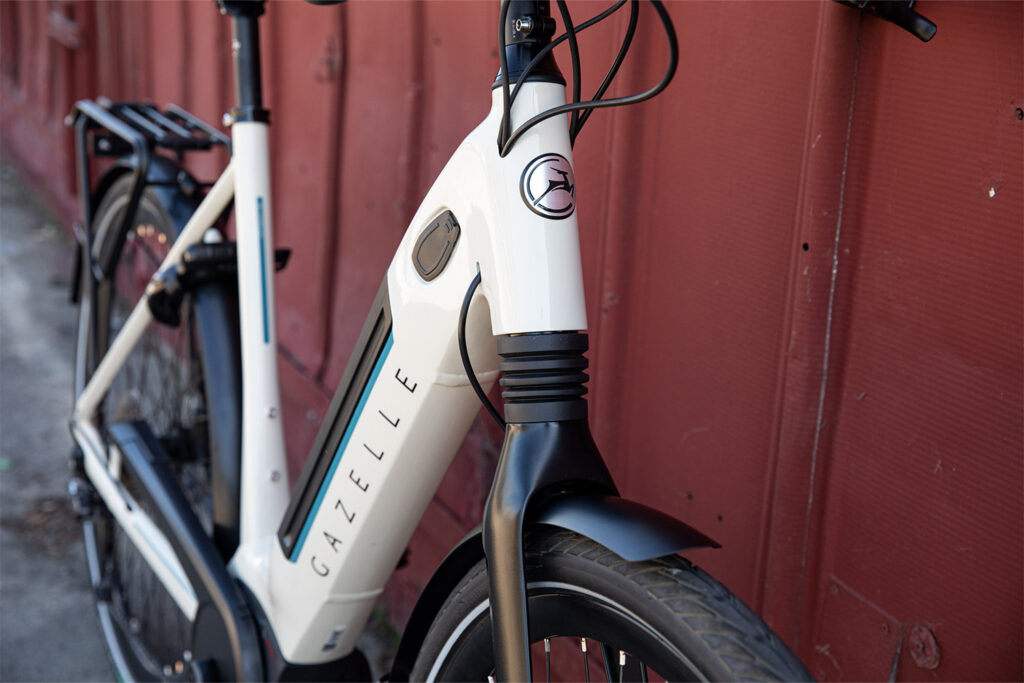 Before My Visit
If you know which bike you want to test ride, the Experience Center staff recommend making a reservation, otherwise they can't guarantee it will be available. Click here to make a reservation. If you are not sure which bike you want to try out, the team of friendly Gazelle experts can assist you with selecting the right bike. A 1-hour test ride costs $25 and all proceeds are donated to charitable causes. I choose not to make a reservation and walk in because I wasn't sure which bike I wanted to try out.
Heading to the Experience Center
Luckily for me, I live in Santa Cruz, so the Experience Center was only a short trip away. It's located at 719 Swift St. #61 right next to Cat and Cloud Coffee on the Westside of Santa Cruz. Here is the full address if your trip is a little longer than mine: 719 Swift St #61, Santa Cruz, CA 95060.
Finding My Bike
The Gazelle Experience Center allows you to view and ride the full bike fleet. You can try out all the bikes for a short, free test ride in the parking lot, which is what I did to help me choose the bike I wanted to take for a longer spin. Choosing a bike with things like high or low step, integrated or rack mounted battery, or Class 1 or Class 3 can be confusing, but the team of Gazelle experts at the Experience Center helped guide me through the process of choosing a bike with the right design and features for me.
I ended up riding the Ultimate T10 size 53 frame. The bike features a low-step frame design and integrated motor, providing me with easy mounting and a streamlined look. I love the bright red color I choose because it has the added bonus of making me extra visible on the road.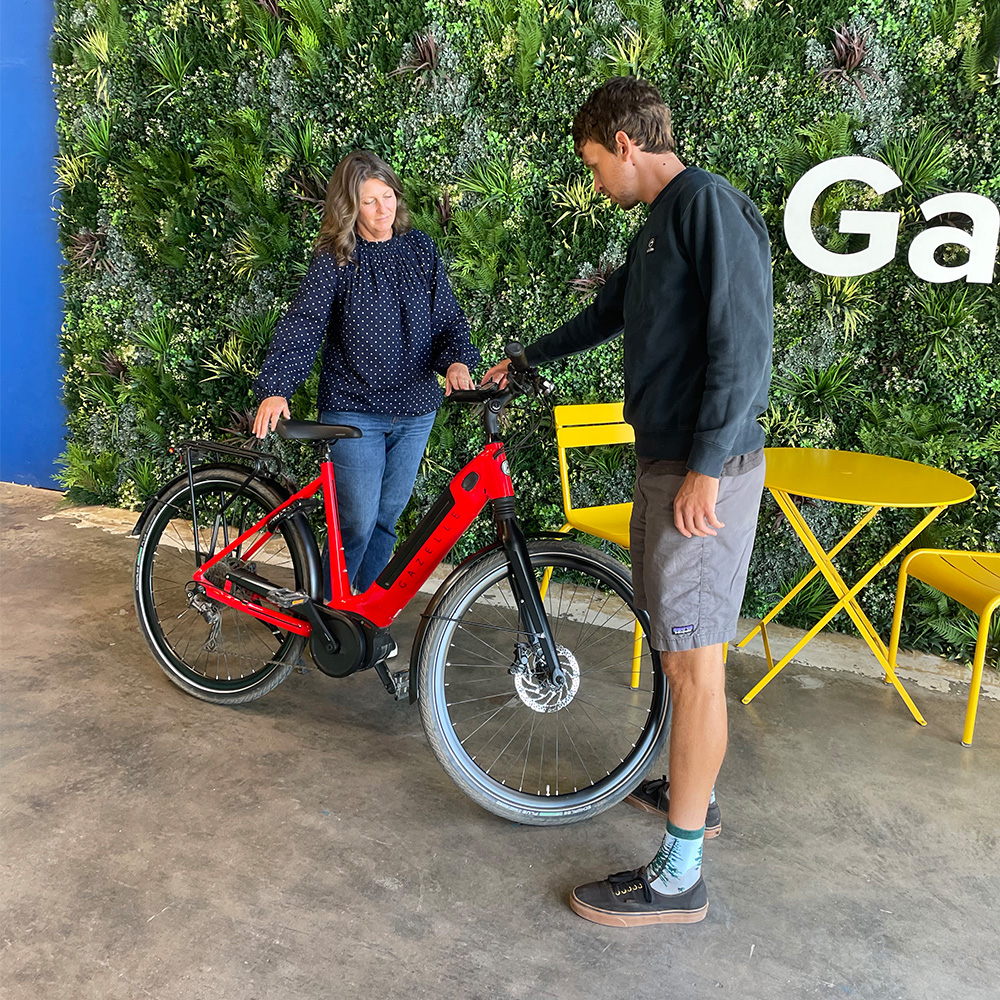 My Test Ride
Every test ride in Santa Cruz takes the scenic route. My trip took me along the cliffs and provided an amazing view of the ocean. If you prefer the quiet of the forest to the crashing of the waves, then you can do your test ride in UCSC to explore the redwood forests and hit some hills to really test out the bike's electric boost.
Heading out from the Experience Center, I took a right on Delaware and headed towards Natural Bridges State Beach. Although I missed the Monarch butterflies, which inhabit the park's trees from late fall to winter, I still took in the sights and smells of the eucalyptus trees.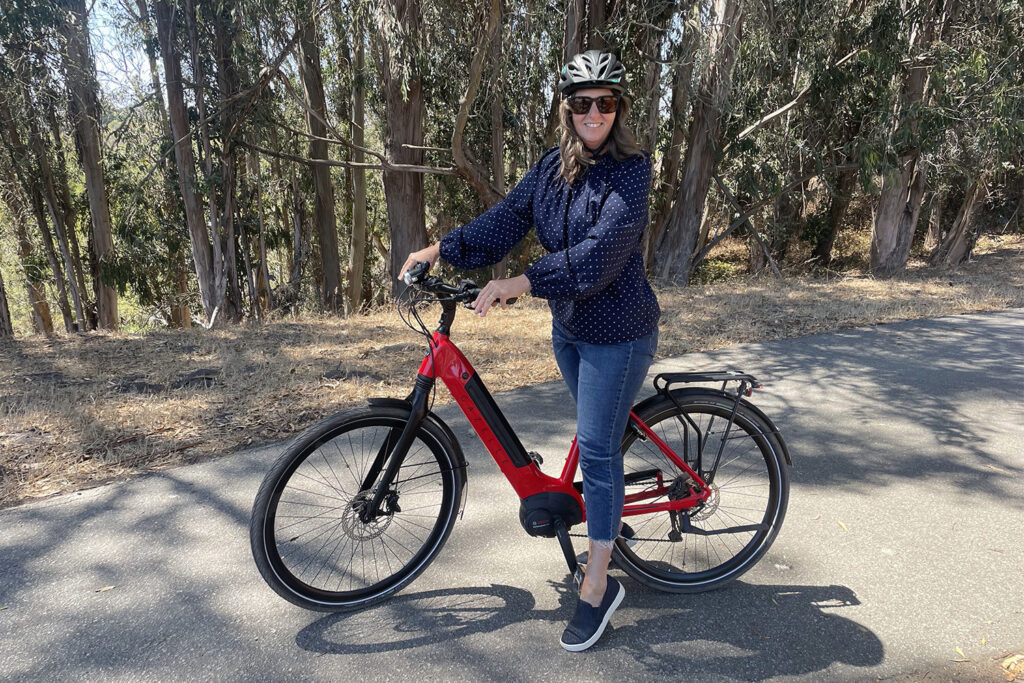 Next, I headed towards West Cliff for a cruise along the ocean. On the way, I encountered a steep hill and was impressed by how easily I conquered it with my bike in Turbo mode. Once I was on West Cliff, I headed along the cliffs towards the lighthouse and Steamer's Lane. I stopped at "the Lane" to watch some surfing and grabbed a quick bite at Steamer Lane Supply. I didn't have a bike lock on me, but luckily for me all Gazelle's come equipped with an AXA Cafe Lock. This lock immobilizes the back wheel, which is all I needed since the bike would be in my view the entire time. After a yummy tamale snack, I headed into Lighthouse Field to see how the Gazelle handled on uneven surfaces.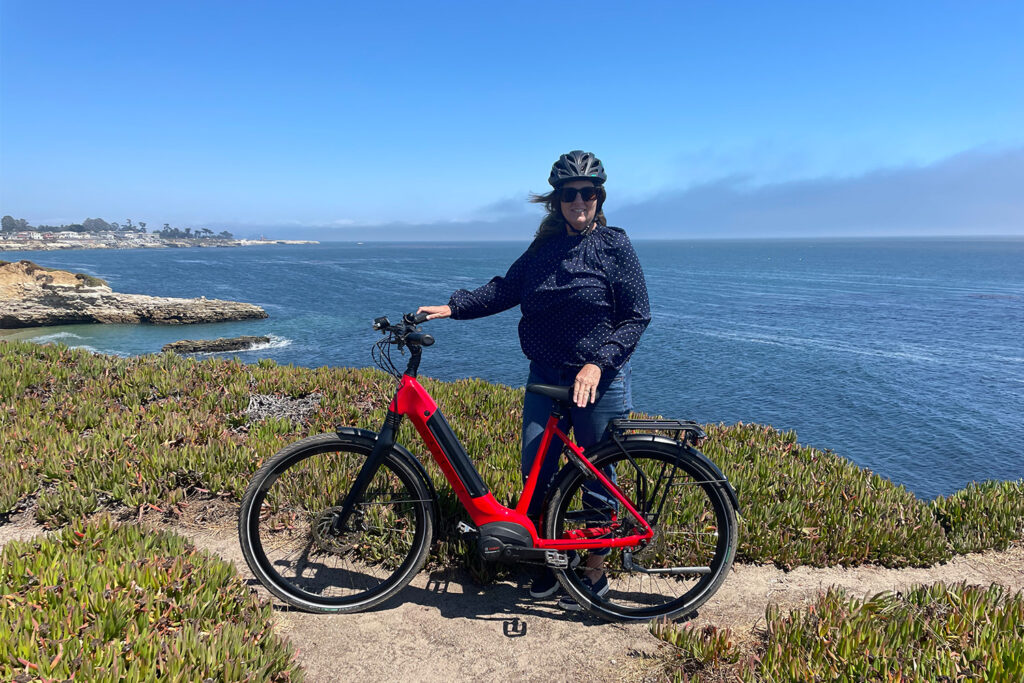 My Gazelle handled well on the gravel path, and the suspension lessened harsh bumps. From Lighthouse Field, I headed toward the rail trail, which I rode all the way back to the Experience Center. This path is one of Santa Cruz's newest pieces of cycling infrastructure and it provides a more protected cycling route.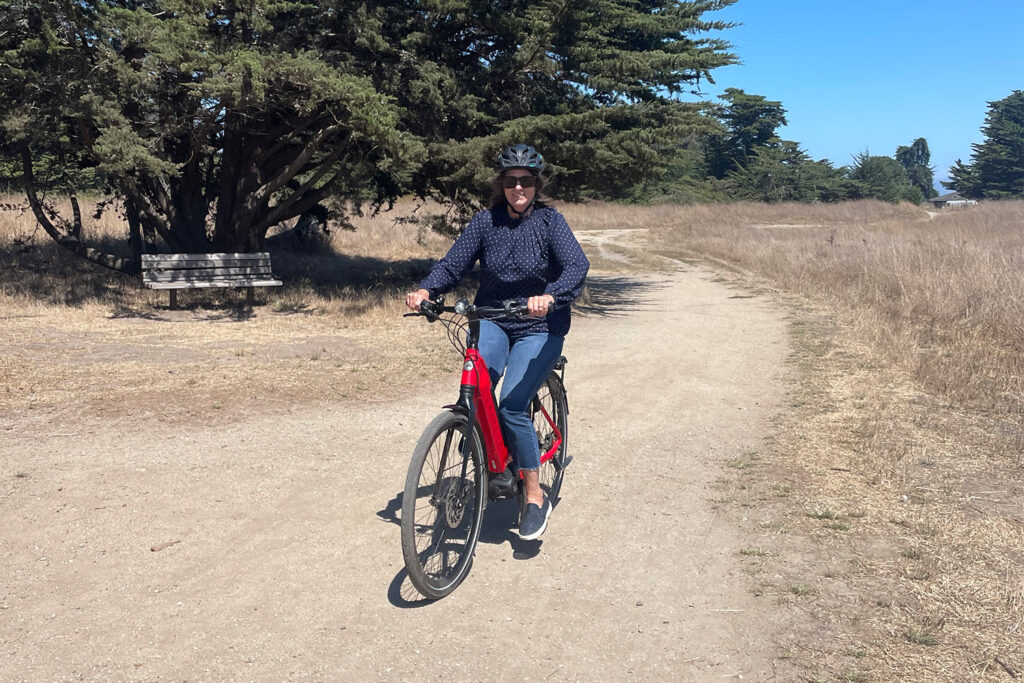 Why should you visit?
Besides meeting the super awesome staff at the Experience Center, you get to go on an amazing bike ride and visit a cool town. The Experience Center is located in Santa Cruz, CA, which is surrounded by nature and home to excellent dining and entertainment experiences. It is half a mile from the ocean, which means a short test ride can include a stop at world-renowned surf spots to watch the waves and even a cute sea otter if you're lucky. The Experience Center is also located next to delicious coffee shops, craft breweries, and restaurants. Check out the Gazelle Santa Cruz eBike Riding Guide for specific recommendations. Spending time at the Gazelle Experience Center and exploring Santa Cruz is a memorable and fun way to choose your new ebike.
Still not convinced to make the trip? Checkout the Experience Center video to learn more!