In North America, our ebike fleet is 100% Bosch eBike Systems-powered. Bosch batteries are tested to meet the highest consumer certification standards, more specifically, UL 2849. (UL 2849 is a standard covering the electrical system of ebikes powered by a lithium-based, rechargeable battery.) UL 2849 has strict requirements for electrical shock, mechanical, and fire hazards. Additionally, the high-quality, lithium-ion batteries have a Battery Management System (BMS) that detects significant potential sources of error and effectively protects cells against overheating.
Take a look below to learn how Bosch eBike Systems sets the gold standard for the market: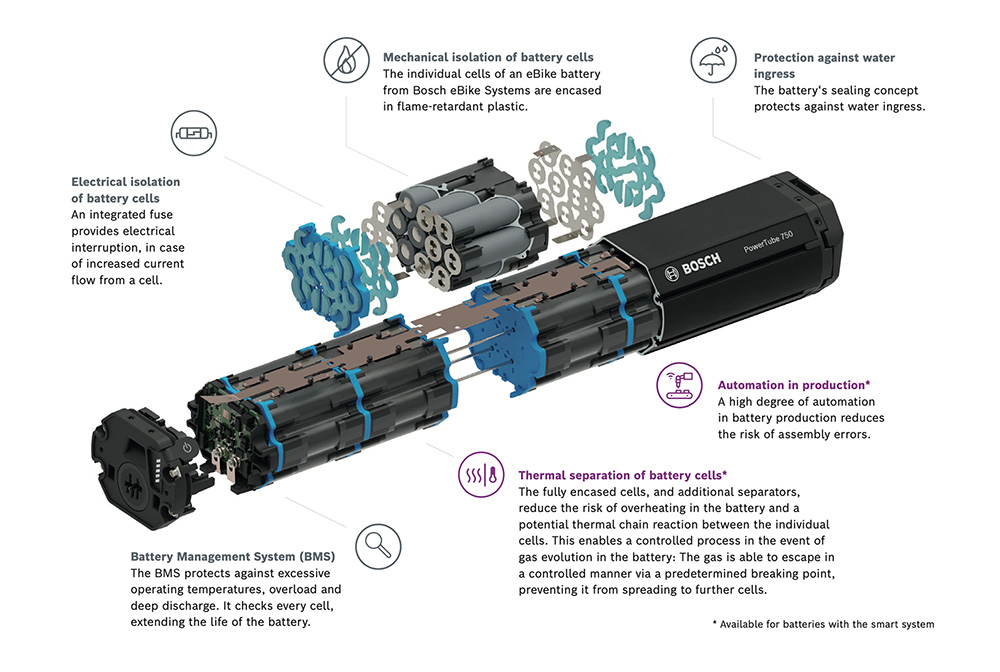 Learn more about how Bosch technology is making eBike batteries safer here.
Our Commitment
Commitment to safety is our top priority at Gazelle, and by partnering with Bosch, our bikes are among the safest and most reliable ebikes on the market. Bosch continues to set new benchmarks in battery safety by integrating a combination of various technological mechanisms, tests, and a high degree of manufacturing automation:
The individual cells of a Bosch eBike Systems ebike battery are encased in flame-retardant plastic (mechanical separation). In addition, the battery cells are electrically separated from each other. In the event of an increased current flow, an integrated fuse ensures an electrical interruption. This protects the other cells of the battery and prevents and contains the possible spread of heat.
A common concern that arises among ebike riders is water. Won't water damage my battery? Not on a Gazelle! Bosch PowerTube batteries (used on the majority of our ebikes) have seals with multiple sealing lips at the front and rear ends. In Bosch PowerPack batteries, used on our Medeo T9 and T9 City ebikes, the battery housing is sealed all around. These precautions keep water from entering the battery when installed, thus creating an ebike that can be ridden without hesitation, even in wet conditions.
Despite the best-in-class safety standards that Bosch eBike Systems applies to its batteries, there is a very small percentage of batteries that may be damaged. Risks can be further reduced by properly handling the battery with care. Important information about handling batteries can be found in our Battery Golden Rules Guide here.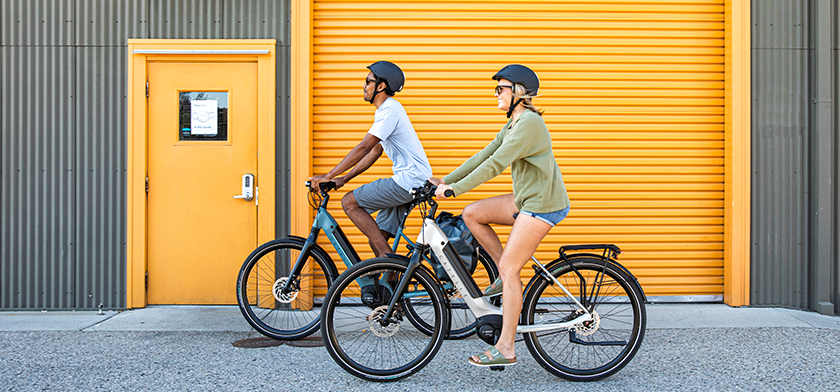 With over 125 years of experience designing and building bikes, and as one of the first brands to manufacture an ebike, we are proud to continue to provide you with products that are not only safe, comfortable, and reliable, but also designed and tested with the utmost care and attention to detail. Learn more about our dedication to all the details that go into making and testing our bikes to ensure a joyful and enduring ride here.