Hi Jennifer, tell us about you Gazelle? Which model do you have and how long have you had it?
I have a Medeo T9 that I've owned for 6 months.
How has owning a Gazelle changed the way you live?
I love commuting by bike. As opposed to buying a second car for my teenagers to use during the summers when they are working, I bought an ebike for myself. I work 2 miles from home but it is up and down with hills both ways, a mix of pavement and gravel roads, in southern VT, and was too much for my old knees on my old bike. It was doable by regular bike but not easy especially on hot summer days. Plus I'm a single mom, with 2 kids, 2 dogs, chickens, gardens, and yard to keep up. So if I used up all my energy biking there wasn't much left to do all the things that needed to be done after work. The ebike lets me enjoy the ride to work, and if I have to go home for lunch to let dogs out I can get there and back to work and still eat lunch and not be exhausted and sweaty when I get back. And it lets my car be available for my kids if they need it during the week, which is rare enough that buying a second car didn't make sense for us. So it has been perfect for all of us! So it is perfect for commuting but also fun to take out on moderate rides around town, which is mostly gravel roads for me.
I would say the hardest thing about being eco-friendly in rural Vermont is the almost total lack of public transportation here – you really do need a car for almost everything, especially if you have kids. Anything that makes not using a car easier, such as my ebike, helps. The lack of bike lanes, bike trails, and even basic bike racks outside most businesses doesn't help – Vermont is portrayed as an environmentally conscious state but in the area of transportation, it is really hard to avoid driving.
The ebike has let me leave the car behind, is so much fun to ride, gets me to work in a much better frame of mind, and eases my conscience about how much impact my life has on the environment. LOVE IT!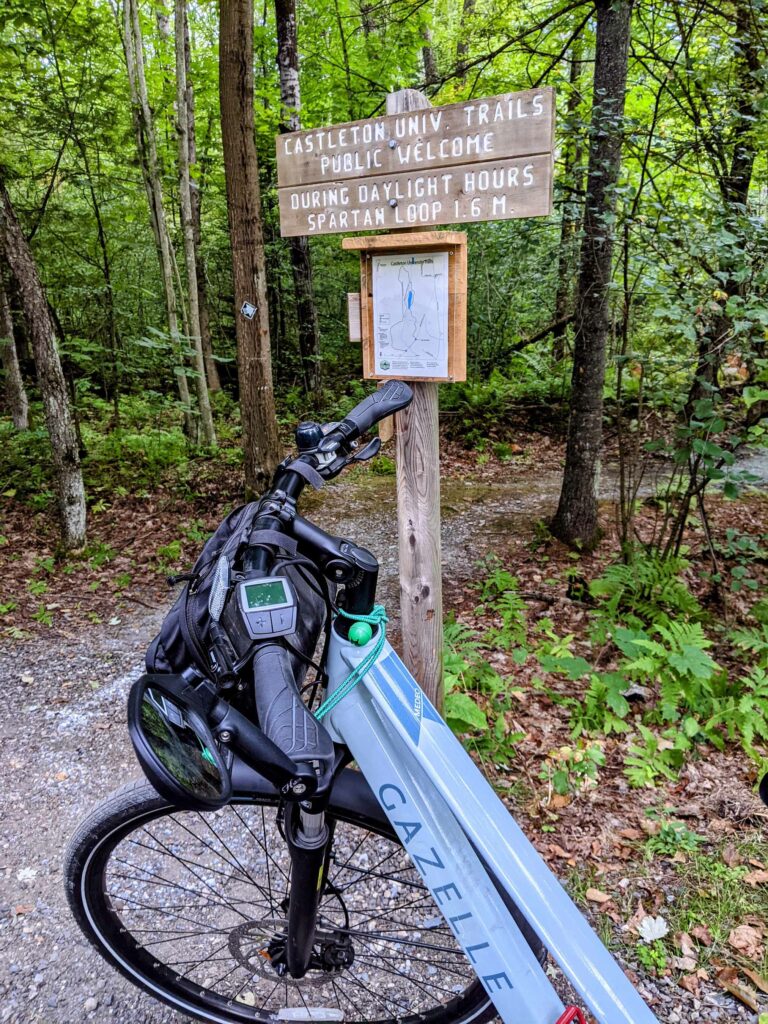 How long have you been riding and is this your first ebike?
This is my first ebike. I grew up riding bikes around our neighborhood, rode to work through high school, college, and graduate school, bike commuted to work in my 20's, but largely gave it up after kids were born in my 30's. Now in my 50's and so happy to be back on a bike!
How do you use your Gazelle–for commuting, errands, fitness, fun–or all of the above? Tell us how you enjoy the ride.
All of the above, I love being able to ride to work while improving my fitness and enjoying the ride.