Hi Matthew, tell us about you Gazelle? Which model do you have and how long have you had it?
I'm the proud owner of an Arroyo C8, aptly named "The Blue Baron," that I will have had for 4 years this October.
How has owning a Gazelle changed the way you live?
I was an avid kid rider, did paper delivery, rode again in LA where bikes were my primary transport to college and to work, and then later for fun, riding along the coast. Years, miles careers, and moves later I rediscovered bikes after some rumor of great trails here in Seattle, so I set out on a rental. Ebike? Sounds fun/different after all these years, so sure! I was hooked and started "shopping" and comparing/researching. I tried about a half dozen bikes and then found the Arroyo but didn't love the flaky dealer here at the time so went to Portland (ebike store) the oldest ebike dealer. They were super knowledgeable and friendly/helpful. Back then to Seattle and now 3100 + miles later through so many neighborhoods, trails, parks, waterways, out on docks, down alleys, over/under bridges, down elevators, up escalators (not recommended!), and seaside to industrial areas. Everything is more vivid on an ebike and the Gazelle is the best most reliable champ I can imagine! My post architectural/interior career lead to a new career on Bainbridge Island in wood arts, but a commute of only 52′ between home and shop as well as my wife's health issues have kept me pinned on this island. Riding again fills my mind with imagery and adventure that I have so missed. Additionally, exercise flattened my stomach, and a renewed sense of freedom, and being "in the moment," alert, focused + fun has changed my life!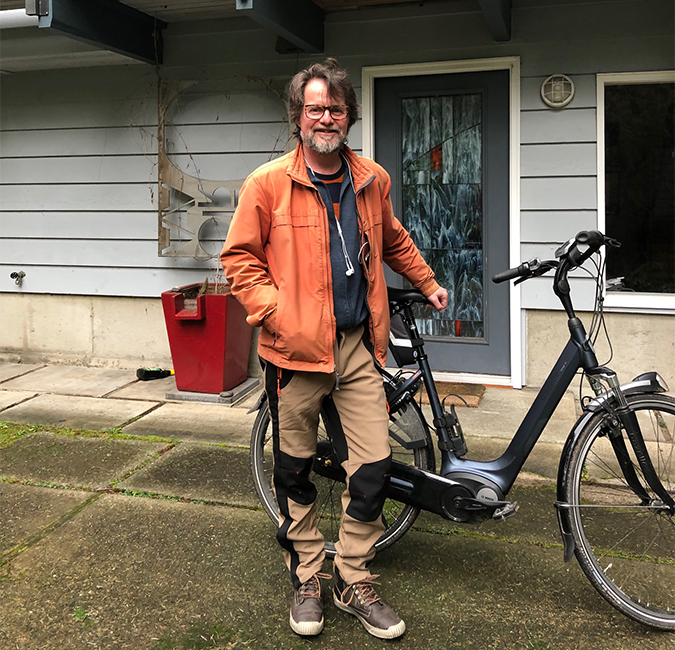 How long have you been riding and is this your first ebike?
I've been riding for 4 1/2 years and yes, this is the first ebike I've owned.
How do you use your Gazelle–for commuting, errands, fitness, fun–or all of the above? Tell us how you enjoy the ride.
I enjoy the ride for fitness, fun, and adventure.
My wife and I have traveled all over the world from Asia, South America, UK, Canada, to Mexico. Northern cities such as Helsinki, Saint Petersburg, and we even lived in Prague for a year (and were married there!). It never occurred to me to bike ride except for eyeing the Parisian short-term rentals that popped up a few years back. A river cruise along the Marne also had biking options from the barge, but I guess growing up in the US we don't realize all rivers were lined with towpaths, now with cycling opportunities that link all of Europe as do the waterways!
I really did not "understand" Seattle but for the museums, my galleries, and some park areas until I was "forced" through different neighborhoods during my wife's surgeries and subsequent radiation treatments. Only then did I see and learn what The Burke-Gillman trail was and how it threaded around former coal rail lines along the coastal edges. That is when I thought to rent a bike and Wow, it all opened up!! So in the last 4 years, I have added taking "The Blue Baron" Gazelle on the light rail to furthest stations, weaved through miles of river trails, taken ferries to and from, scaled hills, sought sculpture and other public art, as many parks as I can find, etch, and "map" into my explorer's mind.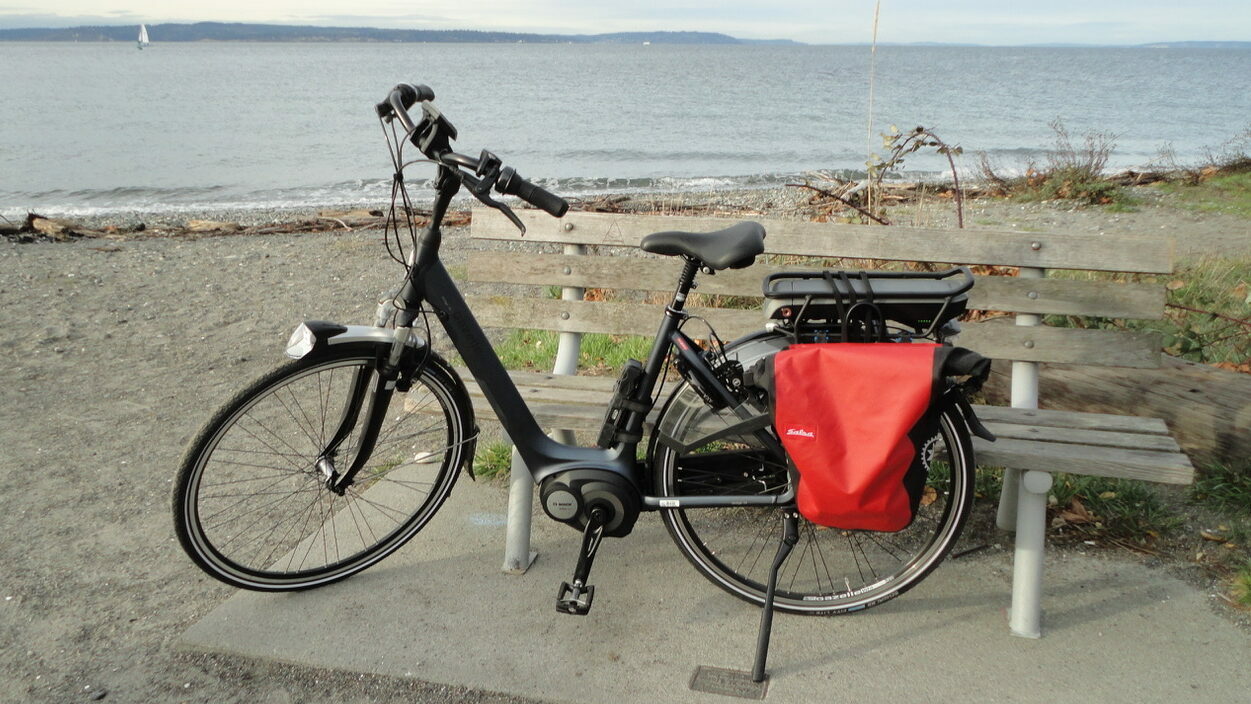 The bike is not just "fun" but enabled a serious re-experiencing of decades of travel and exploring, especially now as it is very difficult for my wife. My ebike adventures are a form of yoga for my soul, all senses reawakened.
As I work from a home studio, getting out on "fair-weather" Seattle rides is taking the opportunity in betwixt the rains. However, there was one day the skies looked nice and clear, well to the North. However, a twister and huge micro-burst caught me out in Seattle from the south/West forcing me to dodge under a high freeway bridge, then came a huge crack of lightning, way too close for comfort and I thought "is this how it ends? I am on a fine piece of metal, soaking wet and a sort of perfect lightning rod?!" LOL! It all turned out well and was fun in retrospect!
So many decades of being overly employed. Now I'm self-employed and looking towards the next thousands of miles of ebike adventures….and ps., I turned 60 in July, not far off in size nor weight as that 20-year-old zooming around LA by bike, just a wee more gray.
What has been your greatest or most memorable adventure with your Gazelle?
Perhaps also the longest at 62 miles, when I set out from the Bainbridge ferry to downtown Seattle, out and around the north end of Lake Washington with sort of a"plan". I followed out along the Sammamish River south through wine country in Woodinville, and back through Redmond (tech hub) and back thru Bellevue, grinning still but beginning to be concerned between the battery and leg power if I was going to make it back to the ferry with more big hills and a huge span of a bridge and still through Seattle to ferry! I made it and still had 1 bar of "juice" in the Bosch 500 watt battery. I will likely do it again soon but note: Ah, downriver next time, south to north! Like coasting thru the south of France or out in the Netherlands.
Anything else you would like to share about your Gazelle or your experience with it?
Yes, one fine note on reliability and as so little has needed tuning. Earlier this year I returned home and plugged in the battery, and something in the back rack looked odd. On inspection, the flat bar frame under the battery had cracked due to "metal Fatigue" and the severity of impacts on some rough Seattle roadways. I was looking for replacement part #'s and noticed the 10-year guarantee on the frame. Gazelle replaced the portion of the rack, and provided parts, and labor with an improved tubular welded rack at no cost! Who else can provide that level of assurance, quality, and integrity in the marketplace?