Hi Timothy, tell us about you Gazelle? Which model do you have and how long have you had it?
I have an Ultimate C380 (step-through ebike) that I've owned for 4 months.
How has owning a Gazelle changed the way you live?
I look for more opportunities to ride, not only to simply "enjoy nature" but also to commute or run errands.
How long have you been riding and is this your first ebike?
I've been riding all my life, but this is my first ebike.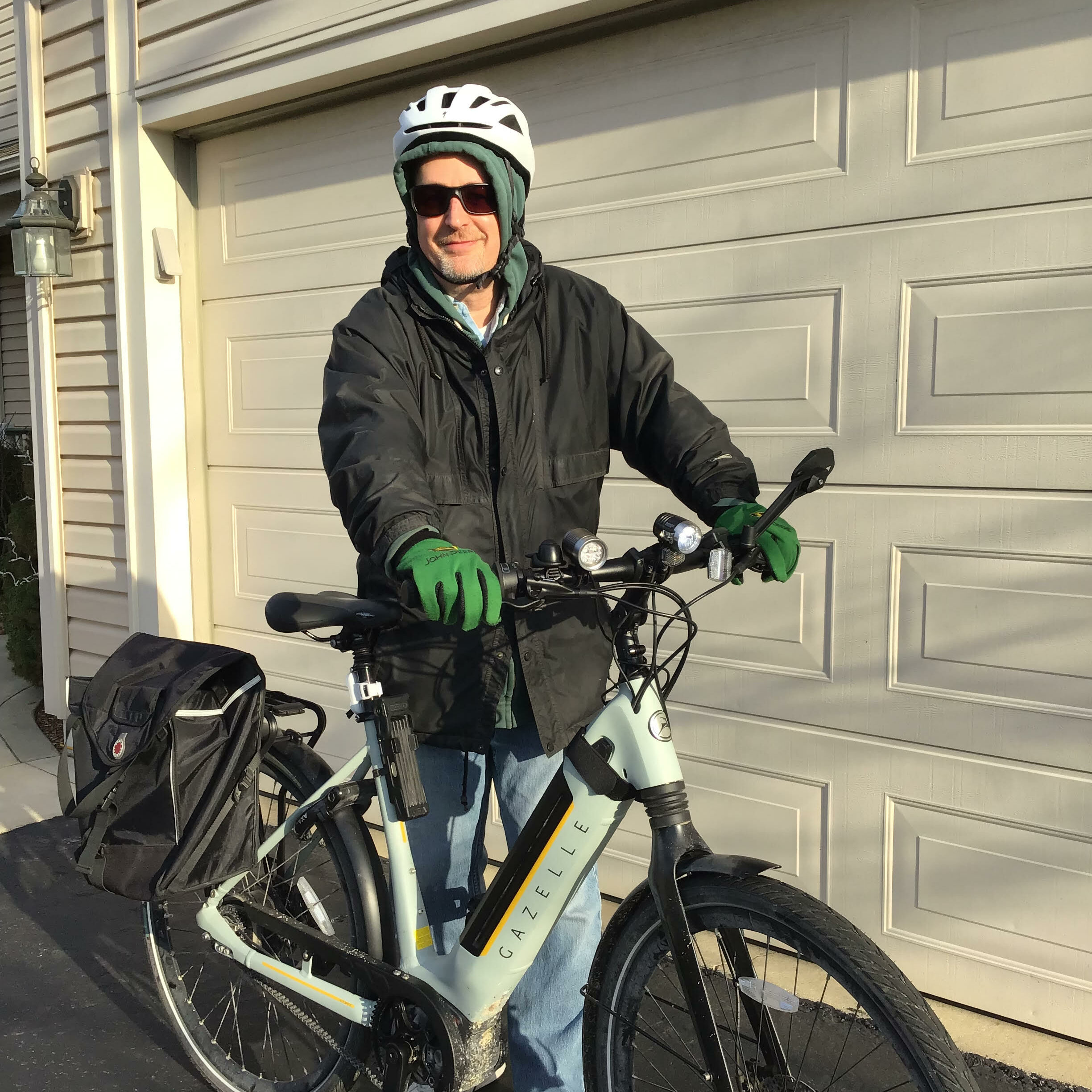 How do you use your Gazelle–for commuting, errands, fitness, fun–or all of the above? Tell us how you enjoy the ride.
I use my Gazelle for commuting, errands, and pleasure riding in nature–all of which are good exercise too.
It has become a semi-regular thing for me to run Saturday morning errands on my Gazelle. One morning I made 6 different stops. I realized afterward that it would have been draining to do all that by car–dealing with traffic, finding parking, getting in and out of the car multiple times–but it was energizing on the Gazelle.
If I could describe my Gazelle in one word, it would be smoooooth. Everything about the bike is so smooth, I feel like I'm just gliding along–usually with a silly grin on my face. In addition to using my Gazelle for commuting and errands, I've enjoyed many pleasure rides with it too. It's great that we have so many nature trails in my area with the IL Prairie Path and many other regional trails–it seems I discover a new trail almost every week! I've only had the bike for 4 months but have already put over 900 miles on it. My son will be driving to school soon, so my commuting to work via the Gazelle will ensure that my wife still has a car available. My commute is a combination of sidewalks, side streets, and nature trails. I cross a few busy streets but otherwise am fortunate to have a route where I don't have to worry too much about traffic. I live in the Chicago suburbs (Illinois), but I grew up in Minnesota and so cold weather is an old friend. I typically bike to work even in our Chicago winters (which actually are kind of "meh" compared to what I grew up with). I love how I can arrive at work invigorated but not all sweaty thanks to the pedal assist, then I can use less assistance on the way home for a nice workout. When I was researching ebikes, I looked for features like fenders, chain guard, rear rack, and lights–which all help support a commute. I especially love the sense of freedom my ebike gives me–it's just me and the bike, on the move and having fun–which is way better than sitting in traffic or worrying about making it through the next light. Being a nature lover (Minnesota is known for its wilderness canoeing), I also appreciate the opportunity for fresh air and being out in nature. It was a fun realization that I could get to a neighboring town for lunch in only 12 minutes–the same amount of time it takes to drive there and find parking–plus the bike route takes me through a lovely park. When I've had a stressful day at work, commuting on my Gazelle helps my psyche in so many ways–not only does the exercise get those endorphins going, but there's that sense of freedom and the chance to be out in nature. Plus the bike is just such a joy to ride! Saturday errands on the Gazelle are a blast as well. One Saturday I had 6 different places to go, and I was on the bike almost the whole time since I could go right up to each door. If I had taken the car, I would have had to find 6 parking spots and get in and out of the car multiple times, which is draining. I keep telling people that getting the Gazelle is the best thing that's happened to me in the last 5 years. I think if everyone had the chance to test-ride a Gazelle ebike, there would be a lot more ebike owners and a lot fewer cars on the road! Excuse me, I'm eager to get out and run some errands on my Gazelle . . . !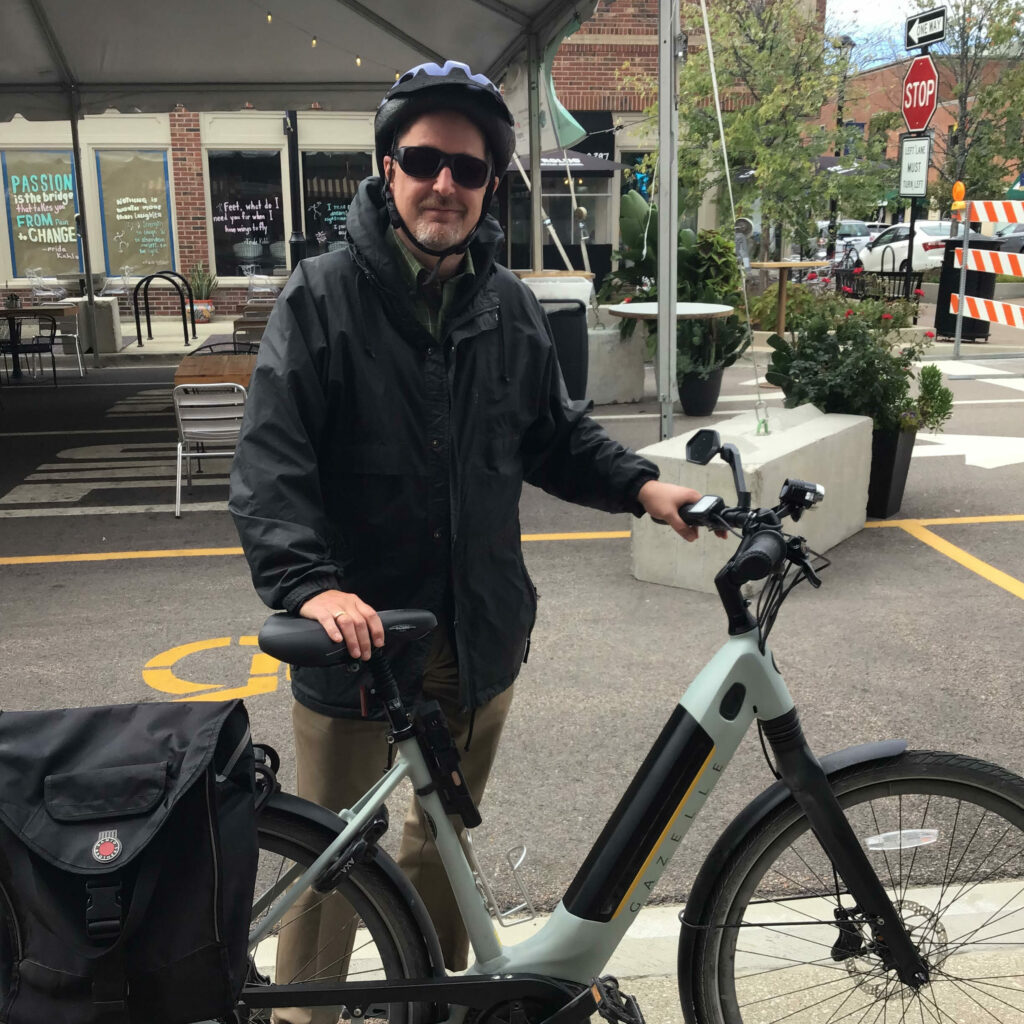 What has been your greatest or most memorable adventure with your Gazelle?
Every ride is memorable because my Gazelle is so smooth and fun to ride! I have taken some wonderful bike tours thanks to the many nature trails in my area. It has been a joy to discover new trails that I didn't know about before or to take longer trips (30+ miles) that used to take me all day.