1. Monterey Bay Coastal Recreation Trail, California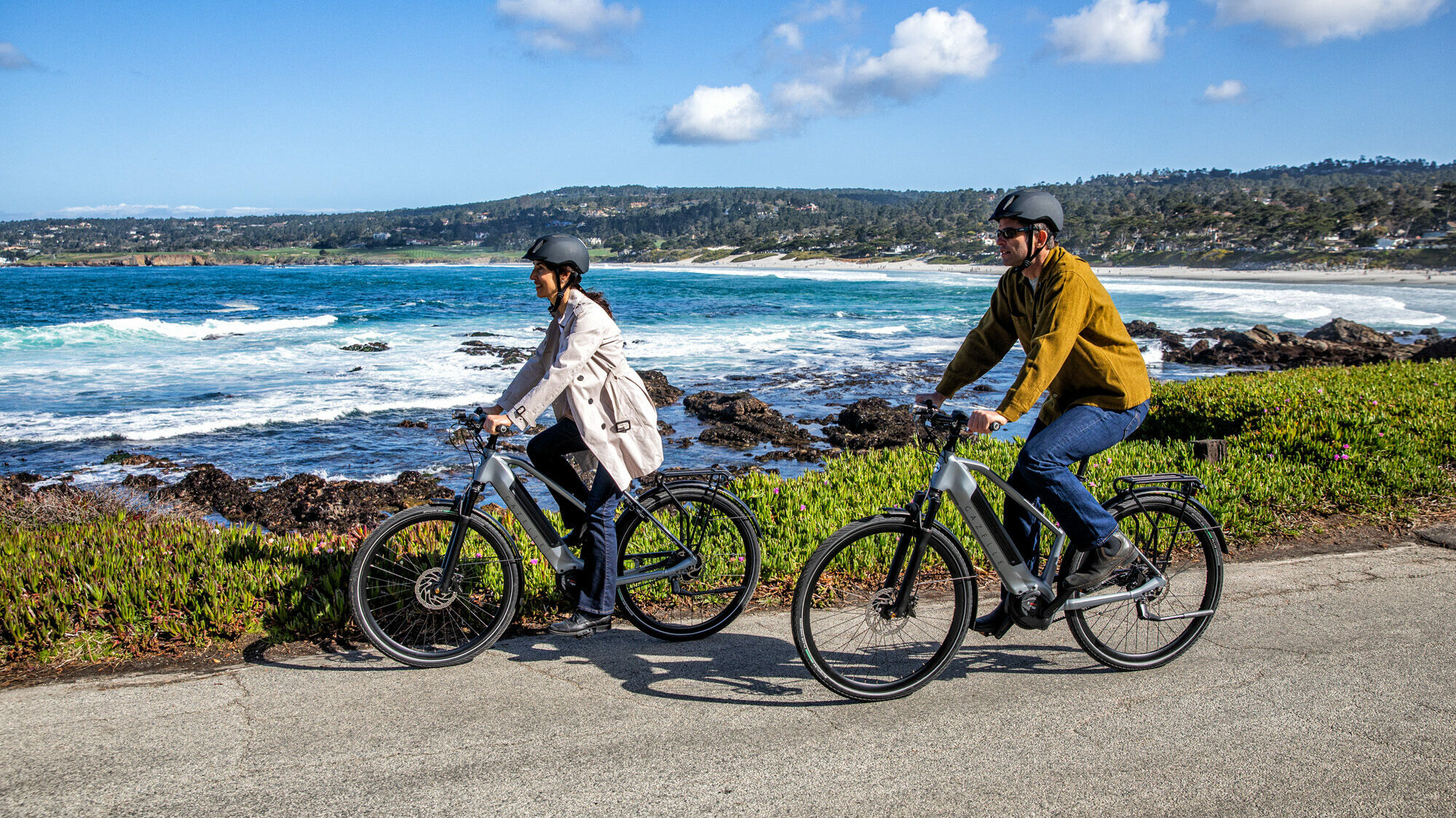 Location: Monterey, CA
Distance: 18 miles one-way, 36 miles round-trip
Trail Surface: paved
Notes: Rail trail, mostly separated from car traffic, bring layers for cool, foggy mornings
Summary: This equal parts scenic and historic route begins in picturesque Pacific Grove and ends in Castroville, the "Artichoke Center of the World". Combining ocean views, a former Army base, and agricultural areas, this route has something for everyone, especially sea otter lovers. With only mild hills, this trail invites a leisurely pace and encourages you to complete the 36-mile round trip, especially with the boost only an ebike can provide. Make sure to enjoy some fresh seafood from Monterey Bay after your ride! Looking for an even more epic ride? Add on the famous 17 Mile Drive route to your trip for an unforgettable day.
---
2. Trail of the Coeur d'Alene, Idaho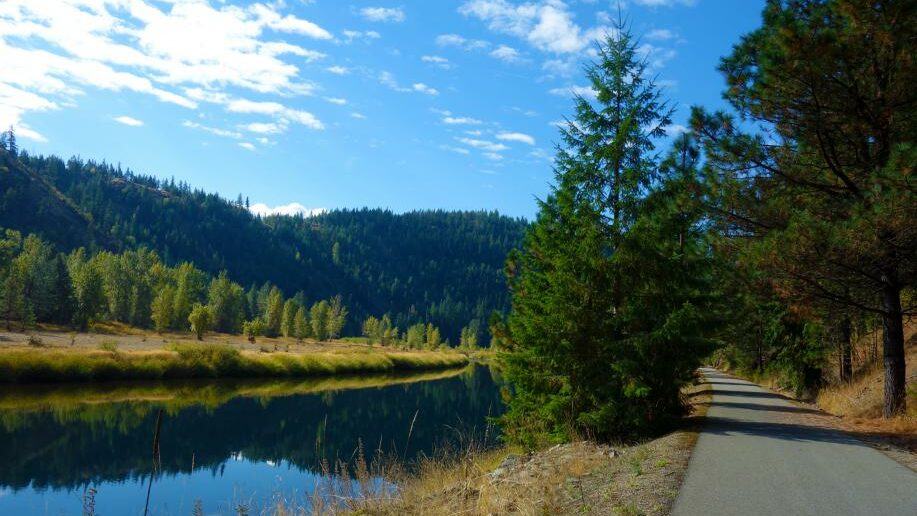 Location: Coeur d'Alene, Idaho
Distance: 73.2 miles
Trail Surface: paved
Notes: Rail trail, paved bike path, make sure to prepare for a long day and bring clothing for mountain weather
Summary: Immerse yourself in impressive vistas and heritage as you set out on the 73+ mile paved Trail of Coeur d'Alene. Explore historic mines and railroads, and learn about the native Coeur d'Alene or Schi̲tsu'umsh people, as you transition from lake, to prairie, to mountain environments. With many attractions, quaint towns, and tempting spots to enjoy a delicious meal, your ebike gives you the power to ride the full distance. Keep an eye out for wildlife including coyotes, beavers, birds, and bears. Coast through incredible scenery, hop in one of many sparkling lakes for a cooling swim, and experience one of the top paved trails North America has to offer.
---
3. North Pathway, Wyoming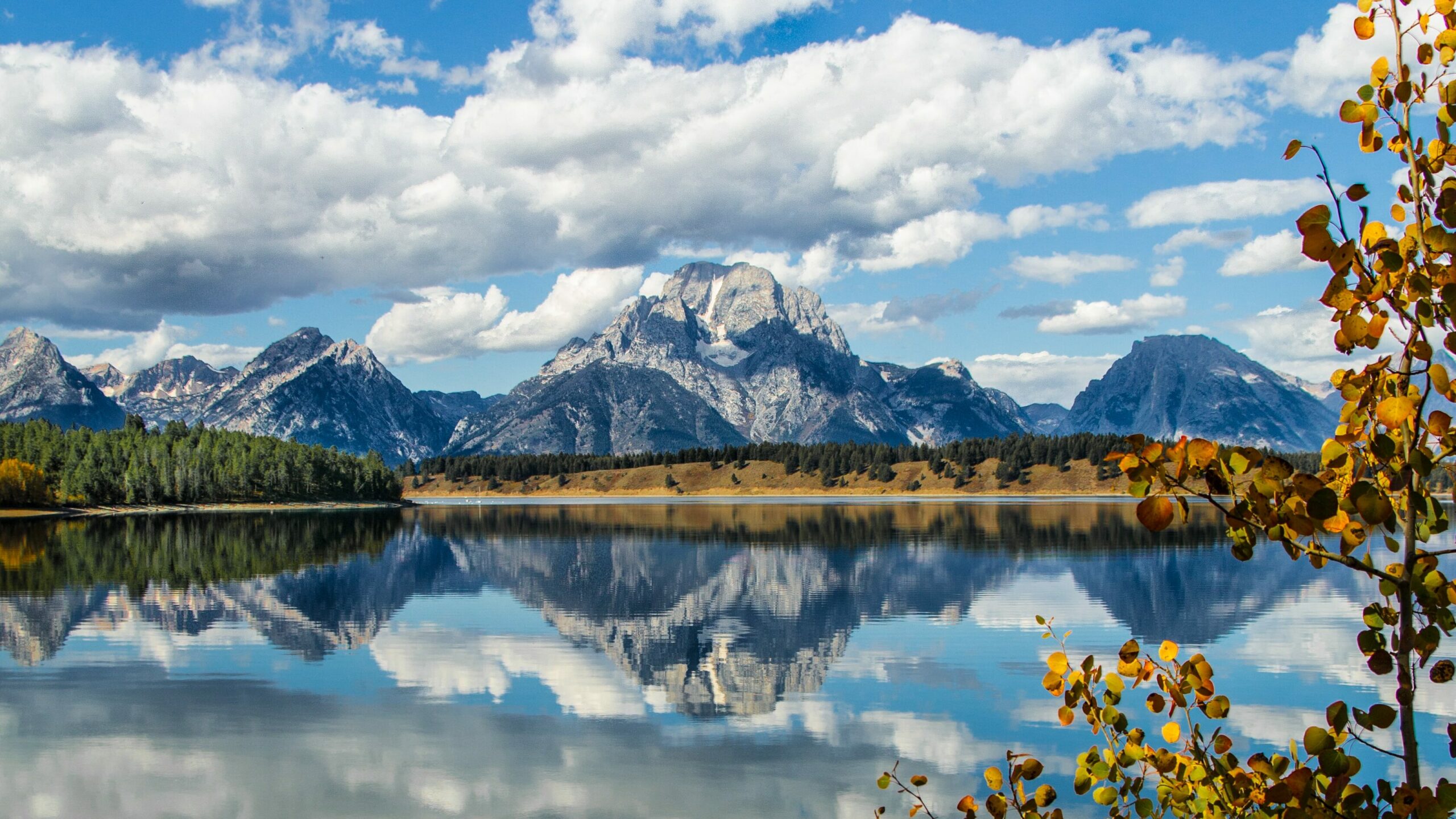 Location: Jackson Hole, Wyoming
Distance: 20.3 miles
Trail Surface: paved
Notes: Rail trail, paved bike path, make sure to prepare for a long day and bring clothing for mountain weather
Summary: Enjoy breathtaking views of the Grand Teton mountains as you traverse the Jackson Hole valley. From the National Elk Refuge to Jenny Lake Visitor Center, watch for elk, bison, pronghorns, and other wildlife native to the region. Stop at a variety of visitor centers for a deep dive into the vibrant history, geology, and ecology of the Jackson area. From the valley to peak vistas, this trail is a highlight for its smooth riding in truly rugged Western terrain. Get a taste of the mountains from the comfort of your ebike.
---
4. Pine Creek Rail Trail, Pennsylvania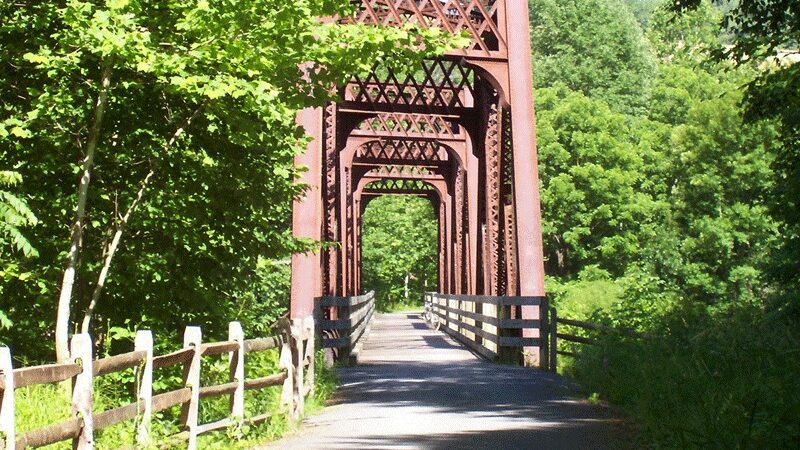 Location: Lycoming and Tioga Counties
Distance: 62 miles
Trail Surface: crushed stone
Notes: Rail trail, river gorge, finely crushed limestone surface
Summary: Visit one of Pennsylvania's destination trails and enjoy the incredibly scenic Pine Creek Gorge with the comfort of your ebike. Sometimes known as the Grand Canyon of Pennsylvania, the gorge features a charming town nestled within a beautiful lush forest as you wind your way along the river. Stop at one of many comfort stations or campgrounds if you would like to extend or slow the pace of your trip. The glacier-formed gorge, which is 800–1,400 feet deep and up to a mile wide, was a historic route for Native Americans that led to modern railroads, now replaced by the Rail Trail path. Cycle through the vibrant basin and keep an eye out for bald eagles in the skies and river otters or beavers in the water. Ride through a gem of Pennsylvania on your ebike.
---
5. River Mountains Loop Trail, Nevada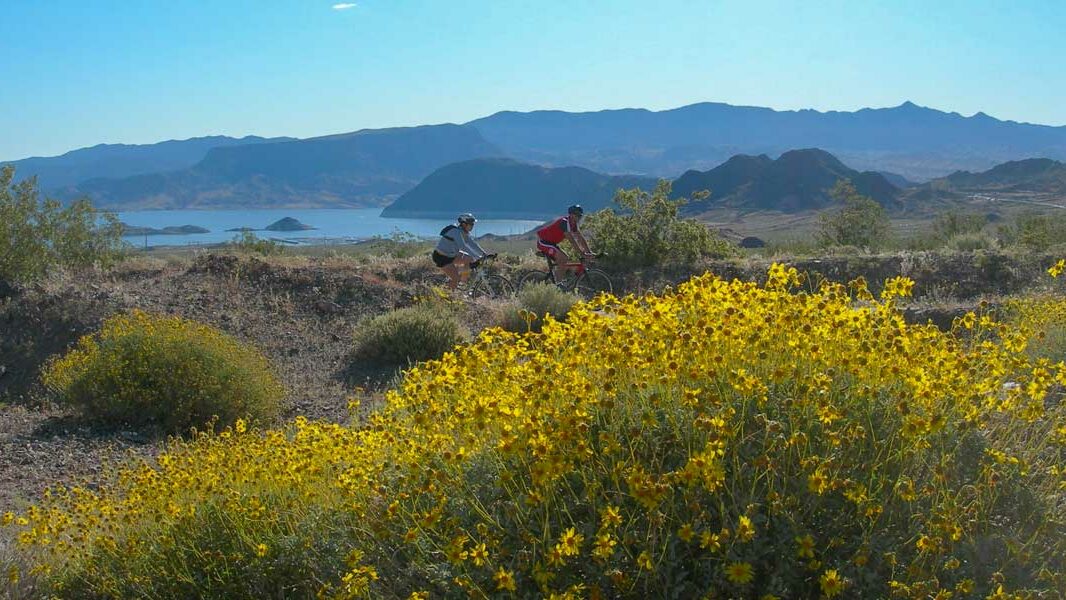 Location: Boulder City and Henderson, Nevada
Distance: 35.3 miles
Elevation Change: 750 ft / 229 m
Trail Surface: asphalt and concrete
Notes: Rail trail, riverway, bring water and prepare for a hot desert environment
Summary: Experience epic views as you zoom along the River Mountains past Lake Mead, the Hoover Dam, and the Las Vegas Valley. Ride along the now smoothly paved bed of the old railroad used to supply the materials to build the Hoover Dam. Enjoy desert, lake, and mountain views as your ebike makes the climbs on this route a breeze. Keep an eye out for an oversized bike statue near the southwest corner of the trail and wildlife. The largest population of bighorn sheep in Nevada resides in the surrounding River Mountains–have your camera ready! Enjoy a beautiful day out on the River Mountain Loop Trail and immerse yourself in desert history and scenery.
---
6. Shark Valley Tram Trail, Florida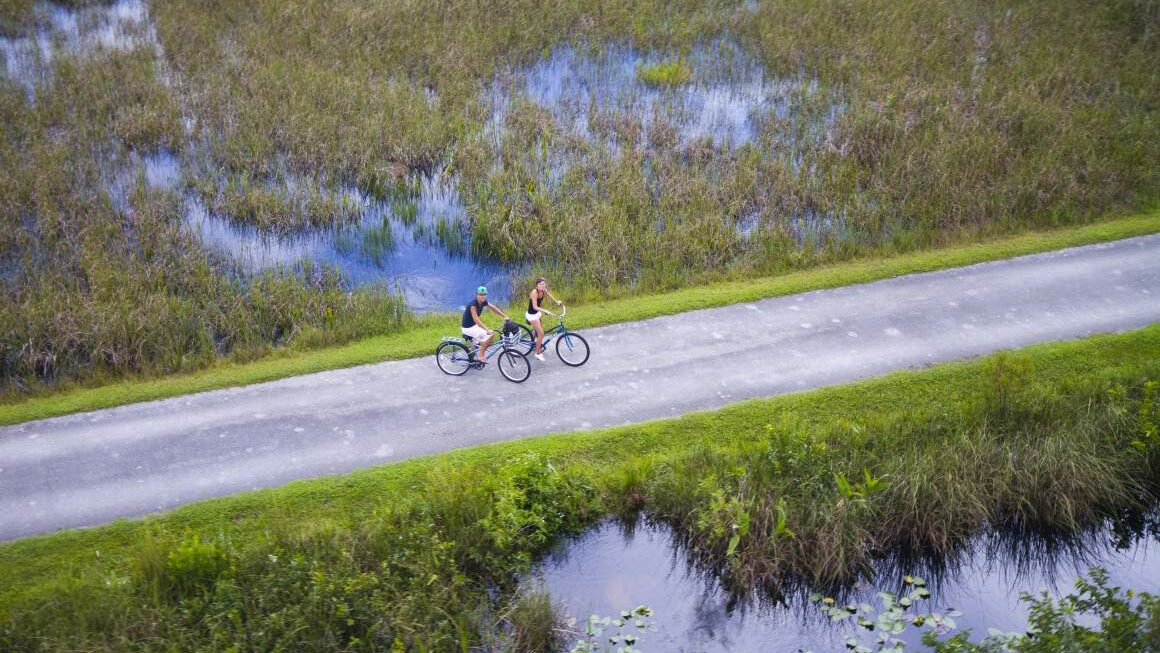 Location: Everglades National Park, Florida
Distance: 15.8 miles
Elevation Change: 22 ft / 229 m
Trail Surface: paved
Notes: Shared multi-use trail, shared with the Shark Valley Tram, bring water and prepare for a hot and humid environment
Summary: Explore this incredible multi-use trail to head deep into the Everglades with your ebike. See incredible wildlife, marsh views, wildflowers, and more as you coast along this smooth path. Watch out for multiple forms of traffic on the trail, from fellow riders, hikers, and the local tram, to the local alligators, turtles, and birds that call the Shark River While this route is short and has a flat grade, high sun exposure and humidity make the many benches and picnic tables a welcome opportunity to take a break while taking in an amazing environment with the ease of your ebike.
---
7. Chief Ladiga Trail, Alabama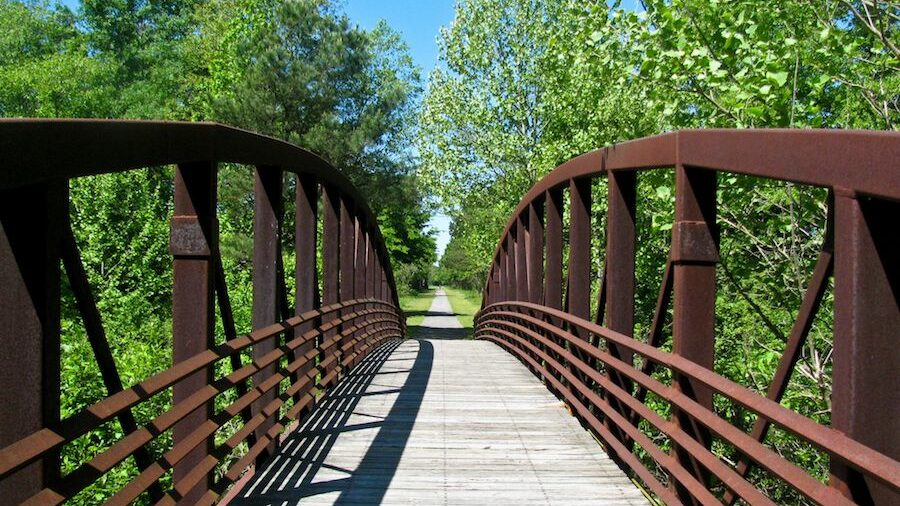 Location: Calhoun and Cleburne Counties, Alabama
Distance: 33 miles
Elevation Change: 22 ft / 229 m
Trail Surface: paved
Notes: Shared multi-use trail, bring layers and rain gear
Summary: This smooth rail trail guides you through rural towns and vibrant countryside as you coast along a section of the longest paved trail in the United States. Built on a slightly raised rail bed, the Chief Ladiga Trail transitions from open fields and wetlands to canopies of native forests. The paved path features rail-trail heritage with trestles flanking sections of the route, historic train depots, and other charms of a bygone era. Enjoy the scenery from the vantage point of two wheels and break up the ride with a meal or leg stretch with numerous rest stops and towns along the route. If you're looking for a longer journey, continue on to Georgia's Silver Comet Rail Trail.
---
8. Paul Bunyan State Trail, Minnesota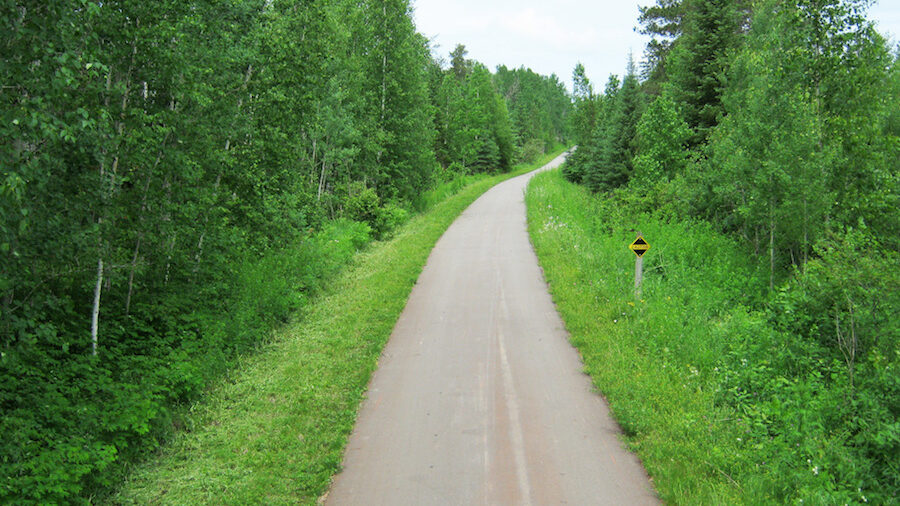 Location: Crow Wing State Park
Distance: 115 miles
Trail Surface: Asphalt
Notes: Rail trail, multi-use trail,
Summary: Ride on one of the longest rail-trails in the country with your ebike. Stop in one of many towns spaced conveniently every 8-10 miles as you pass through incredible scenery…lush forests, more than 20 lakes, streams, and vibrant meadows. Enjoy a bounty of wildflowers in spring and a variety of wildlife. The area has a rich past of both the railroad and timber industry, and the Ojibwe and Dakota nations lived in the area previously. While the complete trail is a long trek, you can explore any part of the route, and travel from town to town. Given that the complete trail is paved, your ebike will propel you smoothly as you take in wilderness, history, and heritage.
---
9. Shining Sea Bikeway, Massachusetts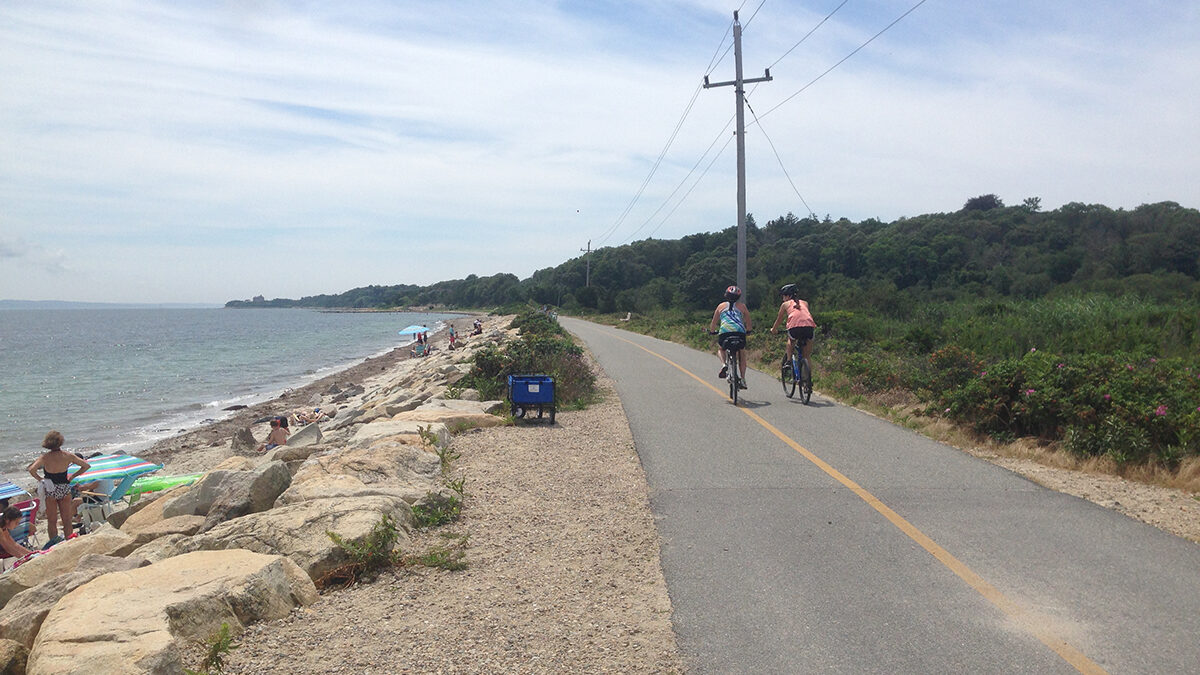 Location: Barnstable County
Distance: 10.7 miles
Trail Surface: asphalt
Notes: Smooth rail-trail with ocean views. Bring a jacket for windy coastal weather
Summary: Coast along the only oceanside bikeway on Cape Cod as you take in incredible views of marshes, rivers, and the sea. Following the route of a historic railroad, the Shining Sea Bikeway winds through important coastal ecosystems, now accessible for your riding pleasure. The path pays homage to the lyrics of the song "America the Beautiful" written by Falmouth native Katharine Lee Bates. After passing through vibrant forest and marshland, your hard (or not so hard!) work will be rewarded with sweeping vistas of the Atlantic Ocean. Take a break, enjoy the view, and maybe go for a quick swim at the protected swimming beach. Cruise along on your ebike as you encounter many opportunities to stop and take in the scenic beauty of the coast. A few miles further and the trail will conclude; you can do an out and back trip, or carry on through classic Cape Cod communities.
---
10. Banks-Vernonia State Trail, Oregon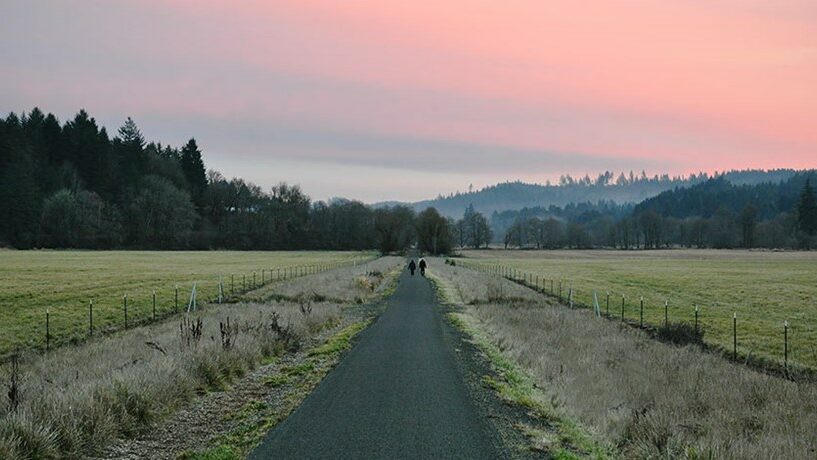 Location: Columbia and Washington Counties
Distance: 22.7 miles
Trail Surface: asphalt
Notes: Smooth rail-trail with many ridges, trestles, and views
Summary: Cycle the historic Banks-Vernonia rail corridor with your bike to take in railroad history, incredible views, and a nice challenge with some climbs along the route. With an average grade of 2% to 5% from Banks to Vernonia, this is the perfect opportunity to enjoy the benefits of your ebike. The 8-foot path, paralleled by a 4-foot horse trail, passes through winding gorges and valleys of the Oregon Coast mountains. With thirteen bridges, two 700-foot long railroad trestles that are over 8 feet tall, this is a trail to remember. Stop at one of many viewpoints, or the L. L. Stub Stewart State Park, a 1,700-acre full-service state park that you will be passing through. Arriving in Vernonia after your pedal, enjoy the shops, galleries, museums, of this historic Oregon town.
---
Please make sure to observe local trail-use regulations and ensure the compliance of your ebike. Gazelle does not take responsibility for improper trail usage or injury incurred from cycling in any of the mentioned locations or on Gazelle Bikes. Trail recommendations are a general guide and not to be taken as a substitute for proper research on local regulations and usage guidance.
---