1. Rum Runner's Trail, Nova Scotia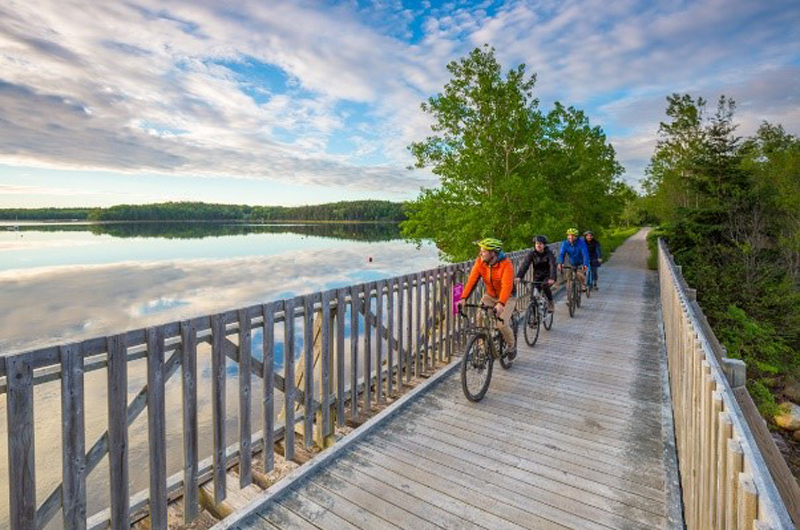 Location: Lunenburg to Halifax, Nova Scotia, Canada
Distance: 119 km
Trail Surface: dirt-gravel, mixed surface
Summary: Ready to experience the coastal beauty of Nova Scotia? Once a rail bed, the Rum Runner's Trail is a scenic route that is a joy to discover on two wheels. With incredible views of inlets and bays, a flat elevation, and countless scenic spots to take it all in, this trail is best by ebike. Along the trail from Halifax to Lunenburg (a UNESCO World Heritage Site), explore charming coastal communities, pristine beaches, and lovely parks. With award-winning restaurants, accommodations, attractions, and shops along the way, there's more to discover and enjoy along the way. Go for a swim at one of many beach access points, savor the flavors of local cuisine, and experience one of the best rides in Nova Scotia.
---
2. Kettle Valley Rail Trail, British Columbia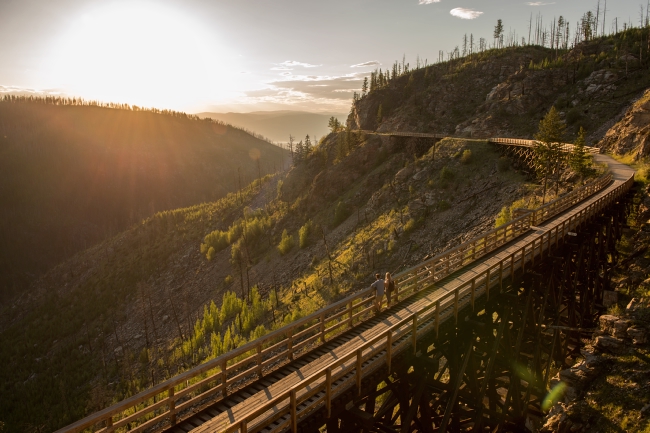 Location: Hope to Castlegar, BC
Distance: 492.6 km of connected pathways
Trail Surface: mixed
Summary: Take in British Columbia's rich history and vibrant scenery on segments of this landmark route. Originally a rail corridor built for the Kettle Valley Railway, this recreational multi-use trail is a true rail-trail gem. Don't be intimidated by the length of the trail, you have the freedom to ride any section of your choosing. No need to do the entire thing! From short family-friendly sightseeing jaunts to tackling the complete route, the Kettle Valley Trail can be experienced however you wish. While trail surfaces are mixed between pavement, rolled stone, and dirt, gradients never exceed 2.2%. With amazing mountain views, canyons, forests, rivers, and more, the scenery on this trail showcases the best of BC. Additionally, a trail's rail roots leave you with trestles, tunnels, and picturesque communities to explore all along the route. Ride from town to town, take in the mountain atmosphere, and experience BC blissfully by ebike.
---
3. Bow Valley Parkway, Alberta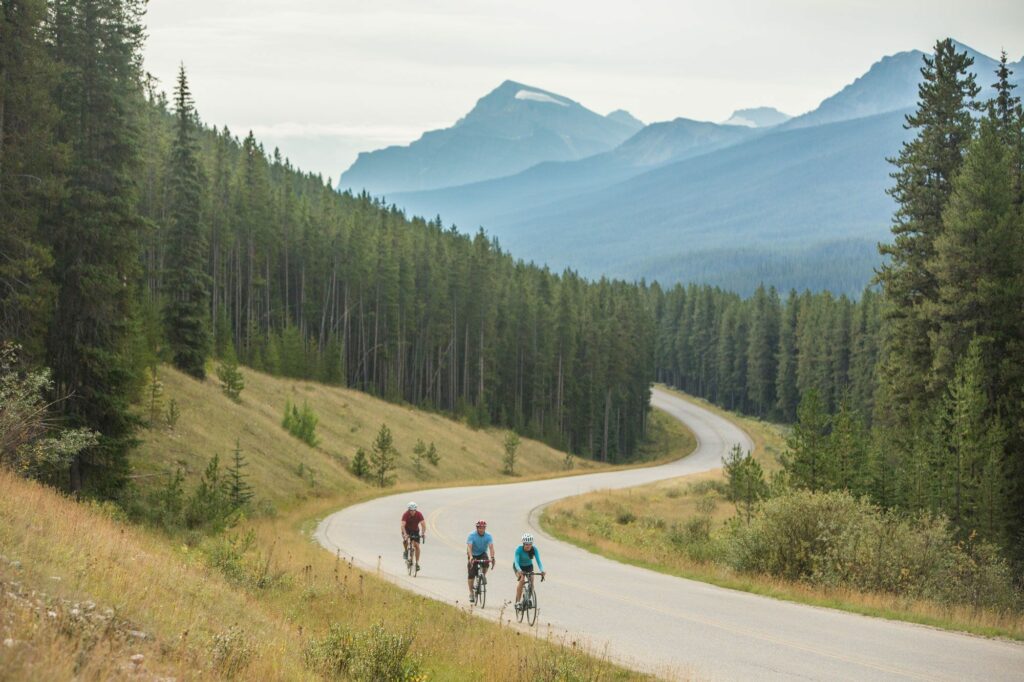 Location: Lake Louise, Alberta
Distance: 58 km
Trail Surface: paved
Summary: Ready for incredible views on one of the best road bike routes in Canada? Look no further than the Bow Valley Parkway, or Highway 1A, the old connection between Banff and Lake Louise. Running parallel to the Trans-Canada highway and no longer the primary motorway, you can now enjoy this road with your ebike. As you head toward Lake Louise, take in sweeping mountain vistas and pristine natural scenery. There are multiple sights along the way such as Silverton Falls, Moose Meadows, and a variety of trailheads. Make sure to fully charge your batteries, bring a spare, or splurge on a dual battery setup for this route. You'll have a great opportunity to use your motor assist to overcome the gains in elevation and headwinds on your way to Lake Louise. With multiple rest stops or turnaround points along the way at Castle Junction (30 km) and Baker Creek (45 km), you can enjoy a meal, rest, refill water, and ride as you desire.
---
4. Rideau Canal, Ottowa, Ontario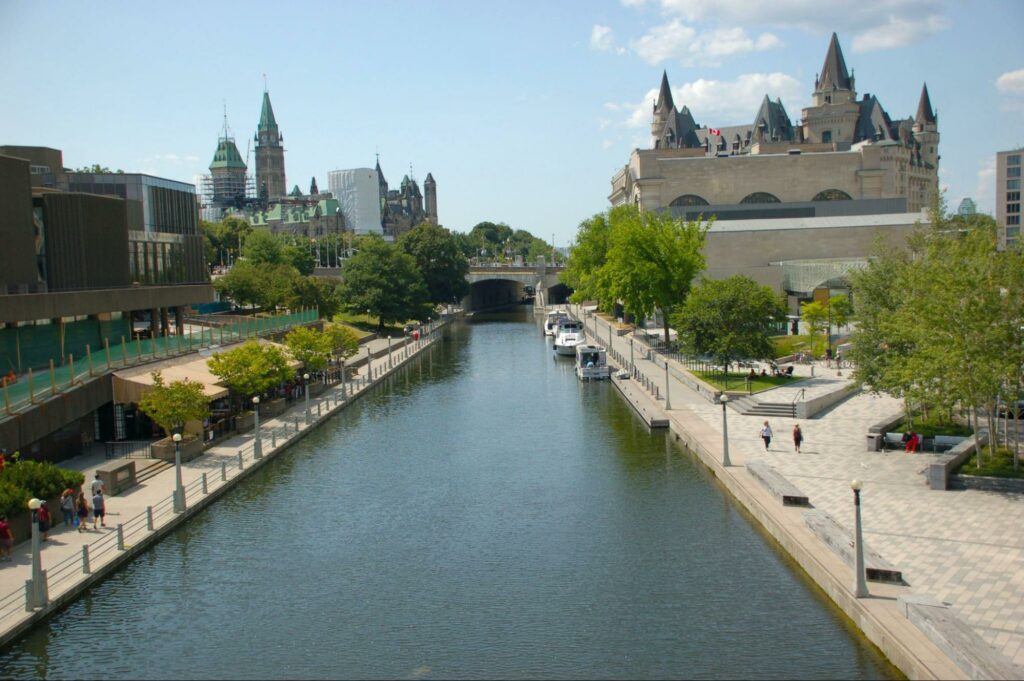 Location: Ottowa, Ontario
Distance: 6.5 km
Trail Surface: paved
Notes: Rail trail, river gorge, finely crushed limestone surface
Summary: The Rideau Canal and surrounding riding opportunities are the perfect introduction to exploring cities by ebike. The route may be the shortest and most urban on our list, though the Rideau Canal is a fantastic location for a casual cruise. Easy, flat, and kid-friendly, discover beautiful pathways along the river and take in the UNESCO World Heritage waterway. Convenient access to parks, restaurants and attractions makes this a comfortable ride with many opportunities for ebike enjoyment. Standout sights are Parliament Hill and the castle-like historic buildings. If the short route leaves you wanting more, there are many opportunities to ride further along the canal, Ottawa River, Rideau River, and many waterways in the area. Use the power of your ebike to ride more and see more.
---
5. Galloping Goose Trail, Vancouver Island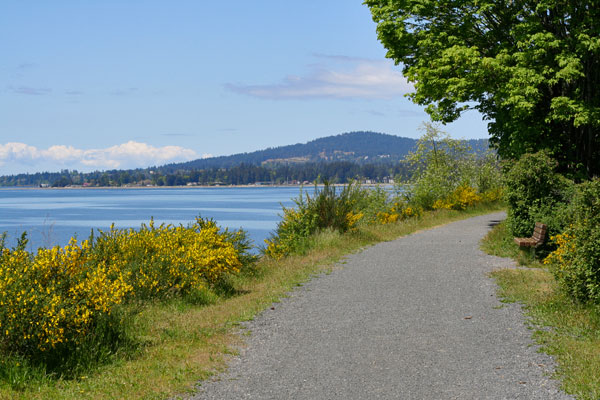 Location: Sooke to Victoria, Vancouver Island
Distance: 55 km
Trail Surface: mixed surface
Summary: Experience forests, ocean, towns, all in one on this standout trail on Vancouver Island. Following along a former railway line from sea to the mountains, the 55 km Galloping Goose Trail moves through everything from urban bustle to wild tranquility as you cycle from Victoria to Sooke. No need to pick between beautiful views of the surrounding natural scenery or the bustle of Victoria and townships on a trail that has it all. The vibrant coastal forests even hide a trestle bridge and many more signs of the rich history in the region. The product of mining and lumber industries from ages past, the railway is the perfect means by which to explore coastal BC by electric bike. Cross through forests, farmland, past waterways, coves, lakes, and more. There are countless spots to stop and take in the views or enjoy a meal. Since the Galloping Goose Trail is multi-use, watch for horses or other trail users in more rural areas. Wrap up your ebike adventure with a scenic sunset in Sooke.
---
Please make sure to observe local trail-use regulations and ensure the compliance of your ebike. Gazelle does not take responsibility for improper trail usage or injury incurred from cycling in any of the mentioned locations or on Gazelle Bikes. Trail recommendations are a general guide and not to be taken as a substitute for proper research on local regulations and usage guidance.
---