Transport e-bikes
A transport bike is the ultimate companion for those who want comfort, convenience and style on the move. Whether you're commuting to work or doing your shopping, an electric HeavyDuty, Miss Grace or Bloom transport bike from Gazelle is always ready for you.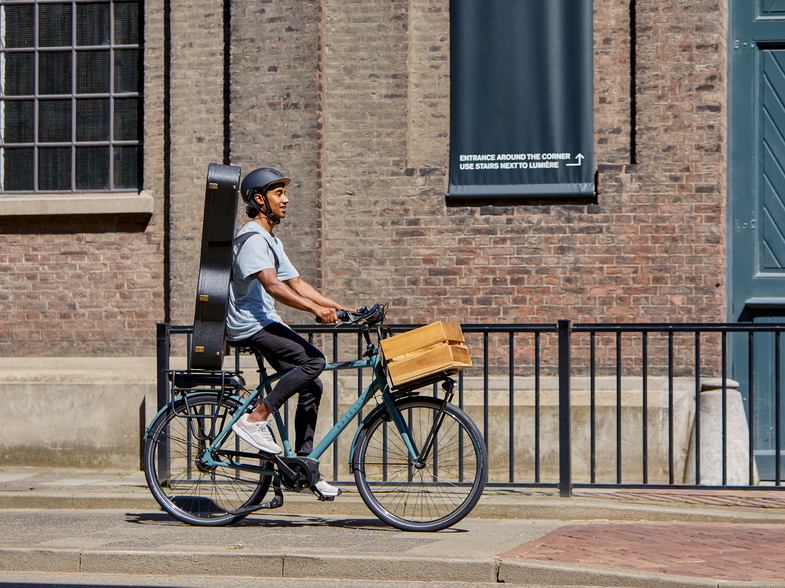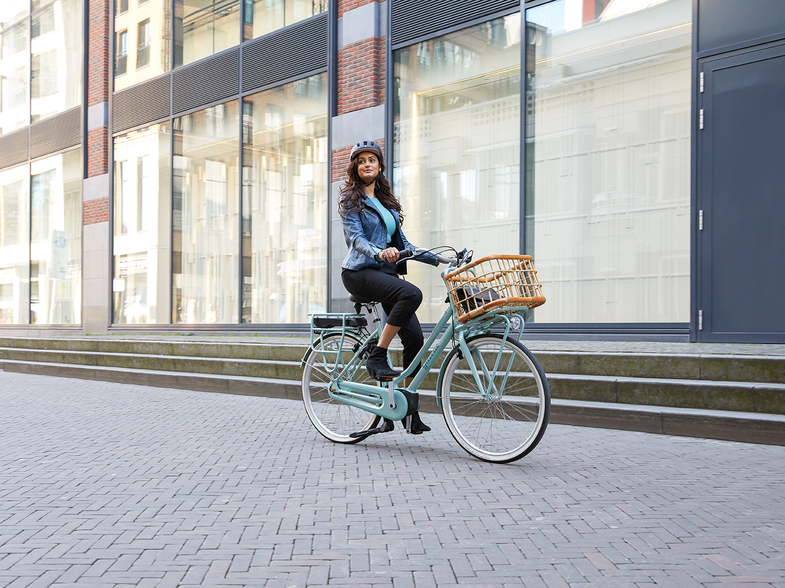 Miss Grace
Styled down to smallest detail
Utility
Steady
Always in style
1 bike(s) within this model
Discover from £2,149
Difference between a city bike and a transport bike
Fundamentally, a Gazelle city bike and transport bike are very similar. Yet they each have their own advantages. Whereas a city bike is aimed at comfortable cycling in the city, an electric transport bike is designed for transporting loads. Transport bikes therefore always have a sturdy front and rear carrier to which you can easily attach a basket, crate or even a child seat. This makes the transport bike ideal for transporting your shopping, school bags or other heavy objects. In addition, transport bikes have a sturdy frame and wide tyres, so you will always be comfortable and stable while cycling, even if the bike has been fully loaded. A transport bike therefore radiates quality.
Transport bikes are steadily growing in popularity, due to all their many convenient features. More and more often, an electric transport bike is seen as a great alternative that allows people to leave their car at home. In this way, you are playing a part in caring not only for the environment, but also for your own health.
What to look out for when buying an electric transport bike
At Gazelle, you can choose an electric transport bike with a battery in the rear carrier or in the middle of the frame. A battery on the rear carrier is generally easier to remove and charge, while a battery in the centre provides an even weight distribution, giving you a balanced ride. So think about what you would prefer before buying.
You can also choose between different gearing systems. For example, you can choose five or seven gears, but a stepless gearing system is also possible. What you choose will depend on how you cycle. If you cycle a lot in the city and therefore have to accelerate a lot, we recommend more gears to help you cycle away easily wherever you are. If you mainly cycle long distances without stopping much, you can easily get by with five gears.
You also have the choice between a low and high step-through:
Women's electric transport bike
The electric transport bike is also available as a family bike. The sturdy frame provides all the strength you need to transport your child safely. An extra handy feature: The women's electric transport bike has a front carrier. By placing a bike basket on your front carrier, you can still pop to the supermarket after you've picked your child up from nursery or from their swimming lesson. But this doesn't stop you making a quick sprint to work. The family bike and basket makes every morning rush hour a breeze. 
Men's electric transport bike
Prefer a model with a high step-through? Check out our men's electric transport bikes. With this sturdy transport bike, you can comfortably reach speeds of 25 km per hour and never again slip to the back of the queue.
Come along for a test ride
You are of course always welcome to visit a bike shop for a test ride and personalised advice. Together, you will search for the electric transport bike to make your daily life easier.
Find a store