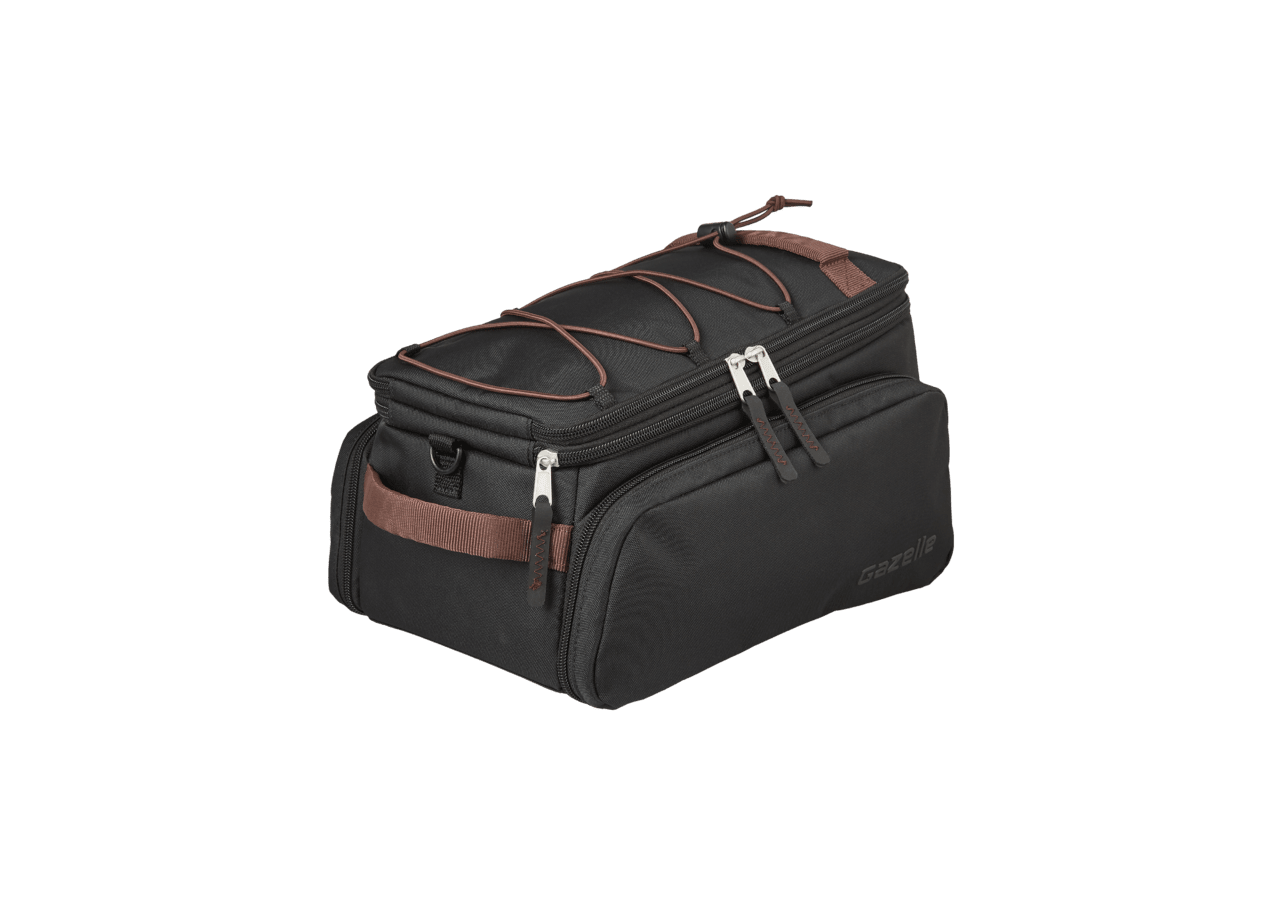 31L capacity (with all three compartments expanded)
Easy mounting with the MIK-system
Equipped with a rain cover to protect contents
Incorporated reflective elements for enhanced visibility
Product Overview
The Gazelle carrier bag is the versatile chameleon in our lineup of accessories. If flexibility is important to you, this MIK-ready rack top-mounted bag offers the ideal setup for your Gazelle, featuring special expandable compartments that dramatically increase your carrying capacity. Even the main compartment can be expanded upwards to provide enough space for your items. Reflective elements on the sides of the bag provide improved visibility, especially in low light conditions, while the water-repellent material and included rain cover will keep your bag's contents dry even in wet weather.
Shift Your Shape
Three Bags in One
Streamlined trunk bag, camper style pop-top, or full on saddlebags...you can have it all with the Gazelle Carrier Bag. This delightfully dynamic accessory can answer any cargo call with its varied compartments and configuration options. What will you carry?
Secure Your Cargo
Trusted Mounting Technology
Boasting the reliable MIK system, the Gazelle Carrier Bag will fit securely on any MIK rack. In the current Gazelle fleet, all Medeo models are specced with MIK racks. Other model families, such as the Ultimate, are specced with a different rack, but can be made compatible with an MIK carrier plate adapter. See our compatibility across all models below.
View Compatibility
Meet the Gazelle Carrier Bag
Check out our video showing everything the Gazelle Carrier bag has to offer.
"I bought my Ultimate T10+ instead of a second car for my commute to work. It's opened up a whole new world for me and I'm enjoying burning calories instead of gas!" - Adam
Over 130 Years of Quality
We are Gazelle and we make over 300,000 bikes a year, with passion and dedication. This same passion is shared by Gazelle riders around the world. Discover their stories, plus get tips and tricks to enjoy your ride to the fullest.
Read more
"I bought my Ultimate T10+ instead of a second car for my commute to work. It's opened up a whole new world for me and I'm enjoying burning calories instead of gas!" - Adam
Guidelines
Segment

Bike bags

Capacity

31L

Mount system

MIK