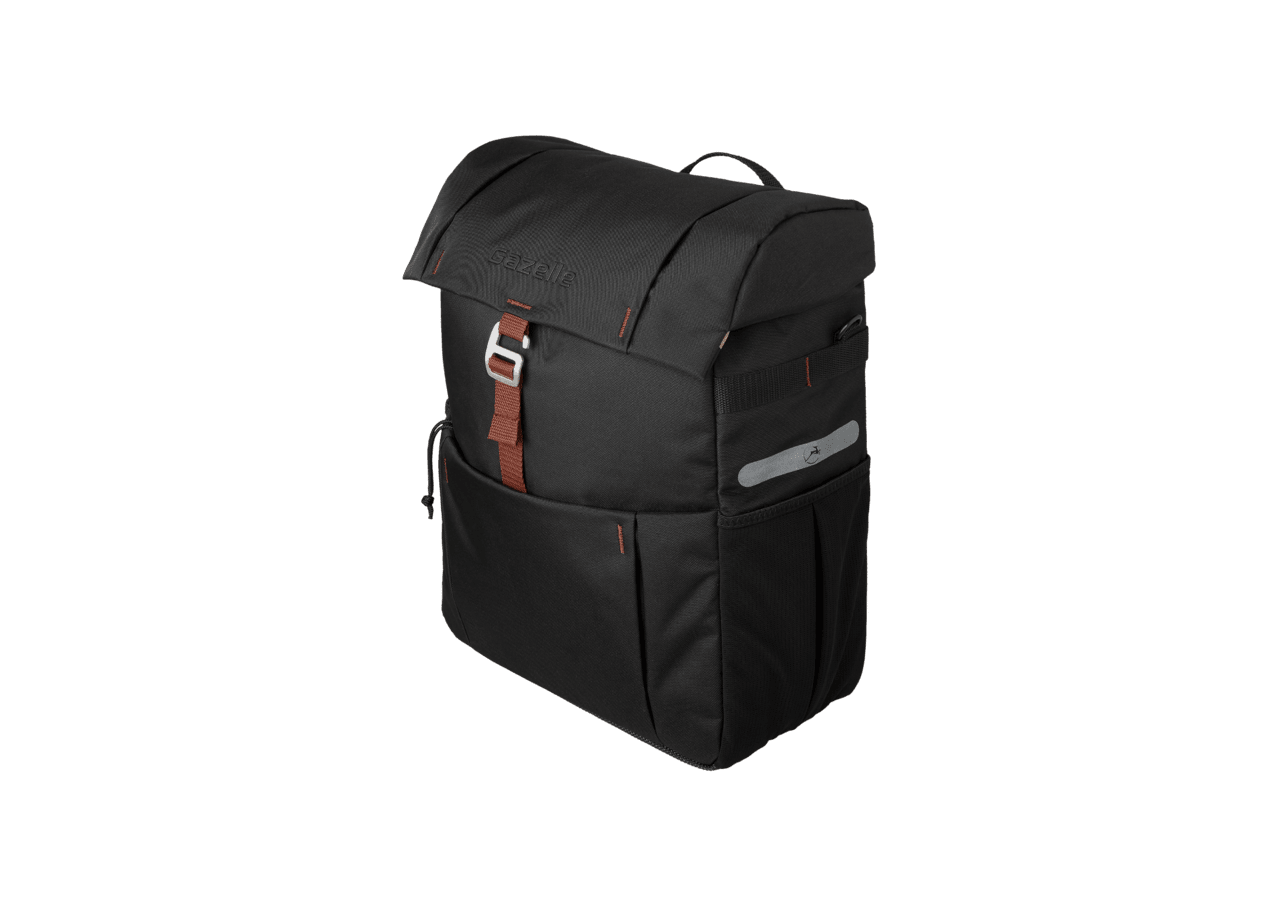 18.5L capacity
Fitted with a removable shoulder strap for off-bike flexibility
Equipped with a rain cover to protect contents
Incorporated reflective elements for enhanced visibility
Product Overview
The Gazelle single pannier was developed for leisure and everyday use. With an 18.5 liter capacity, this pannier can handle a small load of groceries, a serious haul from the library, or be used as a shoulder bag for off-bike adventures thanks to an included strap. The bag features a large inner compartment, a smaller lockable outer pocket with a zipper, and a flexible front compartment. Items will stay dry and protected thanks to a water-resistant fabric and hidden rain cover, while composite mounting hooks secure the pannier firmly in place on the rear rack.
Ready For Anything
Smart and Stylish
From a bunch of fresh tulips to a bunch of important documents, the Gazelle Single Pannier allows you to carry your cargo in full confidence. Featuring multiple compartments and a hidden rain cover in case the weather turns, this hardworking bag can rise to any occasion.
Secure Your Cargo
Simple Mounting Solution
With dual mounting hooks, the Gazelle Single Pannier will fit on nearly any rack in the current Gazelle fleet. The only bikes we don't recommend for this accessory are those with rack-mounted batteries: the Medeo T9 and Medeo T9 City, due to a lack of clearance on the rack rails. See our compatibility across all models below.
View Compatibility.
Meet the Gazelle Single Pannier
Check out our video showing everything the Gazelle Single Pannier bag has to offer.
"I bought my Ultimate T10+ instead of a second car for my commute to work. It's opened up a whole new world for me and I'm enjoying burning calories instead of gas!" - Adam
Over 130 Years of Quality
We are Gazelle and we make over 300,000 bikes a year, with passion and dedication. This same passion is shared by Gazelle riders around the world. Discover their stories, plus get tips and tricks to enjoy your ride to the fullest.
Read more
"I bought my Ultimate T10+ instead of a second car for my commute to work. It's opened up a whole new world for me and I'm enjoying burning calories instead of gas!" - Adam
Guidelines
Segment

Bike bags

Capacity

18,5L

Mount system

Hooks

Dimensions

31 x 40 x 15 cm