Gazelles in the Golden State
At the end of September, we had the pleasure of escorting over fifty cyclists from Folsom to San Francisco on the incredibly scenic California Dream Ride. From the warm, wine-ready valleys of Napa and Sonoma to the sweeping, stunning vistas of the Pacific in Marin and San Francisco, this was a ride to remember.
The California Dream Ride raises funds for the California Bike Coalition, an organization dedicated to supporting bike-related programs, legislation, and infrastructure throughout the state. What better way to bolster this mission than a ride across California, experiencing cycling in a range of environments, terrain and temperatures?
A Fleet of Gazelle Electric Bikes
Throughout the ride, we had a fleet of Gazelle electric bikes on hand to support riders up big hills, through triple-digit temperatures and over 60+ miles each day. For some participants, using an eBike was the only way they could complete the ride, facing challenges like a recently broken elbow or bad knees. For others, the Gazelles served as a fun introduction to eBikes and a way to enjoy the ride, especially when some stiff offshore headwinds kicked up. 
For riders who preferred more of a traditional, stiff, and stable road bike feel, our Cityzen T10 helped them speed up hills and expertly corner on turns during big descents. For our more pleasure-seeking enthusiasts, eager to drink in the views (and some famous California wines), the comfortable upright positioning and cushy saddle of the Arroyo C8 Elite was just what the rider ordered. Two of our most petite participants enjoyed the ride thanks to the 26" wheels of the Easyflow, the perfect choice for people of smaller stature.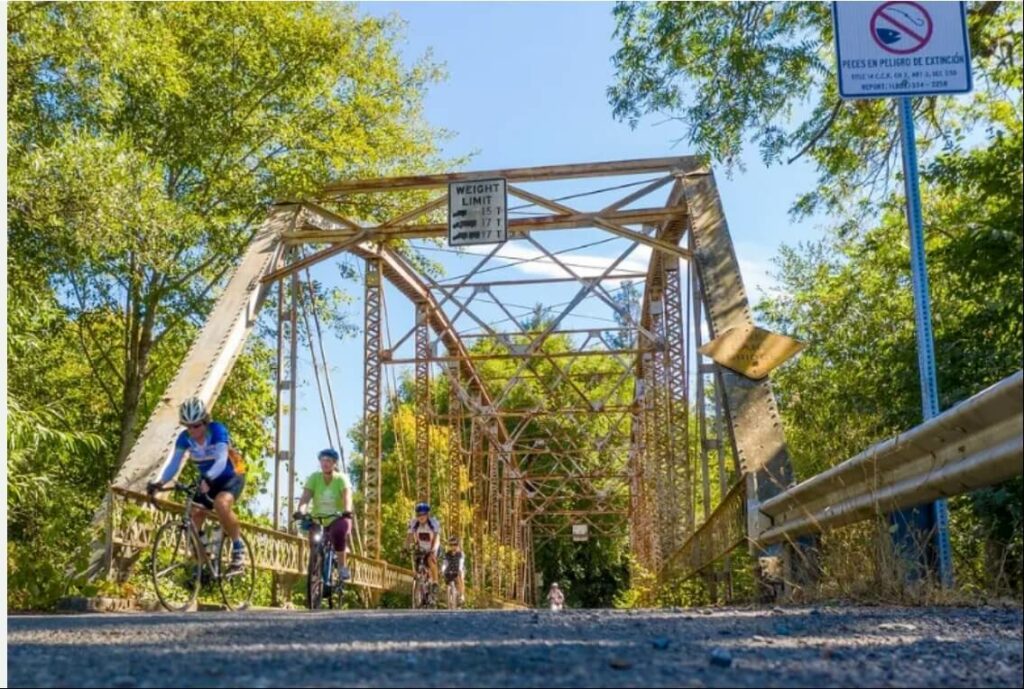 Charging Through The Heat
Starting out in Folsom, we rode along the American River Bike Trail, which stretches over 30 miles and connects remote rural and nearby suburban areas to the bustling state capital. The flat, tree-lined path with river and wildlife views eased us into the ride as we became acquainted with each other, and our Gazelles. After lunch in the historic old town section of Sacramento, we headed west and finished the day in Winters, a charming agricultural town surrounded by groves of walnut trees. 

Day 2 began early, with our hottest temperatures and biggest hills ahead of us, 3100 feet of elevation gain, to be exact. Team Gazelle made sure all the batteries were fully charged for a day of vigorous use. Heading west on Highway 128, we climbed out of the valley and into the golden rollers surrounding Lake Berryessa. And, as predicted, it was already 95 degrees by 10am!
Cruising Up Hills With Ease
Our lucky Gazelle riders cruised up the hills with ease, thanks to the powerful Bosch motors on our eBikes. Eco Mode offered light support, neutralizing the weight of the bike; moving through the levels of support up to Turbo Mode, riders obliterated the steepest stretches of the route with a big boost of extra power. 
Thankfully for our non-eBike riders, our post-lunch path took us on a prolonged descent into Napa Valley and to the hot springs mecca of Calistoga. Ending the day in soothing mineral pools, sipping on local wines provided the perfect finish.
Facing another warm, cloudless day, we set out from Calistoga at sunrise on Day 3. The Dream route took us from Napa to Sonoma, meandering along country roads past celebrated vineyards laden with harvest-ready grapes.
This terrain was ideal for riders to test out the Gazelle eBikes mid-range modes of support: Tour and Sport. Tour Mode was perfect for pedaling in gentle hills, while Sport Mode gave that little extra boost for the occasional steeper summit, as well as relief when warm afternoon headwinds picked up. Our tour of wine country came to close in Santa Rosa, and more than one rider jumped straight into the pool at the ride's end.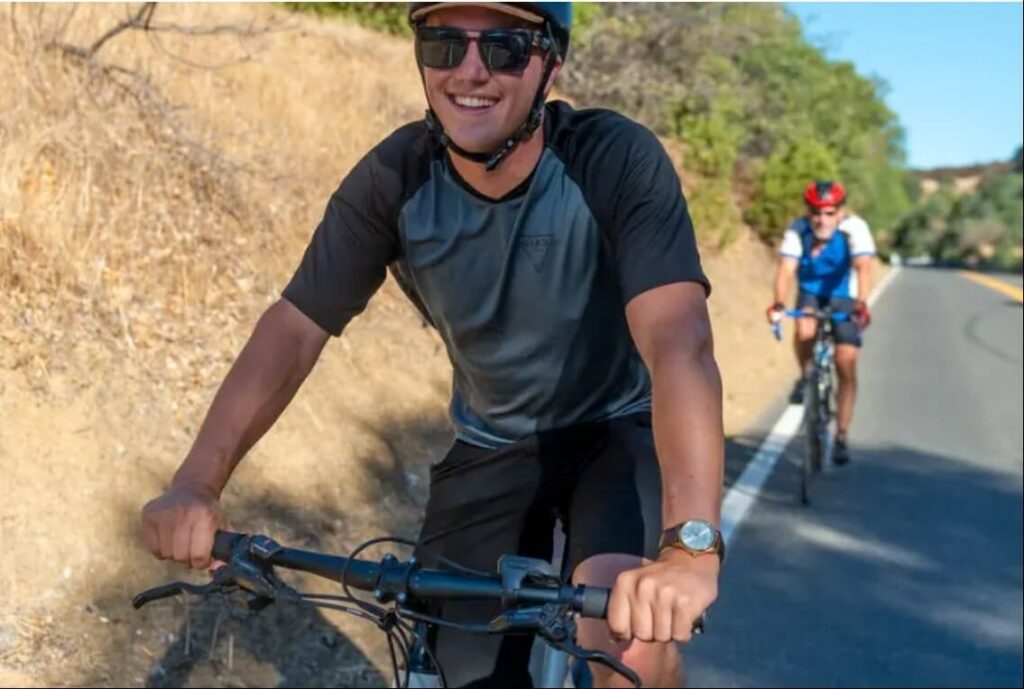 Cooler Temperatures and Dramatic Vistas
Cycling out of Santa Rosa with cooler temperatures (thankfully) in the forecast, we passed by miles of apple groves in the famed Russian River region. The morning began with some big climbs as we pushed our way further west towards the Pacific. This was our most dramatic day in terms of California's diversity, both in temperature and topography.
Trading the heat of the valley for the fog-tinged breezes of the Pacific, we hit scenic Highway 1 and traced the eastern edge of Tomales Bay to Point Reyes. From there, our group headed east along the Cross Marin Trail, traversing through coastal oaks to stately redwoods. One long last climb before arriving in Corte Madera had our Gazelle riders extra grateful for our pedal-assist motors.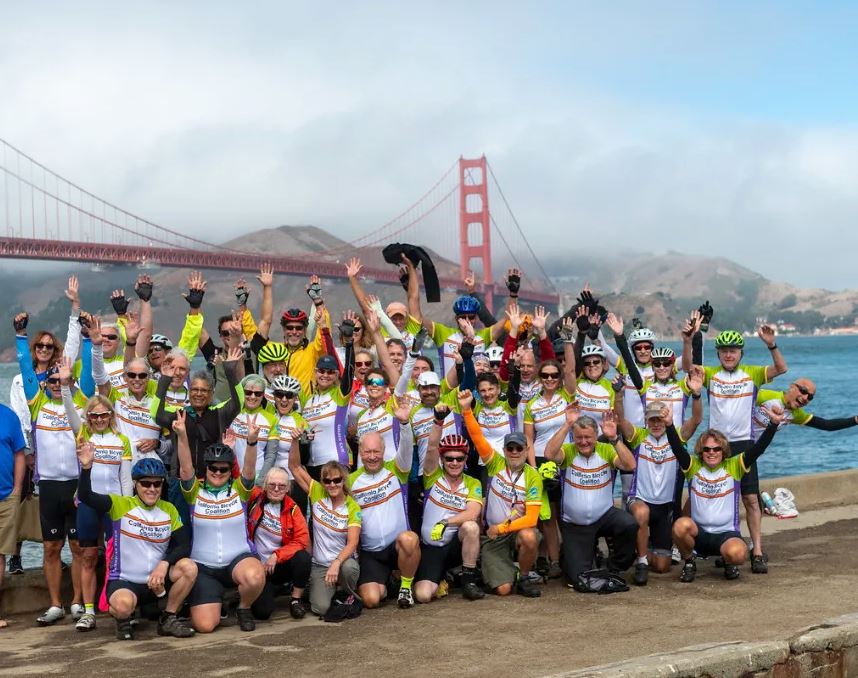 Join Us Next Year!
The last day of our ride was a showstopper, full of sweeping views of storied Bay Area sites. From Mount Tamalpais and Angel Island, to Sausalito and the Golden Gate, this route was a fitting finale for an epic ride. Our route from Marin to San Francisco took us up out of Sausalito, over the iconic Golden Gate Bridge and into Golden Gate Park. At the far western edge of the park, we happened upon the Dutch windmill and our group of Gazellers couldn't resist stopping for the perfect photo opportunity.
In San Francisco, at the journey's end, the fog rolled in, glasses were generously filled and refilled, and we all reflected on our shared experience, newfound friendships and renewed love of cycling.
Sorry to have missed this year's fun? Join us next year! 
*Photos courtesy of Allan Crawford