Everything you need to enjoy the ride
Dutch bikes typically come fully loaded with everything a rider needs. In this spirit, every Gazelle bike is equipped with a host of accessories including a headlight, tail light, bell, storage rack, kickstand, and rear-wheel lock. The bikes are very utility-driven and are designed to meet (nearly) every possible need a person might have, and also reduces the demand for car-based trips and errands. The rear rack is especially handy for carrying cargo or attaching additional accessories like panniers or even small children!
Integrated Lighting
We spec our e-bikes with powerful AXA front and rear lighting to illuminate the rider's path and provide visibility to cars, pedestrians, and other cyclists. Lights are securely integrated with the bike so there is no risk of detachment, or more importantly, forgetting your lights. The lights are also powered by the e-bike itself, so if your bike is on, your lights are on. Special cutouts on the sides of the rear light housing make the light visible from the side as well as the rear, further enhancing safety, especially at night.
Robust Rear Hub Lock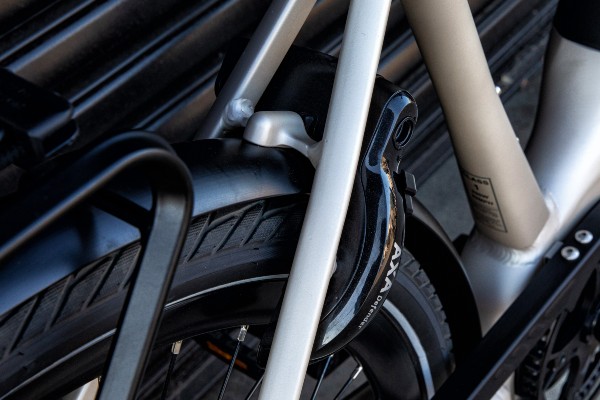 Each Gazelle bike is equipped with a sturdy AXA hub lock, which is operated by the same key used to remove the bike battery. Also known as a cafe lock, the hub lock works by putting a metal bar through the rear wheel, preventing it from rolling in either direction. Using this lock turns a bike into dead weight, making it much harder for a would-be thief to roll off with a bike. This is a great security feature, especially when paired with a chain lock to secure a bike to a large stationary object, or a handy solution when you're making a quick stop.
High-Capacity Rear Rack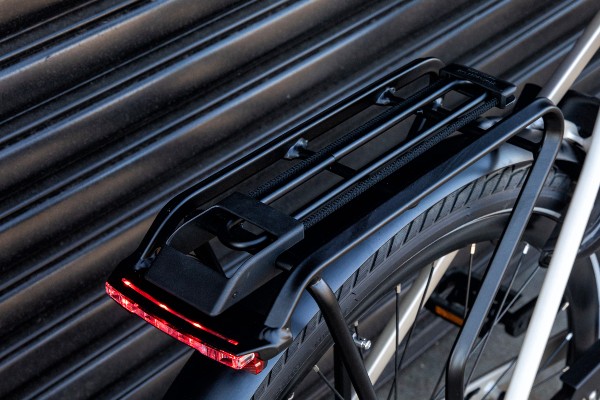 Two of the main benefits of e-bikes are the option to ride without working up a sweat and having some extra power to make carrying a heavier load much easier. One feature on Gazelle bikes that brings out these benefits even more? An integrated rear rack that can hold some serious weight--up to 60 pounds! Skip the sweaty back that comes with wear a cross-body bag or backpack and put the rack to work instead, with a pannier, trunk bag, or basket. Ortlieb, PoCampo, and Rack Time are all great options.
All Weather-Ready
All Weather-Ready
Gazelle e-bikes have features designed to keep the rider clean and comfortable, even in less than ideal conditions. These features include front and rear fenders, a covered chain or belt case, and the use of rust-resistant materials, like aluminum. Clothes are protected and riders are happy.
Stability & Sound
Stability & Sound
Two additional accessories found on every Gazelle bike include the signature Dutch bell that unleashes a cheerful yet assertive ding to alert anyone nearby, as well as a sturdy, adjustable-height kickstand that offers reliable stability, even with major cargo or a kiddo onboard.