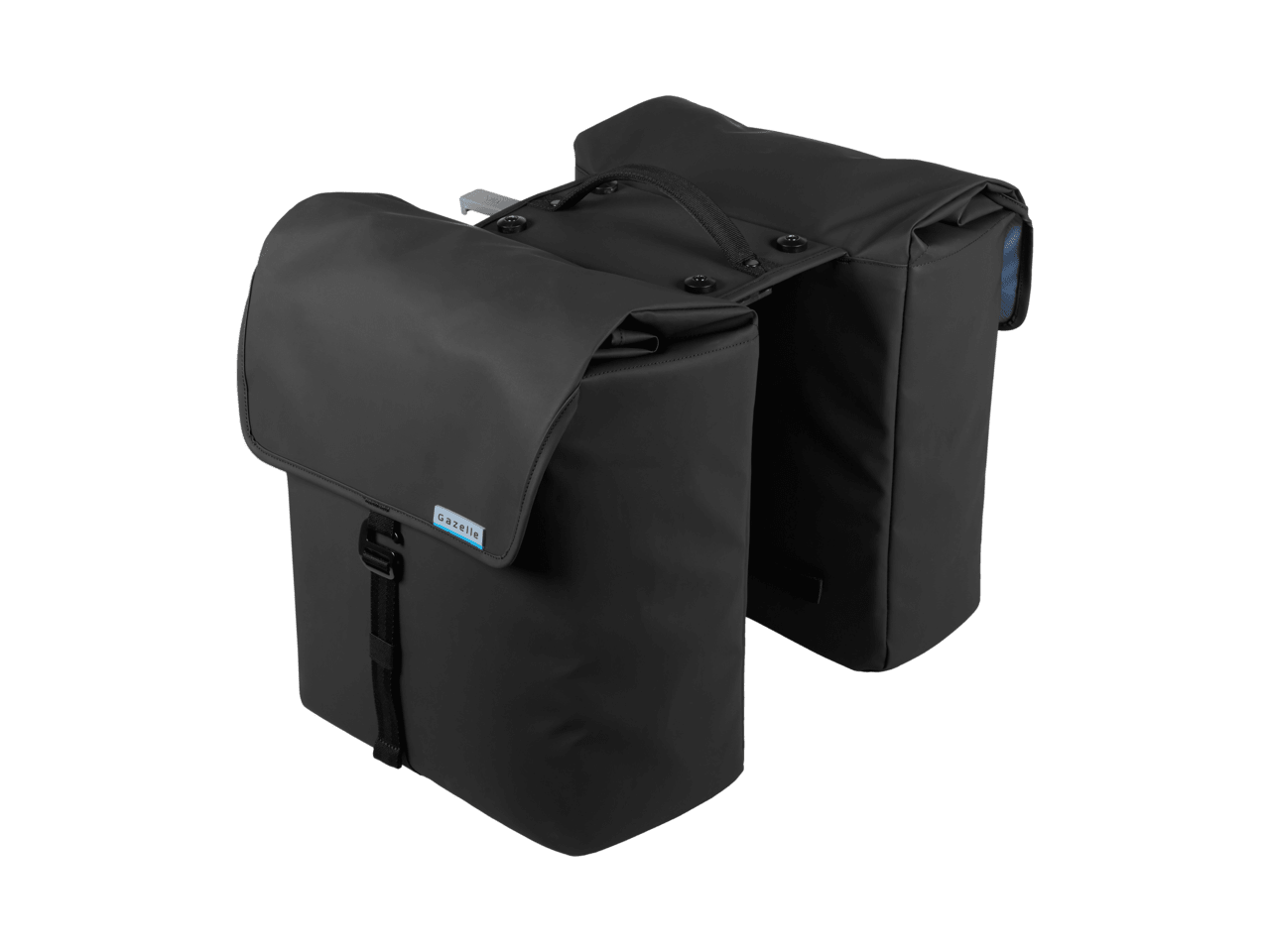 Gazelle Deluxe Double Pannier
Plenty of storage space with this large double bike bag
Water-repellent fabric helps keep your things dry
Easy to fill thanks to reinforced side and bottom
Easy to install thanks to the MIK system
Product Overview
Complete your Gazelle with this modern bag design.The Gazelle Deluxe double bike bag is both sturdy andconvenient to use and suitable for recreational andeveryday use. With this bike bag, you'll never have toworry when you're on the move. The durable waterrepellentfabric and reinforced side and bottom ensurethat your valuables are always protected. Your journeywill be extra safe, too, as the bag has reflective stripsaround it. The bag is easy to mount or replace with other accessories thanks to the MIK system.
GO AHEAD AND LOAD UP
Maximum Capacity
With generous storage space and reinforced, water-repellent material, the Gazelle Deluxe Double Pannier enables you to carry a heavy or large load with confidence and ease. Structured sides support fragile cargo, while reflective components keep you visible on the road. This bag offers an elegant answer to the question: can I carry this on my bike? Oui!
SECURE YOUR CARGO
Trusted Mounting Technology
Boasting the reliable MIK system, the Gazelle Deluxe Double Pannier will fit securely on any MIK rack. In the current model year Gazelle fleet, all bikes are specced with MIK racks. Some of the older bikes are specced with a different rack, but can be made compatible with an MIK carrier plate adapter. See our compatibility across all models below.
View Compatibility
"I bought my Ultimate T10+ instead of a second car for my commute to work. It's opened up a whole new world for me and I'm enjoying burning calories instead of gas!" - Adam
Over 130 Years of Quality
We are Gazelle and we make over 300,000 bikes a year, with passion and dedication. This same passion is shared by Gazelle riders around the world. Discover their stories, plus get tips and tricks to enjoy your ride to the fullest.
Read more
"I bought my Ultimate T10+ instead of a second car for my commute to work. It's opened up a whole new world for me and I'm enjoying burning calories instead of gas!" - Adam
Guidelines
Segment

Bike bags

Permissible Total Weight

20 kg

Permissible Total Weight

44 Lbs

Capacity

39L

Mount system

MIK

Dimensions

34 x 16 x 38 cm (2x)