Good things come to those who wait
Summertime, and the riding is going to be easy...with the newest memberof the Gazelle electric bike fleet! Introducing our first Class 3 speed bike to feature a belt drive and Enviolo trekking hub...the Gazelle Ultimate C380+! Here's a sneak peek at this exciting new bike, arriving in mid-July.
Beautifully combining an award-winning frame design with top-end components like the Enviolo 380 trekking internal gear hub, a Gates carbon belt drive, and Bosch's formidable Performance Line Speed motor, the Gazelle Ultimate C380+ delivers a ride like no other. Equal parts sporty urban bike and comfortable touring bike, the Class 3 C380+ features an exquisitely-formed frame, elegant lines, and integrated 500Wh battery designed to go the distance. Curious to see more?
Speed And Power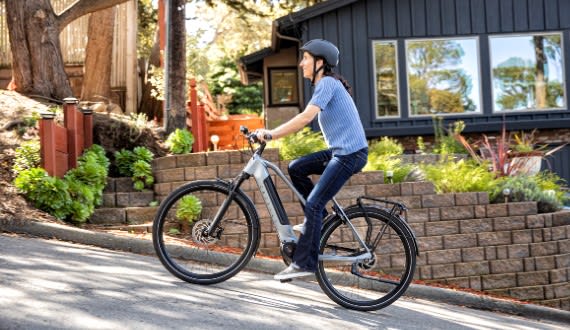 Bosch's Performance Line Speed motor provides powerful assistance to 28 mph and up to 85 Nm of torque, to support riders up any incline or over any distance. Arrive at your destination quickly, confidently, and relaxed, whether its your longhaul weekday commute or far-ranging weekend adventure.
Durability And Reliability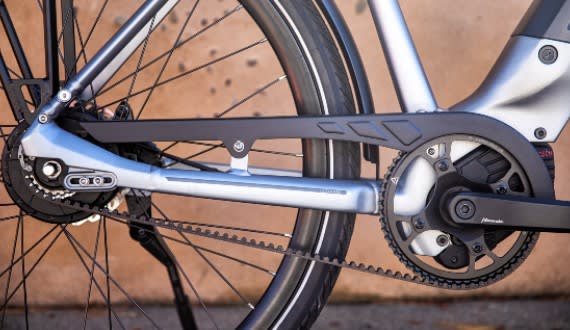 The Gates Carbon Belt Drive enables smooth and quiet shifting, offers unmatched durability and longevity, and delights dealers and riders alike with its low maintenance. Skip the chain lube, rust, mess, and maintenance and delight in a whole new way to ride with a belt drive.
Revolutionary Hub Technology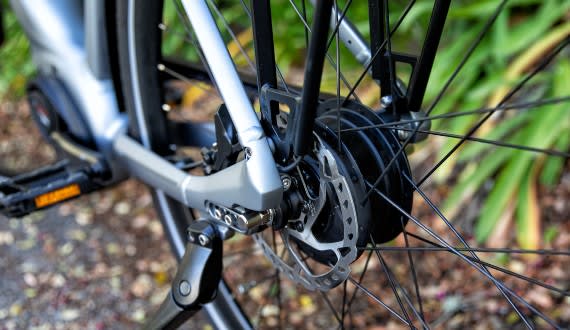 Boasting a 380% ratio range, the Enviolo 380 trekking hub allows riders to shift steplessly and silently, under load or even when standing still, creating a relaxed riding experience, and eliminates the downsides of a traditional derailleur and internal hub with the additional benefit of being super low maintenance.
Swift Sophistication
Swift Sophistication
The Ultimate C380+ effortlessly blends the grace of the Ultimate's award-winning frame design with the bravado and performance of high-tech componentry. Complementing the stiff, stable aluminum frame, responsive 4-piston brakes and a front suspension fork with 80 mm of travel and optional lockout setting ensure comfort and confidence, even at higher velocities. For a rider seeking speed and sophistication, look no further than the Gazelle Ultimate C380+.
Artful Accessories
Artful Accessories
The Ultimate C380+ comes fully loaded and ready to ride with a host of practical features and accessories. A 60 pound-rated rear rack with integrated bungee offers space to stow gear, while an extra sturdy kickstand provides stability when loading up with cargo. Fenders and a covered belt drive help keep clothes clean, even in wet conditions. Integrated front and rear lighting provide visibility and safety, and the classic Gazelle bell lets you tell folks "On your left!" in the friendliest possible way.