Good things come to those who wait
Summertime, and the riding is going to be easy...with the newest members of the Gazelle electric bike fleet! From our first Class 3 speed bike to feature a belt drive and Enviolo trekking hub to a stylish and affordable dynamo perfect for city living, enjoying the ride has never been more exciting or accessible. Here's a sneak peek at our forthcoming bikes.
Ultimate C380+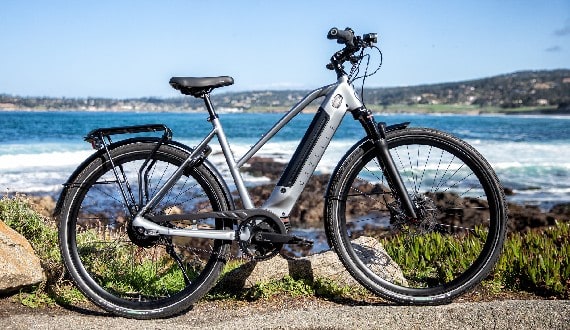 Beautifully combining an award-winning frame design with top-end components like the Enviolo 380 trekking internal gear hub, a Gates carbon belt drive, and Bosch's formidable Performance Line Speed motor, the Gazelle Ultimate C380+ delivers a ride like no other. Equal parts sporty urban bike and comfortable touring bike, the Class 3 C380+ features an exquisitely-formed frame, elegant lines, and integrated 500Wh battery designed to go the distance. Stepless CVT shifting creates an easy riding experience in any conditions, while the Gates belt drive is whisper-quiet and low-maintenance. Responsive 4-piston brakes and a front suspension fork with 80 mm of travel ensure comfort and confidence, even at higher speeds. For a rider seeking speed and sophistication, look no further than the Gazelle Ultimate C380+.
Medeo T9 City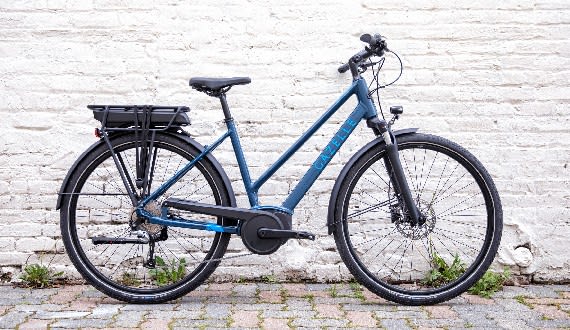 Get acquainted with our most accessible and well-appointed city bike yet. The Gazelle Medeo T9 City is our active electric bike that takes you everywhere. Specced with the reliable and quiet Bosch Active Line motor and 9-speed external derailleur, every hill will feel as flat as Holland. Powerful front and rear lighting plus a sturdy rear rack will inspire riders to swap their car for this bike for both day and nighttime trips. Enjoy every mile of the ride thanks to a roomy low-step frame, comfortable geometry, and wide tires. A front suspension fork with 50 mm of travel dampens bumps and rough road surfaces, while a chain guard and fenders help keep you and your bike clean. Ready to kiss your car and ride-sharing apps goodbye and embrace the freedom of life on two wheels? The Medeo City is an incredible value and the perfect introduction to e-bike life.
e-Powered By Bosch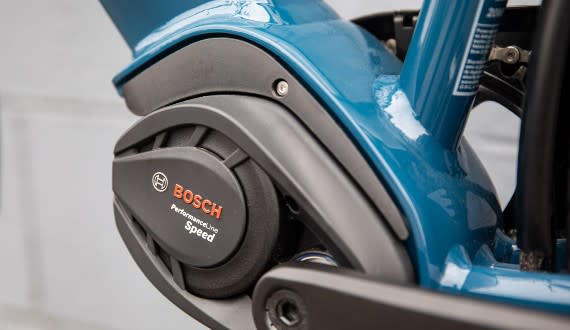 We are proud to partner with Bosch and spec their eBike Systems on all of our electric bikes. Reliability, closed system, UL certification, robust warranty terms, and an extensive retailer network means you have a bike you can trust and numerous options should you need support. From the Active Line motor offering 40 Nm of torque all the way up to the Performance Line Speed motor delivering 85 Nm of torque, Bosch mid-drive motors provide consistent, natural-feeling pedal assistance, controlled by the rider and a series of sophisticated sensors. Combined with Bosch's lithium-ion batteries, you'll enjoy significantly more range than hub-mounted motor e-bikes. Finally, Bosch's Purion display is a simple, elegant device that gives you essential information and functions to help you enjoy the ride. Two brands with over 130 years of history apiece.
All Weather-Ready
All Weather-Ready
Gazelle e-bikes have features designed to keep the rider clean and comfortable, even in less than ideal conditions. These features include front and rear fenders, a covered chain or belt case, and the use of rust-resistant materials, like aluminum. Clothes are protected and riders are happy.
Stability & Sound
Stability & Sound
Two additional accessories found on every Gazelle bike include the signature Dutch bell that unleashes a cheerful yet assertive ding to alert anyone nearby, as well as a sturdy, adjustable-height kickstand that offers reliable stability, even with major cargo or a kiddo onboard.